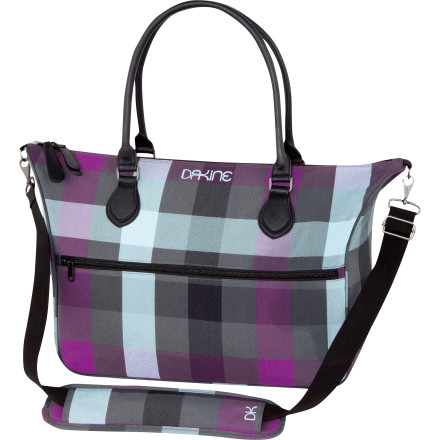 Community Images
Inside the DAKINE Women's Liberty Bag, a fleece-lined and padded laptop sleeve cradles your 17-inch computer and an organizer pocket keeps your essentials close at hand. Part hand-bag and part over-the-shoulder laptop carrier, the Liberty does double-duty around town. A set of stylish prints keeps this setup from looking too dorky, and in the event someone tries to 'snatch your purse', you can clobber them with this tough little beauty.
I bought this bag for my sister 2 christmases ago as a carry on since she was frequently traveling. I bought the whole set this the toiletry bag and the large duffel so she could travel in style. She loved the pattern and to this day continues to use the whole set on her endeavors and has had nothing but positives to say about them! Big Score for Big Sister :-) They continue to be in great condition despite frequent use and abuse! And as always Backcountry.com was wonderful with fast delivery and excellent service and support! Thank You!
Ordered this bag for my 17" lap top, as I was having trouble finding anything nice that would fit my laptop that wasn't boring black. This bag is perfect, my laptop fits into the section perfectly, giving me lots of room for cables and books. It looks great, feels comfortable. Is a amazing bag!!!
Great work or overnight bag
I looks for days for the perfect bag and tried out 4-5 on a test basis. The DAKINE Liberty is exactly what I was looking for! Nice and lightweight on it's own...especially important since I'm adding enough weight!

I live in NYC and it's great to pack for an overnight stay, more narrow and tall which is great for the train. I've been lugging it all around with my laptop, work binder, jacket, purse, etc.. Great find!
This bag holds my laptop nicely. It is beautiful and I love that it sheds water. The only con I have about it is the size: This thing is really big! I would have preferred a more form-fitting bag for my laptop, but I am keeping this one. It can actually hold my jacket and purse inside! One could use it for a carry-on or overnight bag.
Absolutely LOVE LOVE LOVE this adorable bag! Fits my laptop perfectly, looks just like the picture, TONS of room on the inside and very sturdy!
This is a very big laptop bag- enough room for charger cords and more. The only down side is that it doesn't have any straps to hold the laptop into the pocket. Quality not as good as it seems in the picture- a lot thinner.
What are the dimensions of the laptop bag....
What are the dimensions of the laptop bag. I have a 15.6inch Dell laptop, will it fit this?
Hey Courtney,

Yes it will. The laptop pocket is 17".
recommended if you have big laptop
Huge bag. Fit my dell 17 inch laptop no problem. The only bag I could find that it would fit in. Love it.