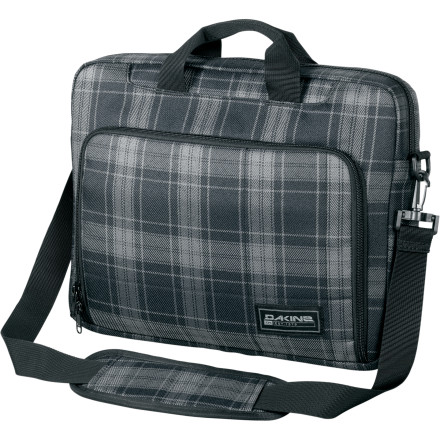 Surround your laptop with the padded love of the DAKINE Laptop Case. After dumping a few thousand into a thin slice of technology, it couldn't hurt to carry that thing in protection. Stowable handles and a removable shoulder strap allow you to slim down the profile of this case so its easy to slide into your carry on or stash under your desk at work. Fill up the organizer pockets with a wireless mouse, cords, and a snack … hardcore computing can make you hungry.
Large size carries most laptops up to 17in
Small size carries most laptops up to 14in
Perfect size and lightweight.
Picture a Laptop sleeve with room for all laptop accessories and a small binder. It is very functional and works perfect for me. Big enough to carry all I need yet small enough to prevent me from brining along items I don't. I drop this bag in a pannier on the back of my bike. Works great for my commute. I have had no problems with this setup.
Yep. It carries my laptop and cord and mouse, with room for a couple more accessories. Looks great.
I got a 15 inch macbook so naturally I need to give it a 'home' to carry it in. I previously had the Gravis Hobo bag but this only accommodates 13 inch laptops (still a solid choice tho for 13 inch and tablets). So I stumbled upon this Dakine laptop case. I wanted something different than the typical messenger flap style bags..it just gets annoying to have to flip up and close then flip up for something else etc. This bag is nice because it's just two zippers on top. I didn't want anything bulky so this was perfect. My macbook is snug and it is a 15 inch so 17 inch laptops should beware I think. The front stash pocket is nice too to hold chargers and other gadgets. I like how it has handles that can be stowed away and the shoulder strap is adjustable and removable. Good padding protection too.

Good stuff dogfunk!
will this hold a hp dv7 it has a 17.3"...
will this hold a hp dv7 it has a 17.3" screen?
I don't think so...I have a 15 inch macbook and its a tight fit on the sides and fits pretty snug.
Plenty of space and pockets for computing accessories, and velcro stash pockets for the handles....if that's your thing.
Not bomb proof...but good.
If you are looking for a case with a lot of protection; this isn't it. I got this for a basic case to put my laptop in when storing at the house. For this purpose, it is perfect.