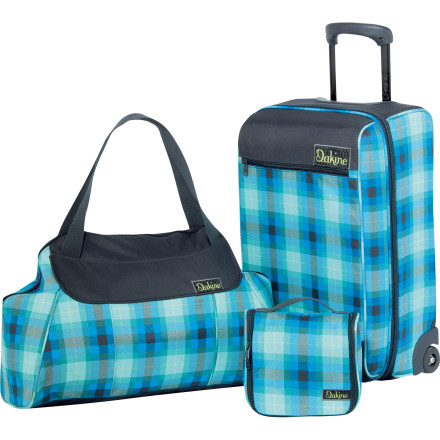 DAKINE Jet Setter Luggage Collection - 3 Piece - Women's - 2500cu in
View Larger Image
Community Images
Dakine made the matching Women's Jet Setter Luggage Collection for the experienced world traveler, the college girl on her first trans-Atlantic adventure, and everyone in between. Roll into your departure airport with the beauty kit stashed in the carry-on-size duffle bag that is conveniently draped over the handle of the large roller bag. Hit the kiosk, grab your boarding pass, hand the roller over to the agent, wave goodbye, and head for the security checkpoint. And don't worry about those little plastic baggies the airport offers, because all of your 3-ounce containers are neatly organized in the durable plastic bag within your beauty kit. Simply pull the beauty kit out of the duffel, unzip it, place in the bin with your shoes, and mosey on through.
It's very cute and functional. I did notice that some times it would fall over as opposed to standing on its own but that didn't bother me. It traveled and held up really well as a checked bag as well. I can't wait to buy some of the larger items in the collection for my trip this spring.
Where was this product made? Country of...
Where was this product made? Country of origin?
She loves it. Great size to just take carry on. Good size so that she can pack well but not take her entire wardrobe! Seem pretty sturdy too!
Way to avoid checked bag fees...
I just received this set to use on a four-day trip to Puerto Rico in February. I need it to fit clothes for a wedding, as well as hiking clothes for a little sightseeing. This suitcase looks like it will do the job...

The roller *should* fit as a carry-on bag, plus it is hard on the backside but soft and expandable on the front, which I really like. The pop-up handle is light and easy to push up and down, while my old roller was a lot clunkier. The inside is lined with a really dark pink fabric.

The duffle bag / large purse is also really nice. I should be able to fit my regular purse, plus more clothes and even the toiletry bag inside, and still fit it under the airplane seat. The toiletry bag itself is awesome, very similar to the kind of organizers that LL Bean makes. It can't fit full size bottles, just trial size liquids, and it even provides you a clear quart-sized zipped bag for airport security.

I will say that the picture on Backcountry and on the Dakine website is a little misleading in terms of color. It is a dark navy, with really dark pink (almost a cranberry or mauve color.) I actually like it a lot better than the picture, which makes it look like a bright pink.