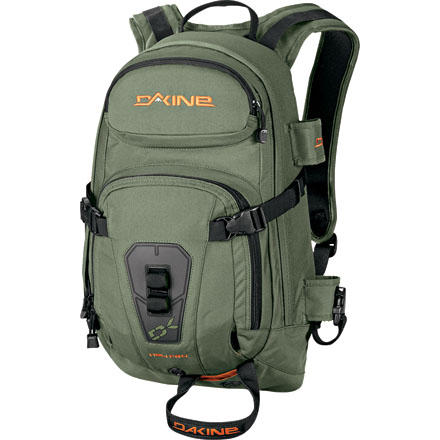 Finally found the pack for me!
Being from Australia, trying to find a pack that was suitable for my needs was like trying to find a needle in a haystack.

After seeing the Dakine bag, I knew that it was what I needed. I received it within 2 weeks, and haven't looked back since.

Definitely worth the purchase!
Bought this in order to fit my all around needs (snowboarding, hiking, biking), and it does that pretty well! It has a ton of great features like the fleece-lined goggle pocket, waterproof camera pouch on the waist, and numerous other places for gear.

The thing I LOVE about it is the hydration mouthpiece is tucked away in a zip pocket on the strap. What I was able to do is run an audio extension cord through the same place so I can plug my headphones in at a convenient spot and keep my mp3 player safe in the bag.

The only thing I would change about it is make it a little bigger, but that's just me.
Does this dakine heli hydration pack come...
Does this dakine heli hydration pack come with the water bladder or is that additional?
Yes, both the 16L and 20L come with 100oz Nalgene blatters.
It's got everything you need
After a hellish day of snow-shoeing with my board attached to a regular backpack, I decided to splash out on the Heli Pro. I have to say, I don't regret it for a second! I can attach my board either horizontally or vertically and it's comfortable either way. My shovel head fits perfectly in the front pouch and the handle locks in to the quick-draw holder on the side. The insulated arm straps are great for my water pouch and my water has never frozen on me since. Oh, and the back flap folds down and can be used a seat in the snow, which is ingenious!
This is practically a perfect pack. It fits a ton of gear (food, 100oz bladder, extra lawyers, phone, keys, camera) and still has a slim profile. The construction is excellent, and it doesn't move around on your back when you are cutting sharp turns. The slim fit means you won't have any problems when you decide to get on the ski lift to hit the groomers. It was so good i bought one for my girlfriend. The price also makes this a great deal.
Solid bag - it will hold up forever. But it's not made for anything but backcountry riding. For everyday use, the straps get pretty excessive and there are no special pockets for pens, keys, and the like. Not a big deal in the long run.
Great pack - should have hydration bladder included
The pack is awesome. The cross carry is brilliant, has plenty of room for your extras, love the water tube through the strap (should be able to put it on either strap, though). All the features together make it a great pack. Not having the hydration bladder being included for the price is a little weak. For $80 to $100, I would expect it to come with it. I found most etailers leave the description ambiguous, so they must agree.
I like the way this pack fits. The hydration option is cool. Pack wears comfortably all day and has plenty of room for a change of cloths or whatever you might need on the mountain, its a good tight pack that keeps the pow out and your stuff in.
Own two for school and boarding. the pocket down the strap for the water tube is really convenient and the goggle pocket has smooth fabric inside so not to scratch goggles.
Very durable