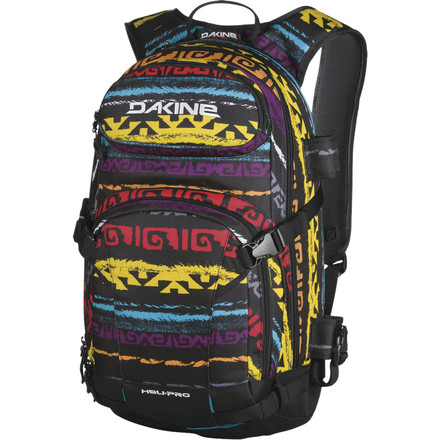 Detail Images

Videos

Community Images
Description
Don't be spent before the descent.
Sure, you can strap a shovel to your back and shoulder your boards, but you'll be thirsty, hungry, and freezing to death once you summit. And don't even think about bootpacking on a skin track. Pack up treats, layers, skins, and hydration in the Dakine Heli Pro 20L Backpack and hit the backcountry adequately prepared, so you actually have the energy to rip the descent.

Durable, lightweight 600D polyester and recycled PET withstand rugged wear and tear for long-term reliability and protection
Vertical snowboard and diagonal ski carriers let you attach board(s) on back for more stable, hands-free hiking
Padded, adjustable shoulder straps and waist-belt transfer load to your hips for comfortable carry; sternum strap helps to further secure and stabilize
Organizer and fleece-lined goggle pockets hold your gear where you want it
Hydration compatibility lets you carry your reservoir in convenient security
Laptop sleeve accommodates most 15-inch computers if you want to stay connected while on a mountaintop
Integrated rescue whistle at the sternum strap gives you a handy, built-in communication tool
Great hybrid day/adventure pack
Familiarity:

I've used it several times
It isn't the best backpack for school, nor the best backack for the slopes, but it excells in both.
Excellent all-purpose pack.
Familiarity:

I've put it through the wringer
I bought this as a size-up from the smaller Heli pack and I absolutely love it. Fits everything I need for travelling, skiing, hiking, etc. without being too bulky. I use this pack almost every day of the year and it's held up great. My only small complaint is that some sort of mesh outer pocket would've been handy.
Favorite Day Pack
Familiarity:

I've put it through the wringer
I bought my first Heli Pro 6 years ago and have loved using it anywhere from school to skiing. It has held up throughout years of abuse and I have only beaten up the zipper tabs. I have had to replace them multiple times over the years but the bag has been well worth it. 20 Liters is a great size for school, on piste, and/or short backcountry excursions. I would move up in size if you are looking to spend more than 8 hours with this pack or looking to bring it with on an overnight trip. Just a bit undersized for any camping/overnight gear. Fits great with a jacket on but you might get a sweaty back hiking with it in the summer.

Overall this is my favorite short trip/Day pack!
Great price for an in-the-middle bag
Gender:

Male

Familiarity:

I've put it through the wringer
This is a solid bag. I own two of them (got them at deep discounts, thanks to Backcountry.com!)
I've used this bag all over the resort and for short day tours (3-5 hours) in the backcountry; I love the feature set (especially goggle pocket) and the on-the-go hydration helps me save a lot of money throughout the day not buying liters of water and keeping a Thermos-full of coffee with me to not buy coffee!

I wish the load-bearing system was a bit better for both the shoulder straps and the waist; at the end of the day, you definitely feel like you wore a backpack all day versus some other, bigger bags I own with proper load-bearing systems that don't wear me out.

But those are not enough to disqualify this bag for consideration; the horizontal snowboard carry is great in the backcountry if there aren't a lot of obstacles and the pack will hold full ski poles, snowshoes, and gear all the way down your run without being floppy and throwing you off your ride. I was pleasantly surprised how well this worked for day tours.

In the end, it's a tough consideration; a backpack for the resort? There are better options. Good for the backcountry? It does well, but it's definitely not a "backcountry" backpack. It's kind of in the middle; great pack for school/work but doubles as a snowboard backpack.

Does it come with a water bladder and if not can I put one in and have a spot for the hose to come out not through the zipper
No the backpack does not come with a bladder. Yes there is a spot for the hose to come out while the bladder can stay safe while in the laptop sleeve.
Seapine
Familiarity:

I've used it several times
This backpack is awesome and I use it everyday. I like the fact that I could use it for the backcountry, but I just haven't had the chance yet... maybe next winter. The seapine color is not as bright as it seems, but that's fine by me!
From school to the slopes.
Familiarity:

I've put it through the wringer
I have had many different Dakine backpacks and will continue to buy Dakine because they make some of the greatest packbacks for what I need. The laptop sleeve is a must for school, with a pocket for the goggles just in case the wind picks up across campus, and a front pocket for pencil, calculator, and even some fruit snacks. When you head to the slopes, dump all that on the back seat and get ready for some good powder days. The padded straps really keep the backpack on and the hip strap is a must to make the pack feel like part of your body. I take mine everywhere and it stands up to the abuse. If this one ever wears out, I plan on getting the same pack.



It is right next to me here as I pretend to be doing homework. My daily school bag and weekend adventure pack.
Everyday Pack
Familiarity:

I've put it through the wringer
I used this pack everyday between classes at university, camping in the Mid-West, to riding out in Colorado and Utah. This pack simply has performed extremely well for me with little complaints. Waterproof when needed in rain with my laptop in it, as well as protecting dry gloves/goggles/food on the mountain.



My only con: the Waist buckles to trap over while riding, one snapped getting snagged on furniture or caught on something and one half of the buckle is broke. Probably a simple fix, and not to worried about it!



Dakine will always be my go to for anything luggage related.
Money Bag
Familiarity:

I've used it several times
Got this a month or so ago, so I haven't been able to go skiing with it but I can't wait to go touring this winter. I did strap my skis to it and it carried them well.



I've used it for everyday use, hikes, bike rides etc. so far. Sturdy materials and solid construction. Pretty sure it will serve me well for a long time to come. I wouldn't mind if it was just a little bit bigger, but it holds everything I absolutely NEED.
DAKINE Heli Pro 20L Backpack
Going to Israel. Love the colors. Is it...
Going to Israel. Love the colors. Is it practical? I don't hike mountains, but want something durable and dependable.
Hey Susan,

I'd advice against it. Mostly because this is a winter sport pack, the backpanel and shoulder straps are not breathable and you'll over heat. The pockets also are fairly sport specific. The summer line up of Dakine packs may be more what you're looking for. They do have some awesome patterns!! Personally I'm a fan of the osprey day packs, amazing breathability on the backpanels. Hope that helps!!
great bag!
Familiarity:

I've put it through the wringer
i use this bag for school, and for going backcountry skiing. The size is perfect, and the fleece pouch is perfect for my goggles and phone. this pack carries my books and skis with ease. many other people complain about broken zippers. but if you just use common sense the zipps will last a long time, the zippers are also very burley (which is a good thing) . the only problem is if your using a camel back in the winter, your tube sometimes freezes. other than that this bag is killer! get it!
Perfect for a day on the mountain
Familiarity:

I've put it through the wringer
I got myself this pack this past February and absolutely love it. Besides the color choices (I chose lumberjack) the actually quality of this item cannot be beat. If you are looking for a pack to wear while on the mountain skiing or snowboarding, this is for you!
Does this 20L have the zippered, insulated...
Does this 20L have the zippered, insulated hydration sleeve that runs down the shoulder strap? Thanks!
Best Answer
This one does not, the DLX version (http://www.backcountry.com/dakine-heli-pro-dlx-20l-backpack-1200cu-in?ti=U2VhcmNoIFJlc3VsdHM6aGVsaSBwcm8gZGx4OjE6MjpoZWxpIHBybyBkbHg) is the one with the insulated sleeve. I would suggest buying that one instead. The extra features are worth the 20 dollar price bump.
Does it hold an avy shovel
Does it hold an avy shovel
Best Answer
Yes it will fit most avy shovels. The only ones you may have an issue with are the super big pro shovels that snow scientists and patrol use sometimes. The big boys.
Most versatile backpack ever.
Familiarity:

I've put it through the wringer
This backpack is great for hiking, skiing, camping, weekend traveling, air travel. The zippers burly and the waist strap is good for when the going gets tough. This is my second Heli Pro, My first one lasted 6 years.
Does this pack have a horizontal snowboard...
Does this pack have a horizontal snowboard carry?
No, the Heli- Pro only has Vertical Snowboard carry, and Diagonal and A-Frame ski carry. I Believe that the DLX version, which is like $20 more has horizontal snowboard carry though.
great pack for so many uses
Familiarity:

I've used it several times
i have hiked with this pack touring, use it for work. it has great organization for food, water , boards, phones. also kept everything dry. shoulder straps are very comfortable and caused no problems even after several hours use
What water reservoir/bladder would be...
What water reservoir/bladder would be suggested with this pack? Sizing? A 1.5L or 3L?
Best Answer
I'd go with 1.5L. Even though it will fit a 3L, it will take up more space that could be used for other things. I used to rock the 3L out skiing and found I never actually drank 3L of water but just ended up carrying an extra 1.5kg of water weight.