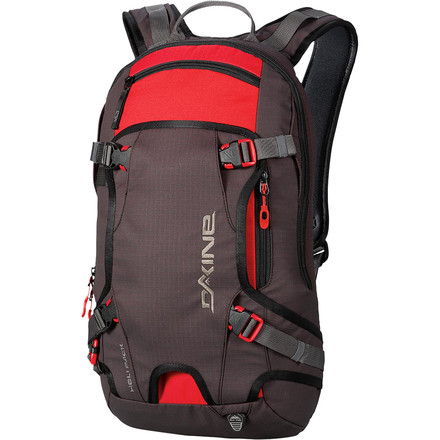 Community Images
With just enough room for a compressible warm layer and some extra calories, the DAKINE Heli Winter Backpack is an essentials-only bag that's ready to tote your minimalist kit. Because it's designed to carry either skis or a snowboard, you can choose your preferred method of descent depending on the day and snow conditions.
Vertical snowboard carry and diagonal cable ski carry tote your ride while you hike (that is, on those days when your helicopter is grounded)
An external shovel pocket keeps your avy gear handy
Insulated H20 sleeve helps prevent your nourishing fluids from freezing
Fleece-lined pocket lets you stash your goggles when not in use
Hi will you be getting any more of these in stock any time soon?
Hey Brandon! We currently don't have any of these on order.



Check back in the fall and we may have them back in stock for winter time.
Buy It!
Familiarity:

I've put it through the wringer
Most versatile pack I've ever owned. Used for mountain biking, snowboard, camping, hiking, bringing to shows, going to the lake...lifetime warranty. Put my own hydration pack in as well
Unanswered Question
Hi, I'm looking to buy one of these. Do you have any more stock? Thanks
Great for some things, small for others
Familiarity:

I've put it through the wringer
I use this backpack on a daily basis for literally everything. It fits all my basic gear (extra layers, gloves, hat, water, etc.) without having to force it shut. I've used it for resort ski days, as a general work bag, and day hikes. The only down side is that it's not big enough to be a good travel backpack or for any serious backcountry trek, and the ski carry system just isn't designed well for this sized pack. I've used it maybe twice for that purpose. That being said, there's no better pack for day-to-day use.
really good, except...
Familiarity:

I've put it through the wringer
This is my second Dakine heli pack and I noticed they made some slight changes from the original. The reason I can't give the new one 5 stars is they have changed the angle for ski carry.... it is now much too angled. I hike with it at Aspen Highlands Bowl and my skis keep getting caught on the trees because they stick out so much now. It also makes passing people dangerous on the narrow path... please go back to the more vertical orientation!!
Do you guys have these on order or are you getting any of these in anytime soon?
vjrp873054,



We do have a purchase order on the way. We should have more inventory on the site available for purchase soon. I would estimate mid to late February. Keep checking this page.
Amazing small backpack!
Familiarity:

I've put it through the wringer
I have installed the 2L DAKINE hydrator in it and use it everywhere: inbounds, resort backcountry. It can easily fit a thermos, spare mid-layer and some snacks. Lots of options to strap your gear from the outside. However, it is a small pack, so it might be tricky to put the probe in and you may not be able to get you shovel without unstrapping the other gear.



I also use it to carry my slackline set with tree protectors, bottle of water and a pair of FiveFingers; using external flip I can carry my rollerblades, set of pads etc.



Extremely versatile and durable pack!
Do all backpack.
Familiarity:

I've put it through the wringer
I've had my heli pack for 4 years now and it is still going strong. We don't have snow here right now but I still used it today on my bike ride and I love the insulated routing for the water hose to keep my water nice and cool on sunny days. The snowboard holding system was great for running up some backcountry runs on a snowmobile. The goggles pocket is a nice addition to keep them nice and protected. The hip strap is nice to keep the pack secure to your body on the steep runs and chest strap really helps on the drops and jumps. A smaller backpack for the important things.



Even though it was meant for snow sports, the small profile and ability to have a water reservoir make it great for biking.
Can this pack carry 2 pairs of skis? I often carry 2 pairs A-frame style. Does this pack accommodate that?


Best Answer
This pack is set up to carry a set of skis on a diagonal with a strap out of a zippered pocket on the top left and a protected wire out of the bottom right. Since this pack is so compact is doesn't have a lot of straps on the outside other than the snowboard carry flap, so it most likely won't accommodate 2 pairs of skis A-frame style.
Heli Backpack....Awesome
Gender:

Male

Familiarity:

I've put it through the wringer
Bought this bag mostly for skiing ended up using it year round. Plenty of room for an extra layer, food and hydration pack while skiing. The goggle pocket is also good for keys or phone while hiking. Fits nicely with padded waist strap and upper chest strap. Bag got a fair share of abuse last year and didn't miss a beat, definitely built to last.
A Keeper
Familiarity:

I've put it through the wringer
I was reluctant to keep the Heli Winter Backpack 660 when it first arrived. It seemed so small, it had this weird flap on the back panel, and the length, size, and number of straps seemed like overkill.



But in time, I grew to love those very features:

-The low-profile size is perfect for day hikes, bicycle commuting, travel carry-on, and (I expect) skiing.

-The external flap on the back panel adds tremendous versatility and capacity to the pack. I have stashed an extra jacket, French baguettes, and even flowers for the Mrs. in it.

-The straps, buckles, and zippers are all of high quality and seem durable and well made. They are long enough for all body types and all ranges of clothing layers.



The overall quality of construction and its appearance are excellent. So glad I didn't send it back!


SICK
Familiarity:

I've used it once or twice and have initial impressions
This backpack is pretty freaking sweet. I ski and was able to sling my skis through the diagonal holder for them as well as fit my ski boots in the front 'Shovel / wet' pouch. With both of those things on it's pretty tight and you can't fit much else in the backpack so I would probably don't get this for that specific reason and expect to fit more inside of it.



This would be a great afternoon bowl or top-mountain pack. just enough room to fit maybe 4 waters or a hydration pack a few sandwhiches and maybe some pb crackers or something haha.



Overall impressions: Small backpack but fits my needs for afternoon bowl hikes of about 2 miles (to carry my skis and maybe helmet), a lunch for 2 or 3 people, and then back down to hit a few runs on a face.



Does exactly what it needs to and you can get creative with some of the features.
Great inbounds/sidecountry pack
Gender:

Male

Familiarity:

I've put it through the wringer
This is an awesome pack if you're gonna be doing some bootpacking inbounds, or stepping out into the sidecountry. It's got enough room for avy gear, extra mittens and maybe a backup coat and a snack - it's not huge, and it's probably not good for full-day tours.



The ski carrying system is similar to what BD uses on some of their packs - a steel cable loop that comes out of the bottom of the pack. Stick your skis through it, then clip them across the top. They end up a little bit diagonal in the right-leg-to-left-shoulder direction, which is pretty comfortable.



Straps could be a little comfier, but they're not too bad. I bring this everywhere I ski in bounds.
Awesome "swiss army knife" Backpack
Wow! Something this small does SO much. Carrys, skis or snowboard, goggles, gloves, food and expandable.



One thing NOT noted about this pack that I discovered... CARRY YOUR BOOTS!!! Open the outer layer and your boots can strap in, toes pointing out to your side. I was in Montana and had multiple people ask me about the pack because they never saw boots carried like that. I think I may have discovered this but Dakine should market it that way. The BEST small, do it all pack I have used... hands down.



I just posted an image to show how
i was stoked
Familiarity:

I've put it through the wringer
this backpack is awesome with the low price and the high durability this thing is awesome the ski carry system works great and makes hikes a lot easier than carrying my skis I've had numerous dakines and this is my favorite by far i would by anther and the price underpriced this thing should be worth a lot more thank it is thanks backcountry for the fast shipping too!
amazing! love it!
Familiarity:

I've used it several times
this is an amazing bag, great for holding your board or skis while you are look for the perfect spot to shred. it also hold skis which is really convenient if you ski and snowboard so you don't have to buy two bags , also very stylish. it is amazing!
Just what i was looking for
This pack is really sleek if you are looking for something that inst going to be bulky in the least bit than this is the bag for you. This bag has a nice width and is fairly tall, i mostly use it for my laptop which is like a 17" it would also be great for like schools books and that kind of stuff. The bags smaller front pocket also goes really deep, im able to fit my big charger and a mouse in there with no problem.