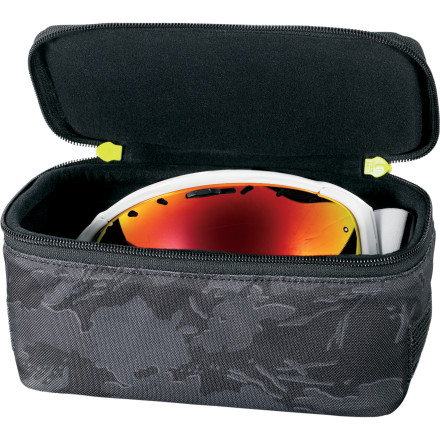 Detail Images
Protect your expensive, polarized goggles from getting all dinged up in your trunk; stash them in the fleece-lined DAKINE Goggle Case. An interior sleeves holds an extra lens so you won't be caught with your pants down in case the light has changed by the time you roll up to the mountain. Because there's nothing worse than a cold, wet goggle on your face, DAKINE outfitted this case with mesh vents to help dry things out overnight.
8 x 4 x 4in (20 x 10 x 10cm)
I really like this case. keeps my goggles safe and there is plenty of room and a place for my spare lens for the occasional day-time riding. only thing i don't like, i wish it was hard sided. then i would feel better just throwing it in my bag. but there are other cases for that and bought this one instead. and i'm happy with that decision.
I got these for Christmas. They are cool looking, they have nice vents to let your gogs dry out, and match your Dakine backpack. They are a little tight fit for big Oakley spherical goggles + an extra lens but if you put them in the right way they fit PERFECTLY. They were definitely meant for more of a Smith Stance or Dragon DX goggle.
I have finally make the decision to take better care of my goggles and this case is worth every penny. It doubles for my wallet/keys storage on resort days and lets me stuff them in the bottom of my pack for tour days. Very happy!
Not great for spherical lens goggles..
This case supposedly can fit goggles and extra lens. Its not the case for spherical lens goggles. You can't really fit the extra lens in there since the spherical shape makes it awkward. Its ok to keep the goggle itself in, but it'd be nicer to fit both. This case would work much better with the flat lens goggles and their extra lens.
Sure it works great for the goggs in the winter, but it's also the perfect case for my SLR in the summer. Microfleece lining keeps the goods scratch-free, and the backup lens separators provide a nice little accessory stash for my lens hood, charger, or backup memory sticks in their cases. Versatile and basic. Couldn't ask for more.