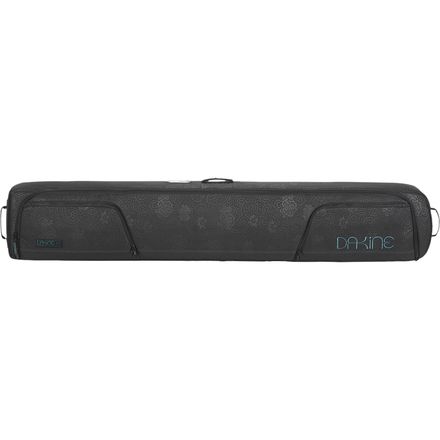 Colors
Bring both your alpine and powder sticks on your next Canadian ski adventure safely stowed in the Dakine Women's Fall Line Double Ski Bag. This fully padded bag protects your sticks on the rough ride to the mountain while exterior pockets keep your boots in one place.
175cm Fall Line Double fits a maximum of two pairs of skis that are up to 175cm in length, along with ski poles and boots
High-quality urethane wheels and dual end carry handles make transport to and from the airport or hotel a cinch
Lockable zipper cars keeps preying fingers at bay while you travel
600D polyester fabric offers solid durability, resistant abrasion, and light protection from the elements
Full padding throughout offers superb protection for your babies against the dings and dents of travel
Two external pockets house your ski boots
Love it!
Familiarity:

I've used it once or twice and have initial impressions
Why is a guy buying a women's ski bag? First off, the only difference is that it is smaller than the guys bag, which is great for me as I like shorter skis (mid 170's), so a bigger bag just flops around. Plus, this bag measures out at 74", which with some kicking and prodding could be made to fit the airlines max length of 72" to stay off of their oversized luggage list. Another great thing about this bag is that it has very muted colors (OK, black isn't technically a color, but there are a bunch of shades of black), which to me makes it less appealing to thieves. Why steal a boring black bag when you could steal the bright, shiny, multicolored guys DaKine bag?

This bag works well for either one pair of skis and lots of extra gear, or for two pairs of skis. With two pairs of skis, you'd have trouble getting the boots to schooch down flat, but with one pair, they nestle right in there.

The construction is very nice throughout and it seems like a great value for the money. The exterior is rugged, there is plenty of padding, the wheels are pretty and there is just the right amount of pockets and zipper - not too many, not too few.

My only complaint about this bag is that it is heavy, which can be said about all wheeled, padded double bags. In weighs in at 9 pounds, which takes a sizeable chunk out of your 50 pound airline limit, but so be it.
How long is this bag? I see other Dakine Fall Line bags that go up to 190, but this says one size. Would it fit skis over 175cm? Thanks!
Thanks for pointing out this weird sizing thing! I haven't seen that before. Strange!

Here are the dimensions from Darien's site:

12 x 6.5 x 74" [ 30 x 16 x 188cm ]

Fits max. 175cm skis



*They say max 175, but there is some wiggle room there depending on the true length of the ski - manufacturers do not always use the same method of measurement. I talked to someone the other day that was able to fit a pair of 183 G3 Empires in a 175cm bag.


I fit some 176cm BD skis in there with plenty of extra room. You could probably get a pair of 180's in by loading them diagonally or stretching the bag a bit.
Would the bag fit a 169 pair of skis and...
Would the bag fit a 169 pair of skis and a 146 snowboard?
Catalina,

You should be able to fit those skis and snowboard into the DAKINE Fall Line Double Ski Bag without any trouble.
Would this bag fit a 175cm pair of skis...
Would this bag fit a 175cm pair of skis as well as a 153cm ladies snowboard?
Kristen,



You should be able to fit both skis and snowboard into the DAKINE Fall Line Double. However, if you really want some space for your gear I would recommend upgrading to the DAKINE Concourse Double.