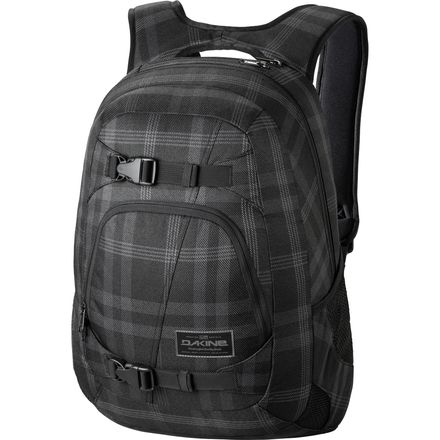 Colors
Description
A pack that holds everything YOU need.
Before you head to school, strap your board to the DAKINE Explorer Backpack so you can poach the ledges behind the gym during lunch. Fit your laptop, MP3 player, sunglasses, and books in the Explorer's pockets so they don't get lost between your first and second class. Once lunch comes around, head around back and pull some wax out of the organizer pocket that also holds your pens and phone. When the ledge is waxed and ready to shred, put on your tunes and do your best to make it to your next class.
Great item for a great price !
Familiarity:

I've used it several times
The quality and the price are unbeatable.
Love this backpack.
Familiarity:

I've put it through the wringer
A few highlights: awesome organization pocket, awesome top pockets for sunglasses and other random stuff, looks sweet.
Quality Bag
Familiarity:

I've used it several times
Perfect size for a day bag, school, or work. Not quite big enough for a weekend bag. Fits my 15" MacBook Pro (non-retina) perfectly. Quality is outstanding, I'd definitely pay more if I had to for this bag. Can't go wrong with this one.
Can a nalgene water bottle fit in the water...
Can a nalgene water bottle fit in the water bottle pocket?


Best Answer
Nalgene water bottles wont fit into the pocket. You can however attach it with a carabiner to the pack!
Great quality lifestyle bag.
Gender:

Male

Familiarity:

I've put it through the wringer
I've had an older version of the Dakine Explorer backpack since 2000. Used it for college, hiking, motorcycle riding, overnight trips, basically everything for the last 13 years. Only in the last year, the interior lining has started to fall away from the nylon where the bag crinkles at the top. Other than that, the bag itself and every zipper have stayed in tact. Dakine is quality.



Great bag for overnight clothes + extra shoes (+more), laptop (fits 15" fine) and textbooks, or all the day hiking stuff you'd need. IIRC, in 2000 it was ~$90, so for $60 on here now, it's a steal for sure.
how many days is the regular delivery?
how many days is the regular delivery?
Hello and thanks for the question.

We have quite a few different shipping options available. The free shipping method takes 7-14 business days and the item will ship from Virginia or Utah. You can chat with one of our sales rep to get a better idea of which location this item will ship from and how long it will take based on your location.
I doubt it. It's only 15 by 10.75 inches. You can measure your actual laptop, but it seems unlikely.
This pack is great for the price. Plenty of room to carry school supplies (very roomy), and a skateboard. Great durable material also.
does this pack have a chest strap?
does this pack have a chest strap?
ben4923509



Yes this does have a chest strap
This backpack is the shit is preaty big and the material is great it looks great and I will probably use it for a long period of time.
I got this backpack to haul my work laptop around and I love it! It's got lots of space and is comfortable to wear!
I am very happy with my purchase of this back pack. The best one I've owned. Fits all my needs and very roomy.
is this bag able to hold a 15.6 laptop?
is this bag able to hold a 15.6 laptop?
Alex, you are past the max size but I think it might work, but can't say for sure. You can return it if it does not fit but you would have to pay return shipping.
Will this fit a 17.5 inch laptop?? If not...
Will this fit a 17.5 inch laptop?? If not could someone give me a link to one that would?
Best Answer
Nope, don't think it will fit. You are going to need to step-up to the 2000 cubic inch packs or a little large in most brands to fit that big of a laptop.
Recommend the green one...
Love this bag. All the basics you need. Some great front slots in the front zipped pocket for organizing. Side mesh holds all drinks well. Especially love the two top zipper pockets for holding sunglasses (soft lining) and other personal items (in the nylon lined pocket). Also, interior laptop slot is padded and is perfect for 15-17" laptops.

In terms of comfort, it has great padding for the back and straps. Ergonomic fit when you're wearing it.

Also, bought the green color and it pops. Has the newer logo embroidered (not like the green one pictured). Also, has a better color scheme than the green one pictured. There's more dark grey (i.e. mesh on the side is dark grey and all the white has dark grey contrasting lining next to it).
great bag for a traveling dude
bought as a replacement for a bag i got at REI because I needed a laptop sleeve this bag completes that requirement very well, plus the organizer pocket which is awesome and the fact that the bag is super comfortable when worn makes this a great purchase for a great price.
great everyday use backpack
I got this pack for school and love it. its very spacious, much bigger then i thougth it would be. i havent had any problem fitting books in. one of the top zipper pockets (not the sunglass one) is the perfect size for a graphing calculator. not to mention the graphics are sick! i picked one up for the beginning of the school year, and ive already seen multiple kids with the same pack in different colorways. I got it in green and couldnt be more stoked.
Durable & Fncking Awesome
Great for college students hauling butt on campus. Very spacious and able to hold lunch, water bottles on the sides, textbooks, and school supplies. Besides the large main compartment, there are many pockets (some lined to protect iPods or sunglasses), and a sleeve for a laptop. Also looks sick! I've been using the Rasta at university for 3 weeks now and I am extremely happy with it.
got this very well-made and well-thought-out pack six months ago and-- the main zipper broke!! couldn't believe it. i did not strees it to the max. just one day the zipper started to unravel a little; and the next day it was useless!. i really loved the design of this bag and the look, too ( their "alpine plaid"); seemed like a very rugged design; i am really bummed