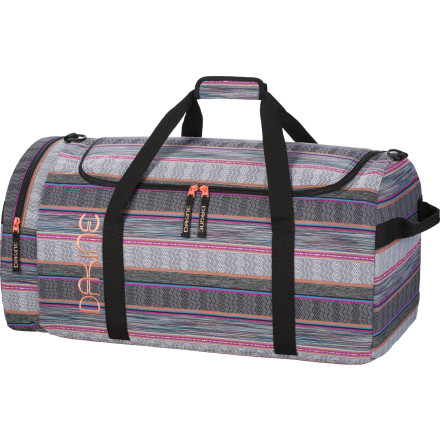 Detail Images
Description
Dakine built the EQ Bag to be tough enough steerage, but gave it looks that says, "Bring me my complimentary champagne—in a crystal goblet."
Whether you're packing for a week at camp, or like to carry little people with you when you travel, throw everything (and anyone) you can't live without in the Dakine Women's EQ 4500cu in Bag. Use the large compartment for your clothes and gear, and throw an extra pair of shoes and extra goodies in the EQ's end pocket. Carry this Dakine duffel with the included padded shoulder strap when you need to hustle through terminals or away from crowds accusing you of baby snatching.
Unanswered Question
Can i take this to a sleepaway camp for month

NOT a casual weekend bag
Gender:

Female

Familiarity:

I've put it through the wringer
I LOVE this bag, but be forewarned: It is too large to be a carry-on, and needs to go in checked baggage. That said, I don't recommend it for anything less than a week of travel. I bought it with me to Colorado in March, then Alaska in July, and both times it worked perfectly...I fit all of my stuff, and had room still to bring stuff home that I acquired out there. It's well made, and very water resistant. I have the Capri pattern, not listed here, but similar to the Lattice Floral. There are a couple of things that could be improved upon: The strap is pretty long, even at it's shortest adjustment. I'm 5' 2" and it hangs around my lower thigh. Second, the bottom is not reinforced, so pack it pretty full or else it'll sag pretty low. I cut plastic to line the bottom with, for stability. Third: There is only one side pocket, but it's a pretty big one.
How much does this bag weigh empty?
How much does this bag weigh empty?
It's 1lb 8oz, which seams kinda heavy for a simple duffel.
If you could compare this duffel to a...
If you could compare this duffel to a common object for size relation what would be closest?
is this considered oversized for checked...
is this considered oversized for checked luggage? thanks!
for checked luggage, definitely not. too big for carry on though
Very spacious and cute so I won't get it mixed up with anyone else's luggage. Really happy with this brand.
transporting small people....
No joke! This bag was way more than I was expecting! Worth every cent and then some! I packed 5 days worth of street clothes/toiletries/and my snow gear. My boots and board traveled separately of course but this is an amazing bag! Snag one while you can!!!
nice durable material and SOO much room inside! i could definitely pack for 2 weeks of winter excursions with this, and the plaid pattern is super cute :)
And so I love it. Very roomy, durable and that subtle, edgy style Dakine is known for. Carries everything and is VERY easy to load with the ergonomically shaped opening. Heavy-duty shoulder strap and handles on the ends means easy to carry AND handle picking up and putting down, even loaded with heels, hair dryers, make-up and all that stuff guys know nothing about that make girls so perty.
i love love love this bag!! its amazing!!! MUST HAVE!! And its HUGE!!! BUY IT!!
I love my DAKINE duffel, I have packed up to the slopes several times now since Christmas. No leaks, perfect size for all my gear, can't wait to take it on a flight!
My daughters are dancers and they have gone through several duffels over the the past years: not big enought, not durable enough, get too dirty, smelly, not able to clean them. I gave them both a DAKINE Lg Duffel for Christmas - they love, love, love them! These bags are nice and large enough for when they have to travel with all of their dance shoes, water bottles, along with costume stuff, & makeup, etc. They especially like that their bags are now different from all of the other dancers dance bags.
We really liked this bag, want a small one for weekend trips. This one is great for packing a bunch of stuff for a long trip.
I got the Cheetha pattern and it's soooo sweet=) I haven't used it yet but it looks like a perfect size(size large) for what I wanted, a bit of clothes, extra pair of shoes, one to two snowboard outfits and googles, beenies, gloves, ect. Basicly a good snowboard\week\weekend\weekends trip bag =)
this duffle was cute but it was just too large for me. i exchanged it for a medium.
Is this bag small enough to be taken as...
Is this bag small enough to be taken as carry-on luggage?
No, it is not a carry-on size. The FAA's carry-on size limit is 45 dimensional inches (add length+width+height). This adds up to 51 inches (27 x 12.5 x 11.5in).
this bag is easily 2 times as big as a normal carry on size
I travel for work & carry this 74L bag on all the time with no problems... It's a duffle without ridged sides (aka: squishy)so it can easily be maneuvered in the overhead.
I love all this bag!! I packed enough for two weeks!! All the Dakine stuff is awesome~
Is there anything about this bag that makes...
Is there anything about this bag that makes it "Women's" other than the color/pattern options?
Just the color patterns. -C
can this bag be used as a carry on?
can this bag be used as a carry on?
The normal size for a carry on bag is 22" x 14" x 9" bag. This bag when filled is larger then most airlines guidelines. I have the mens version and when I do not fill it fully I can carry it on and stuff it in an overhead bin. -C