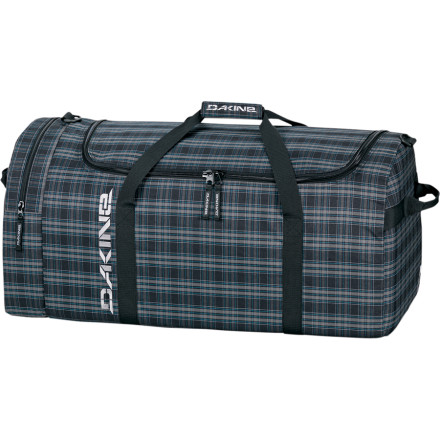 Detail Images
Stuff your giant mound of ski gear into the DAKINE EQ Bag when you hit the big time and get a chance to fly to AK or Japan. You don't know what the weather will be like, so bring all the snow gear you can fit into the 5800cu-inch EQ. It weighs a little over two pounds so that you can stuff your stuff and not worry about weight restrictions.
Huge duffle bag that will fit absolutely everything (except your board of course). It is not a rigid bag like the picture might make it look but it still has a ridiculous amount of room. If you need a big duffle bag to fit all your clothes, jacket, pants, goggles, gloves, and helmet in, get this. and its cheap
Sorry,but.....Just saw this bag at Altrec for $30.08 and Free Shipping!
So far I have fit my ski boots, helmet, gloves, coat, pants and more into my bag. It's huge! My goal was to get all my gear into the bag and it worked. I probably could have gotten by with just a large. I'm concerned it may be too big, but I guess it can't hurt to have the extra space. I haven't traveled with it yet, the fabric seems a little flimsy and easily rippable, but that will be to be determined.
This Extra Large Bag is great! It's lightweight, but durable. It can fit a full weeks worth of clothing and extras for a vacation. I am very happy with my purchase. I purchased 4 total bags all different sizes like this and I love them all!
Where is this bag made? What kind of...
Where is this bag made? What kind of zippers are on it; are they YKK zippers?
If the bag is made in China, well then, that is a deal breaker.
What is the size of this beg?
What is the size of this beg?
Enough room for your hag. savage deal.
Fit my Ski boots and gear/clothes for a 10day trip to Breck. Seems to be made well. diggin' it.
This is a great bag. I packed for a week trip and had more than enough room. It's also pretty rugged so it should survive almost anything you put it through.
Can't beat this price for the size of this duffle bag. Who needs to carry suitcases when you can toss it all into a bag? easy to carry and mucho space to carry just about everything. Awesome bag!
This bag is quite nice. One side pocket and one huge pocket. Great for weekends or longer. Well constructed, and semi-tough.