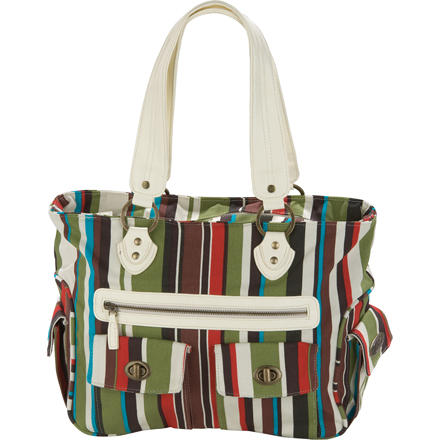 I really liked this bag. It can be a purse or a laptop bag. I use it as a purse, and even got a compliment on it. It's really nice.
Great Laptop Bag That Works as a Handbag!
I've been looking for a bag like this for a year, and I love it! It is big enough to fit my laptop, backup drive, tablet, folders, and leftover lunch and still zip up. The exterior zip pocket works great for my wallet and stray pens. And the side pockets and end pockets are really cute. I use one of the end ones for a cell phone. My only complaints: the straps are a bit short with heavy winter coat, the material attracts lint and dog fur (my beagle goes to work with me), and the end pockets have magnetic closures that need to line up to work. But these are very minor issues as it's the only bag I've ever found that looks cute, isn't too big for my 5'-1" size, works well, and doesn't scream "computer bag!"
I wouldnt really call this a purse its a laptop case, but I use it for both!! I wish it had more compartments in the inside instead of the divider but thats because i dont like to put things in the outside pockets....but all in all its a awesome product!