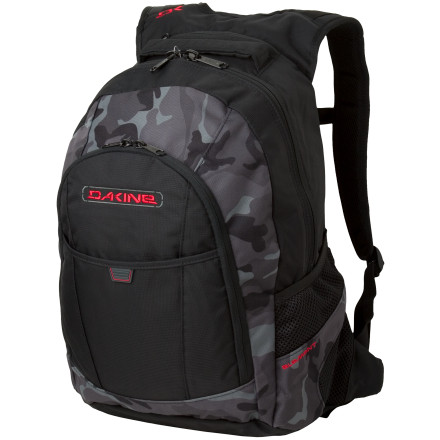 Detail Images
Share your thoughts
What do you think of the
DAKINE
Element Backpack - 1600cu in
? Share a...
I was looking for a new backpack to wear as I ride my bike to work. I carry my laptop back and forth so I wanted it to be safe but not to have a backache. This bag has helped me to do just that. The only difficulty is that I wish it had more space. I guess I have too much stuff I want to be able to carry with me to work.
Great backpack for the commuter. I am using it to travel to and from work on my bike. It is snug and secure for the trip with lots of room for my files, computer, and electronic gear use both at home and the office. The pack allows separation of the various articles with its many pockets, but need a larger key clip with a longer core to allow you to get at your keys without removing the backpack.
Nice backpack, but doesn't fit 15" Mac Book Pro very well
I really wanted to keep this backpack as it's very nice, but it doesn't fit very well with my new mac book pro. It fits, but you need to stretch the zipper/pack over the corners to get it in and out. I thought it would fit since the description says 17", but this laptop is longer than most. Anyways, if you have a mac book pro and are considering this, keep in mind that it doesn't fit like it should. I'm going to exchange it for something more along the dimensions of the mac book pro. FYI. Other than that, it's a really nice backpack. Pity I can't keep it.
This backpack seems to be quite durable, although it hasn't been beaten up and tossed around too much yet.

The hidden compartment is really nice for traveling... You can throw your passport/cash/etc into it and not worry about someone stealing them without you knowing. The CD/DVD holder inside is a nice touch too.
The fleece lined pocket for your sunglasses is also a nice feature - it also works well for storing a smaller sized digital camera.

The laptop pocket in the main section is one of the key features. It worked fine for me, but I think if you have a giant-sized laptop, you may have some fitting issues with the pocket.

The spot in the front pocket for your iPod holds a Canon powershot elph camera perfectly - I actually kept my MP3 player in the spot for a cellphone and my camera in the spot for an ipod. These holders are made out of a neoprene type material, so they stretch a little, but not much.

Overall, I think it holds a good amount for it's size and it's a great pack with some nice features.
This is a great backpack! I've taken it everywhere, it's comfortable and though.
I also used it to take my laptop when riding my bike. The other day it rained, when you a driving even a light rain its a lot of water; when I got home all the papers and my laptop where intact! not even humid!
I'm super happy with it. The size is just perfect, I can carry my laptop and few notebooks, my mp3 and all in a comfortable trip.
Solid pack for haulin' gigabytes
I've been using this pack as my daily commuter for about two months. Its comfy and protects my laptop perfectly in the internal sleeve. Has lots of room in the main compartment, and the second compartment carries gadgets and stuff nicely. I've flown with it a few times, and was surprised at how much stuff I can get in it when I need to.