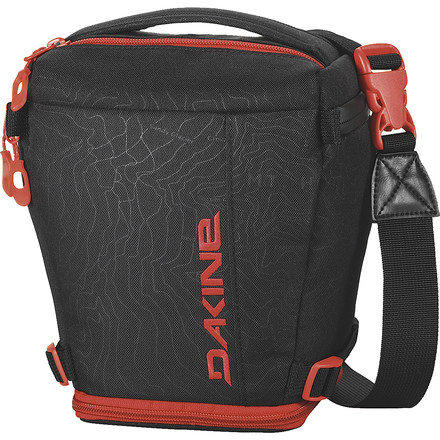 Colors

Community Images
Description
Sometimes all you need for the shot is the camera.
You don't always need the capacity of a backpack. Go light and efficient with the Dakine DSLR 4L Camera Case. It cradles your DSLR and accessories in padded and fleece-lined protection and includes an adjustable shoulder strap and mesh back harness for handy carrying options. Made from durable and strong nylon mini ripstop and sealed up with a waterproof zipper, this bag will withstand rugged use and keep out leaks and drips. You'll appreciate this compact bag for its easy access and low profile, especially in a big crowd.

Durable 420D nylon mini ripstop keeps your camera gear protected and covered and withstands rugged wear and tear
Four inches of expandable height lets you pack extras or go streamlined when you don't need them
Fully padded case accommodates a DSLR camera and accessories securely
Adjustable shoulder strap and mesh back harness give you convenient carrying options for ultimate versatility and comfort
Durable YKK waterproof zipper prevents potentially damaging leaks and moisture
Fleece-lined accessory pockets organize and protect items
Fun to carry around - so many options!
Familiarity:

I've used it several times
Me and camera bags have relationship issues. I love them, I like them, I dislike them and I wonder why...? This little bag is a great investment to my collection. I love the size. It's easy to carry and has a lot of carrying options. I originally wanted a external bag that I could wear with my backpacking backpack. Thought I would try this one out. Well I haven't been backpacking since I bought it, but I can see how it would work out well. Husband likes to take the nice camera out skiing and is able to pack this bag around easily. My Canon 7d fits nicely in this bag. Love the 2 inside pockets. Love the top zipper pocket. The camera is protected and secure when placed in a luggage or a large travel bag. Great little bag, would totally recommend it.
Great chest camera bag! Some pics...
Gender:

Male

Familiarity:

I've used it once or twice and have initial impressions
I got last year's in black but all the same otherwise. It can be worn as a chest pack or like a bag with the included harness or strap. Check out the pics.



When in chest mode, you have a four point harness keeping it in check on your chest. You can tuck in the lower buckles behind the padding when just using the shoulder strap.



The ease of access when out and about is perfect. This pack won't hold perfectly flat against your chest if you're just wearing a t-shirt but that's fine since you'll stay cooler with it leaning ever so slightly away. The chest strap on your daypack will help keep this secure. I leave my camera's neck strap on me while my camera is in this bag for extra insurance when pulling out to shoot.



If you sweat a lot, be aware, this will keep your camera in the drip zone. Use a sweat rag or you may drip sweat into switches / buttons on your camera in this position. Doesn't sound that bad but one drop hit an old camera of mine and washed dust into the zoom rocker switch. It stuck a lot after that. #tangent



This keeps your camera ready to shoot and out of the way when you're not shooting. No more swinging camera.



Oh yeah, the bottom extends like 3" if needed. There's a zip around the bottom to extend similar to how a suit case expands.



Backcountry - it'd help folks find this if you added chest pack to this description or a pic of it to the main product image. That's one of the main uses of this that separates it from many others. :)
LOVE IT !!!!
Familiarity:

I've put it through the wringer
As a photographer, it is imperative that you are ready for the shot. This bag ensures you are. I love to have this chest mounted while backcountry touring. I ride with it that way so i have easy access and its faster to get to when getting ready for riders to descend. Also on the way up, i have it on my chest. Usually I am out there early morning so i pass the morning golden hour - 30 seconds from unzipping to putting it back and i have myself some awesome sunrise images and then back on the skin path. Nice side pouches on the inside for batteries, cards, chargers. Top *might* fit a smaller diameter filter. But wont fit my 82mm for my Wide angle.
Small, light, better than I thought
Familiarity:

I've used it several times
I wasn't expecting much, just wanted something to protect my Nikon D7000. When I got the package from backcountry, opened it up and investigated what was included, I was happily surprised. Comes with a normal strap to throw over your shoulder but what's also included was a full backpack style strap system that holds the camera bag snug to your chest. Easy to get at your camera and for hiking, it's perfect. I bet i could go on a job with this thing strapped to my chest with no problem, that's how great it is.
Run an Gun Shooting
Familiarity:

I've put it through the wringer
Swooped this guy up right before I hopped over to Japan to snap photos in the deepest snow of my life, and it did everything I could ask and more.

Was able to pack in my DSLR either wide or telephoto lenses attached and had room for extra batteries, extra cards, my passport, the excessive amount of Yen coinage I was collecting, and other random necessities I had amassed on my trip. I grabbed this guy to replace any quick on-hill shooting I was doing, was perfect for those quick moments an one offs that I needed to get.



It didn't feel over encumbering as a chest mount and was able to shred with the best and stop to take a few quick snaps when the time was right, just make sure you have it synched down or it will pop you in the in the chin when you smash through a bump or two.. On the street it could be worn as an over the shoulder which I didn't expect but was a nice feature to have. Killer item if you're looking to globe trot or get out in the hills and you want your camera with..
Sweet All-Around Protection
Familiarity:

I've put it through the wringer
Got this bag to keep my Nikon D7000 in halfway decent shape while I was beating around the Wasatch hiking and touring and fly fishing and camping. This bag isn't going to be the absolutely bomb-proof protection you're going to get out of a professional-level hard case, however if you want a nice protective case to keep your DSLR in while you're out beating around this one is a great option.



It's 420D Nylon RipStop does a great job of keeping dirt and water out and hasn't ripped or torn through all of the adventures. The inside of the case has enough storage that you can keep extra memory cards, batteries and wipes while you're out being awesome. It's not going to hold extra lenses but it's not what this is for. For the price and the size of it, it's a great option and great size for being an all-around protective casing for a quick adventure.