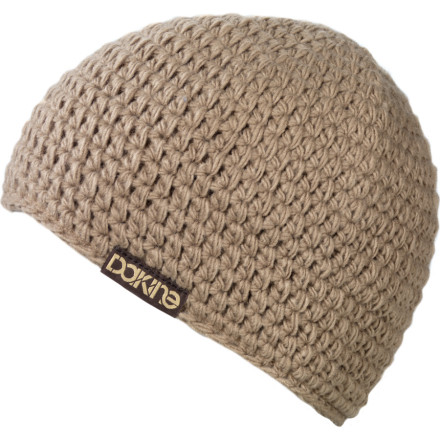 A hand-crocheted body and lined interior makes the DAKINE Drifter Beanie the meanest cold-weather lid this side of the Mississippi.
Mwa Mwa...one size does not fit all
Great looking beanie, but huge. Apparently a childs beanie is what I need.
It's pretty warm ....kinda makes your head look like a bee hive ....but it's a good beanie to wear during sunny days!
So, let me start by saying that I have a big head (like 7 5/8 hat size). For those who share my condition know that it is sometimes hard to find a good beanie that can adequately cover your cranium as a beanie should. That being said, this beanie is awesome, super comfortable and good style. The knit is a throwback to that beanie your mom crocheted for you way back when and the fleece inner makes you feel all warm and gooey inside like Mom's homemade cookies. However, for someone that doesn't have a larger head or lots of hair, it may fit a little large as it didn't seem to need to stretch much to fit my monster-size melon. Probably not the warmest of beanies for shredding as the knit is pretty loose, but makes for a great after shred beanie or for wearing around the house to stay warm after you forget to pay your heating bill...
This hat rocks. its my favorite wear around the house hat. its soft and loose fitting. not good on the slopes really, but great for that lazy day to keep the hair out of your eyes.