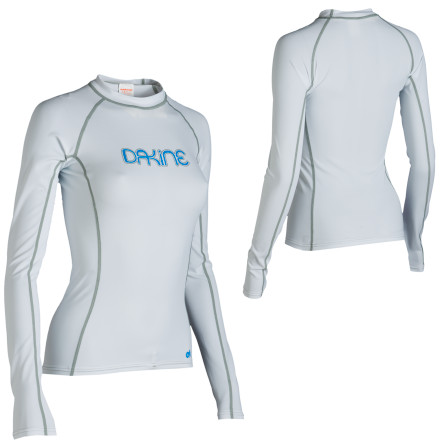 Detail Images
When you're adrift at sea, you'll be glad you happened to be wearing the DAKINE Women's Drift Rash Guard when the ship sank. This fitted top protects you from the hot hot sun. And when you make it to the deserted island, this top'll prevent your getting splinters from the surfboard you fashion from coconut trees.
My favorite rashguard to date
Familiarity:

I've put it through the wringer
I love it! I love the looong sleeves which cover the palms too. I use it daily for kiteboarding and it fits perfectly and doesn't ride up. I'm and M-size girl and ordered a M here, fits great, snug like it should. I only wish there was a wider color selection. I will be looking for another one next season.
Love the length
Familiarity:

I've used it several times
I'm 5'9" and have the hardest time finding rash guards that fit. Dakine knows what it's doing. I brought two rash guards on a trip to Indonesia and once I used this, I never went back .The length is great and prevents a 2" tan stripe above my backside; the material is super soft and provided great coverage along the equator; it alsso washes well; the style is very feminine. I am generally a small (sizes 2 and 4) but order up in swimwear -- Medium was great -- fitted but not skin tight. My only complaint is that there's not a bigger selection and this one is sold out.
Good for Everyday Paddling
This took a week-long beating just after I got it. It held up well, though a bit of the stitching came loose around the cuffs, as it does on most tops I own. The sleeves and torso are nice and long for us tall folks. The armpits are a bit tight, but not to the point of driving you nuts. It gives that little bit of extra warmth for summer body surfing and paddling, and it's nice to know that it's blocking some sun. A good basic rashguard for those of us who tend to beat up on clothing.
i'm in full agreement with commenter, mes4766821, great loooong sleeves! body fits good, seems long enough but i've yet to test it in the wather. also agree that if i had bigger boobs i'd move up from a small to a medium. i'm a 32b, 105lbs, 5'5". i'm stickly enough to wear smalls and extra smalls but my shoulders are really wide- usually causes the neckline to pull or the sleeves are too short but this fits great!can't wait to go sunscreen-less in this top!
Okay. It's too soon to give a really good performance review, because all I did was try this on, but here's the scoop so far...I like this in many respects. Looks cool, and the hot pink and the black are both striking. The sleeves are VERY long...and that's GREAT. I can't stand it when sleeves are too short and leave my wrists cooking in the sun, but these came halfway down my hand. I repeat, that's a great feature. The waist is also long enough. I have a rash guard by a different maker that hikes up all the time and exposes my stomach and back. So yeah, good protection.

I'm having to return the large-sized and get some extra-larges, because the L grips me unpleasantly in the 'pits and squishes my boobs. For reference, I'm 5'6", weigh 120, and have small booblets. I can't imagine the state of things if I were bosomy or had more girth. An extra-large hangs on me a bit, but still looks cool, and no squishing. Feels comfortable. So, I'll give it five stars and hope that it doesn't tear up in two seconds or something.