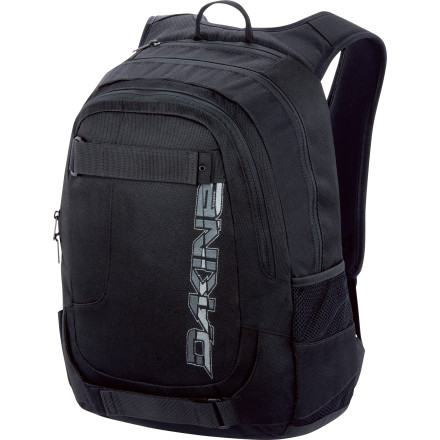 Detail Images
It looks like your plan to get out of school by faking a seizure isn't going to work; you just ended up with your breakfast cereal all over your shirt. If you have to go to school, you might as well load up the DAKINE Division Backpack with your books, a hefty lunch (since your breakfast is now on your clothes), and your laptop so you can pretend to work.
Fleece-lined sunglasses compartment gives your specs a cush ride
Mesh bottle pockets keep your drinks handy
Padded laptop sleeve gives you room for a 15-inch laptop so you can watch videos while you pretend to type
Great for commuting! High quality
Gender:

Male

Familiarity:

I've used it several times
Used this for commuting and also just used it for a grocery store visit, and to my amazement, it fits two 1-gallon plastic milk jugs side by side in the main compartment, with room for more small items and a loaf of bread on top!



The best feature about this pack is how it seems to be balanced enough to stand up straight easily when loading/unloading. The zippers zip open and closed really crisply--no snagging, no needing to straighten out the bag to zip up easily, just quality stuff! Things slip in and out very easily! The front compartment fits my U-Lock, mini pump, and patch kit easily and I've used the organizer sleeve for my cyclometer and lights. It'd easily fit a Garmin Edge too. Always useful to have a pen and marker with ya. Sunglass pocket is a great idea, to store your sunglasses when indoors and now that it gets dark sooner. Haven't used the bottle holders, as I don't want to make it too heavy, but handy if I need to take a drink along with me. Skateboard straps seem to be of limited use, not being a skateboarder. I will think of something for it though (seems to be what's balancing the shoulder straps to help it stand up straight). Love the Phantom style, esp with the yellow contrast.



Seems to be good design and construction. I had a SOC Bugout back as my last pack and its shoulder straps' stitching came undone, but its huge capacity encouraged me to "over-pack" it. The front pockets on that pack also had stitching come undone and items could fall out. I made sure to check the design on this, to not let that happen again. Thankfully, the Dakine's pack doesn't seem to have anything that will affect its function immediately if the stitching starts to fail.



This pack is highly recommended! I considered the Dakine Frontier, thinking I'd need more room, yet didn't want a pack that looked like a mountaineering/camping pack, but this one happened to fit the bill, for a reasonable price and confidence inspiring warranty.
Nice Pack
Gender:

Male

Familiarity:

I've used it several times
Does a very nice job, bought this as a gift she loves it.
This backpack is legit. Fits all school supplies, and more. Has plenty of room & is real comfortable.
Ill Pack
Gender:

Male

Familiarity:

I've put it through the wringer
Ill like epic and awesome, not like the sickness. get the reference? anyway...

Great minimalistic backpack. The organizer panel is not padded in the 2011-12 version but i believe they are in the 2012-13 (correction??). Theres the main compartment and the fromt compartment, thats it. The water bottle pockets on they side are pretty small and they barely fit a Camelbak better bottle. The skate straps are durable and will last a long time. but the grip tape always tears up the backpack right?



I have the stone (white) version and these are pretty awesome. Its not pure white, instead a very light grey, probably to help hide the dirt. It will inevitably get dirty but thats where the character comes in. Get em!
Ninja Turtle Green hi-yah!
This backpack is seriously awesome! Love the color, comfy fit and plenty of space for everything!!!