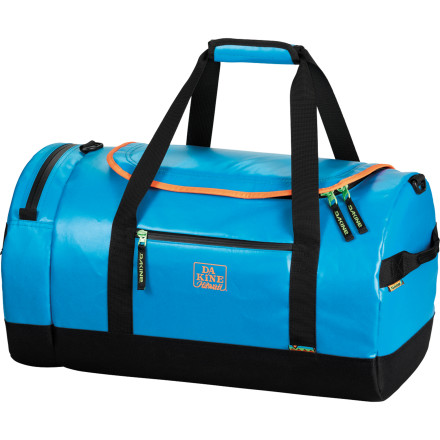 Videos
The DAKINE Crew Duffel Bag stows away all your gear including pads, helmets, extra layers, and boots and carries easy thanks to a padded shoulder strap or top-carry option. Durable polyester, weather-proof zippers, a reinforced bottom ensure that the Crew will be coming along with you on adventures for a long time to come.
Large volume duffel bag was created for hauling outdoor gear but is suitable for gym and weekend travel
U-shaped top compartment with flap-covered zipper is easy to get in and out of while blocking out moisture
Reinforced nylon carry straps hold to everyday use and ignorant baggage handlers
Side pocket stores accessories for quick-access and features a secure dual-zipper waterproof entry
Waterproof front pocket stores itinerary, tickets, and passport for quick access
Stowable shoulder strap is also padded for carrying comfort
Reinforced carry handle at side makes it easy to grab, and pull your bag out of cramped spaces
When you're on a boat, especially someone else's boat, you don't necessarily get a dry spot. This bag provides it! Not too big, but can fit a wet suit, towel, dry clothes and a sammy for a fun, wet day :)

Is this whole bag waterproof or just the one pocket?


Just the one pocket is completely waterproof. The bag will repel some water and handle itself in some light rain but, you couldnt submerse it and if its in a downpour for an extended period of time the water will get inside.



Feel free to hit me up at bporreca@backcountry.com or 801-736-6398.
Does the 70L have backpack straps?
Does the 70L have backpack straps?
Poorly Packaged & Poor Customer Service
Familiarity:

I returned this product before using it
*BACKCOUNTRY HAS SINCE REFUNDED THE RETURN IN FULL AFTER THIS FEEDBACK WAS LEFT, AND THAT EFFORT TO MAKE THINGS RIGHT IS APPRECIATED. I understand that rare occurrences do happen. Response and action to make them right is then appreciated.*



This bag was received flat as a pancake and was a creased-up twisted mess when removed from the packaging. In that state, I can't imagine being able to ever get it straightened out so that it would look like the bag shown in the picture. In addition, the box it was shipped in was crushed on either end and the packing tape on the back of the box was not even adhered to the box, so that the box was half-open - back flap completely open. Post Office had marked it "received damaged". It is evident because of the condition of the back flap that this "damage" occurred before it left the Backcountry shipping center. On return, I wrote a letter to Backcountry about these issues, which I placed in the box. The letter was not acknowledged and a return shipping fee of $6.99 and the original shipping fee were not refunded. This bag was purchased as a sale item but should have been received in just as good condition as a regular priced item (maybe it would have been received the same either way!). I will never purchase from Backcountry again.

As for the bag itself - It is roomy, but very flimsy.

Would give Backcountry 0 stars, the bag 2. Extremely disappointed with this company.
Hello,I want by a bag.Can you deliver it here to Ukraine,Kyiv?
Hey Max,

Unfortunately at this time we do not ship to Ukraine. Also, Dakine does not allow us to ship its products outside of the U.S. For a complete list of countries we ship to and a list of brands that cannot be shipped internationally, please reference our helpcenter at the bottom of the page.
Notes on "Backpack straps" with the DAKINE...
Notes on "Backpack straps" with the DAKINE Crew duffel.
Best Answer
This duffel has backpack straps only on the 100 L size.
Great bag, could use more pockets
Familiarity:

I've used it several times
I have used this bag for several trips, and I'm very happy with it. I got the 90L black/blue and it has been perfect for me for several weekends of car camping and week-long biking trips. It has enough room for plain clothes and plenty of gear for a long trip. I appreciate the water proofing, because I've thrown it into the back of an open pick-up truck and driven through rain and snow to find all of my gear dry after arriving. My only wish would be for more pockets for organizing gear. It has a single, small internal pocket (top flap), a very small external pocket, and one larger pocket on one end of the bag. Pockets on both ends would make it near perfect.
I love this bag!
Gender:

Male

Familiarity:

I've put it through the wringer
I picked up the 90L in black/blue. I absolutely love this bag! It's HUGE! It has taken over as my go to bag for my snowboard gear. It fits it all no problem, I packed bindings, helmet, backpack, pants, cold weather insulated jacket and boots in this thing w/room to spare. The stow-away back pack straps are probably my favorite feature. When the bag gets heavy, don't walk at a 45 degree angle, just pull out the back pack straps and hoist this beast onto your back!



Interior is very easy to clean and I have used it several times for week long trips/vacations (VEGAS BABY!).



Now there is a 100L... Very Tempting!

A must have for any traveler.
Is the top opening on the 90L large enough...
Is the top opening on the 90L large enough to pack trekking poles that collapse to 25"?
Yes. I've backed BD expedition and whippet poles(30inch) no problem!
Supported Expedition in Peru Amazon
Familiarity:

I've used it several times
Used the 67 L size bag on a single 2+ week supported expedition to the Peruvian Amazon. Started and finished in Cusco and rode in pickup trucks, mini vans, and boats in a round trip thru the buffer zone of Manu National Park, down the Rio Madre De Dios, and then along the trans-oceanic highway. This bag held up in the cool and the hot weather and was thrown a little bit (I observed the baggage handlers?) It didn't see much wet weather on this trip. I fed more gear than I needed into this bag - a bit heavy carrying it with just the handle straps, but with the shoulder strap managed longer distances in airports, to campsites off the road etc. okay. As such, the only thing I would have liked on this pack would be removable shoulder straps. (I will in the future try using the existing handle straps on my shoulders.) Besides that, for the price, awesome bag. Also now having used this bag several times to consolidate my alpine ski gear for overnighters in lodges, I love this bag even more.
What are the dimensions of the 67L duffel....
What are the dimensions of the 67L duffel. Is it waterproof? It will be used on ocean fishing trips.
The zippers for the side and end pocket are waterproof but I do not believe the zipper for the main compartment is 100% waterproof. The material is waterproof however so unless you drop your bag in the ocean everything should stay dry. The dimensions for the 67L are 24 x 15 x 15 Inches
what is the length and width of your 50L...
what is the length and width of your 50L dakine crew duffel?
The dimensions of this duffel which is the 90L variant are: 16x28x16" The 50L is 22" x 11" x 11"
Gear bag or Body bag?
Gender:

Male

Familiarity:

I've put it through the wringer
Picked up the 90L (they didn't make the 100 at the time) and dang, this bag is huuuuuuge! Fits all my snowboard gear in it and then some. Heck, I even use it in the summer months for camping and mountain biking. This bag is the radness. Call me crazy, but I think I may pick up the 67L size too. The 90L can be quite big at times. Heh!
DAKINE Crew 90L Duffel Bag
How large is the quick stash pocket on the...
How large is the quick stash pocket on the end of the bag?
Big enough to stash a pair of kicks!