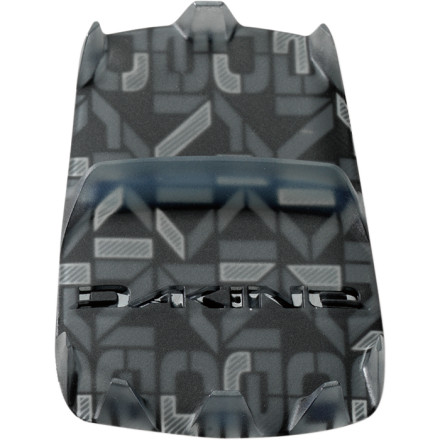 I slapped one of these on an Arbor A-frame in november '08, and it has lasted great for 2 seasons. Still satisfied, no bubbles or problems at all.

I don't remember what the instructions said to do, but i do remember putting it on a hot pan, on the stove for about 30 seconds before applying the clutch, then rolling it with a mason jar. let it cool 10 hours.

great stomp pad! i'm buying more
I haven't had any problems with this pad at all. I put in roughly 50 days on the mountain this year with this exact pad and didn't have any problems. Make sure to follow the directions to a T and it will stick. (Of course if you don't clean or heat your board up it isn't going to adhere properly). Also, the type of topsheet you have on your board can affect adhering properties.
I had one last year and it fell off after a full season. Not bad right? Bought a second one and it only last half a day. Not sure what happen but not buying another one.
really not that bad. it clearly has issues as so many people have ridden it and expressed it's faulty nature in their reviews, but i rode mine at sugarbush the other day and had no problems with it at all. i didnt even heat it up, i just cleaned the spot i wanted it, smushed it on, and was good to go. its been a week and it's still staying strong.with such good replacement policies out there it doesnt seem like a big deal to spend $10 to me and find out for yourselves though.
Better to have none than this one.
Awful, terrible...worst stomp pad ever. I live in a multiple snowboard home and even when applied following the instructions exactly - all of them fell off after one day of riding. One even fell off the third run! I think the glue left on my board after it fell off makes a better stomp pad.
ive been snowboarding for a while now and ive never been anle to find a decent stomp pad, until now. this is the best stomp pad ever. tremendous grip and looks tight too.
DISPOSABLE TRAINING WHEEL BASICALLY
I guess there's something to be said when most reviews are bad, but unfortunately there was only one bad review when I ordered mine..

I followed the instructions but this thing fell off on the first day out. At least it stayed on and worked like a charm for as long as I needed it.. Then it sheds itself once it feels like you have transcended needing its assistance (tinge of smiling sarcasm). By the end of the day I was able to exit lifts controllably without the stomp pad. So it's like a $10 disposable training wheel, that you don't have to worry about peeling off yourself.. IT DOES IT FOR YOU! Awesome! I guess I'm lucky, some of the reviews say the glue backing is still stuck, but mine also started peeling off itself (I noticed a few rides later and finished it off). Should give it two stars for that convenience, but to be honest if it was supposed to be made to last, then this product SUCKS..don't think I'll need another stomp pad anyway, but Backcountry I'd gladly accept a free one for my troubles :)
Product Sucks - DaKine customer service is great
This stomp pad fell off my board at the top of the mountain just before i went down for the first time. The adhesive strip is still stuck to my board. I emailed DaKine to let them know what happened and they immediately sent me out another one free of charge. I will give that one another try making sure i heat up the board and pad for much longer this time to see if it helps.
DO NOT BUY! Before purchasing this I read these negative reviews and figured that most of the people didn't properly apply this stomp pad, I was wrong... I cleaned my board with rubbing alcohol, warmed the board and the stomp pad with a hair dryer, and carefully put the pad on ensuring it was applied evenly. I then used a piece of hard rubber and a piece of wood along with two clamps to clamp it on my board for 24 hours. Day one, it fell off... Just like "lilyellowj406268" said, the glue sheet stayed on but the pad fell off. Worthless.
Lost it after the first day. The glue sheet worked.... as it is still stuck to the board, but the stomp pad is nowhere to be found.
Don't buy. It only took three lift rides for it to fall off. Glue is still there though.
This worked really well the first time I got off the lift but by the time I got to the bottom it was falling off but somehow remained on my board. I picked it up and the glue is still stuck to my board. I put it on exactly like the directions said. I might try to reheat the glue and restick it.
I wear a 11 size boot would this be to...
I wear a 11 size boot would this be to small or would it still work
I rock 14's and it is fine. They don't need to run the full length just enough to grip.
We put it on like the directions said-it is on solid. Also, my friend used to swear that you should go straight off the the lift...i knew she just could not control the board with that old school foam stomp pad. Thank you mean grippy stomp---my friend turns out of my WAY now. Happy lift, happy lift.
I bought two, one for me and one for my boyfriend. my went on without any error but then my boyfriends glue peeled off with the plastic. Then on our first time out for the season my stomp pad fell off getting of the lift! but i slapped it back on and it hasn't fallen off yet. They grip REALLY good but these stomp pads are quite faulty so i might return them. =/
The stomp pad fell off the 2nd day. The glue strip is stuck to the board but the stomp pad is gone.
I have been riding for about 10 years now, and this is by far the best stomp pad that i have ever owned. i would recommend it to any rider. You will never slip off your board with this baby. A+++