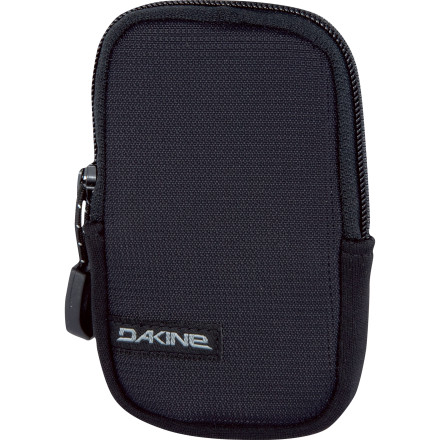 Almost as important as keeping your high-priced smartphone (or digital camera) safe is its accessibility, which is where this DAKINE Cell Case shines. Attached to one of the straps of your DAKINE pack, shoulder bag, or messenger bag, the Cell Case features fleece lining and expandable neoprene sidewalls to protect your portable life-line. Simply affix it to a strap via the hook-and-loop closure straps, slip your device inside, zip it closed, and get a move on.
Fits most phones and digital cameras
Great case, but for small phones
This case is ideal for phones that are about the size of an iPhone 4, and the iPhone 5 might be too long. If you have an otterbox on it, it probably won't fit (too thick).

It straps on to any standard backpack strap. Overall, this was a great purchase because it does exactly what I need it to do, which is stay high up on my backpack strap for easy access.
For smaller phones, great buy
Size:
This is for smaller phones, like the iPhone 1-4, the iPhone 5 might be too long. If you have a very bulky phone, don't buy it. It works perfect for what I have. I have a Samsung Eternity, and it has approx 0.7 centimeters of extra space in length.

Material:
Spill-proof. 100% polyester. Lightly padded case, it's not an otter box though, do don't go throwing it off a two-story building.

Accessory:
I bought a Dakine backpack too, and it fits perfectly on the shoulder straps. It should fit any brand of backpack (The North Face, Volcom, etc). It doesn't really slide up and down the straps, unless I deliberately tug on it, which is good, or unless I hit major bumps on my bike.
Really tight with the iPhone 4s
I bought this to use with my iPhone 4s and my Lifeproof case while canyoneering. The lifeproof case doesn't fit in there and the iPhone 4s barely fits in there. I ended up returning the case because it doesn't work for what I needed it for. It's a good case though for school or work.
Doesn't fit a naked iPhone 4
I really really liked the idea of this case, but I'm not pleased with the final result. I'm sure it would fit some of the older, smaller smart phones and brick phones, but there is no way you're getting an Android or other similar phone in this case.

If you have a protective case on your iPhone, forget it. The phone will come out and over the zipper. If your iPhone (4 or 4S) is naked, it will BARELY fit, and zip over the phone.

Cons: WAY too small
Pros: 1-The felt lining is awesome. Very soft and protective
2-The Phantom color is super sweet
3-If you have a smaller phone, your phone will be wrapped in awesome protective goodness.
Unanswered Question
WIll it fit and HTC evo??
WIll it fit and HTC evo??
Is the velcro oriented so that this case...
Is the velcro oriented so that this case (when upright as shown in the photo) would be attached to a belt strap, or a shoulder strap?
Their website shows it upright on a shoulder strap using two hook and loop straps (velcro)
When on a belt, the opening is going to be horizontal. It is a 2 strap hook and loop system. It is designed to be upright when attached to a backpack strap.
Will an iPhone fit into this case ?
Will an iPhone fit into this case ?
Hey Rich,

Measure your iPhone, the dimensions for the case are right there. I'm pretty sure the dimensions are almost identical to the iPhone so it should fit, just a little snug.