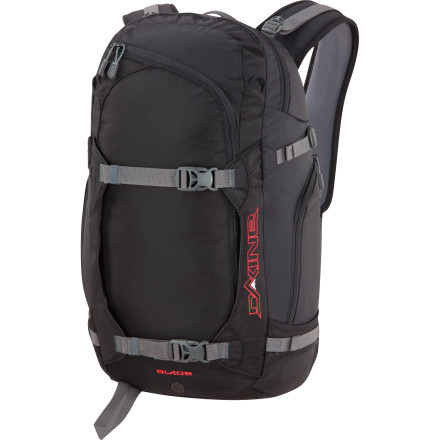 Community Images
Description
Stay sharp out there.
The durable, feature-loaded DAKINE Blade 38L Backpack boasts more than enough storage space for all-day backcountry excursions, with comfortable carrying options for both boards and skis.

Vertical and horizontal snowboard carrying options work for hiking, touring, or snowmobiling
Dedicated A-frame ski carry system
Deployable helmet carry lets you stash your lid on the way up
Quick-draw ice axe sleeve for easy access
Padded waist-belt keeps your load comfortable and balanced
Rescue whistle helps you alert others in case of emergency
Share your thoughts
What do you think of the
DAKINE
Blade 38L Backpack - 2318cu in
? Share a...
Very good backpack with a lot of things...
Very good backpack with a lot of things that make it very useful... But I don't understand why is not waterproof!?! Why?
Best Answer
Honestly very few backpacks (even backcountry and touring packs like the Dakine Blade) are considered to be fully waterproof. To be certified "waterproof" you would be able to submerge the body of the pack in water and not have any leakage through the fabric or seams. The reality is that the Dakine Blade is highly water resistant like most other backcountry packs and will keep you gear dry in even slushy conditions.
That's true. But what I meant is that this backpack is less "water resistant" than others. I bought the Dakine Blade some month ago because I like it and I love my other backpack, Dakine Mission 25l which has a very good water resistant.
I went backcountry with the blade and when I discovered that the pack became wet without harsh climate condition I was disappointed.
However in my opinion this is a very good backpack for backcountry so the fact it has not good water resistant is really a pity.
Crash,

Thanks for the valuable feedback.
Is there a big difference between a pack...
Is there a big difference between a pack designed for summer and climbing and a pack designed winter hiking with a snowboard?
Short Answer: Yes there are some significant differences.

Long answer: Summer packs are often a bit lighter, usually made from lighter materials and fabrics, and usually have better back padding and ventilation. Winter bags are usually heavier and burlier, and usually have specific features for the snowsport the pack is designed for, such as ski and snowboard attachment straps on this pack. There are plenty of packs that can work for summer and winter though, you just might sacrifice a bit of weight, ventilation, or durability here and there.
Stoked.
Familiarity:

I've put it through the wringer
Great backcountry pack with tons of room for all your gear(day trip). Pockets that are actually useful! I bought this pack to carry my DSLR while splitboarding. The back zipper is a quick easy way to get to your layers, snacks, camera gear. I've loaded this thing with atleast 40lbs of gear for a Hut Trip. Lots of durable straps for gear and 38 liters of space make this pack ideal for almost any kind of backcountry day.
Unanswered Question
what would be a nice water bladder for...
what would be a nice water bladder for this pack? fit/durability/etc??
thank you,
matt
can you carry both a snowboard and skis...
can you carry both a snowboard and skis if you mount the skis a frame and the board vertical?

I don't see why you wouldn't be able to. The only challenge that you might experience would be if you carry the board vertically, the top of the board may occasionally knock the tops of the skis as you walk. It doesn't seem like this should damage the boards or skis severely; it would just become annoying after a while I think...
Seems completely plausible. My only concerns would be weight, the fact that they might deform the pack with all that pulling from different angles, and why on earth isn't everyone carrying their own gear. But other than that I say go for it.
Best Answer
I've done that with the Dakine pro II, its heavy but will work.
Angus, sometimes people get hurt and you have to carry them and they're gear out...
Overall I am very happy with this pack, as it has great organization and lots of pockets and compartments. It carries your skis very solidly in A-frame mode, and the helmet net is a big plus when you don't want to be skinning up with a hot helmet on. However, the main comparment closure leaves a little to be desired. When you are loaded heavily, you'll need to adjust the straps, and this changes the fit of the backpack, and also ensures that the main compartment isn't fully protected from the elements. This pack is ideal for ski touring, but don't push the capacity, as it quickly becomes ungainly.
Use it for everything
Familiarity:

I've put it through the wringer
I love this pack. I use it for everything.Daily commutes to school and carrying my lunch, coffee, and graded papers. Bike ride to the ski hill carrying gear and poles (skis go on the bike for that). And the essentials to the top- even carries the skis super well when needed. The diagonal carry isn't the sturdiest, but the quickness of it is nice for a short carry. the a-frame set up is sweet, and bombproof. Keeps stuff organized, sinches down tight, and gets the job done.
For the money, one of the most versatile packs you can own. I use this as my main pack for backcountry skiing/touring. Comfortable, reasonably light, and very utilitarian, it holds all my avy gear, water, and snacks as well as extra clothing. The back panel access is a must have. I will also say this bag travels well. In the summer, I can fly with a week's worth of clothing and it fits either in the overhead bin, or under the seat. I have never been hassled about it's size for a carry-on. The straps all tuck in neatly so you don't have loose things flying everywhere.
Although none of the zippers have failed, I would prefer more heavy-duty waterproof zips.
Well sized and versatile
Familiarity:

I've put it through the wringer
A year ago I wanted one bag that I could put my school items in every weekday and my climb/snowboard/hike/bike stuff in every weekend, and not break a zipper every two months. In the Dakine Blade, I finally have solace knowing my things are secure and organized. I use this bag literally every day, and every day it zips open and close cleanly, with tensioning straps to keep everything tight and well fitted to my body. The 38L capacity is well separated to store large insulated jackets (I think I've fit as many as 4), with smaller pockets for tools, snacks, or anything else.