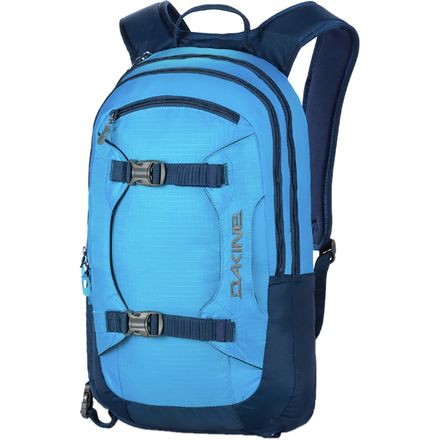 Detail Images

Community Images
Description
Hike in-bounds or head through the gate.
Inspired by the epic steeps and outrageous snow totals of the Pacific Northwest, the DAKINE Baker 16L Backpack offers enough storage space for all the essentials without unnecessary bulk to hold you back.

Features both vertical snowboard carry and retractable cable ski carry systems
Fleece-lined goggle pocket protects your lenses from scratches
Insulated hydro sleeve prevents your water supplies from freezing solid
Padded waist-belt keeps your load balanced and comfortable
Rescue whistle helps you alert others in case of emergency
This backpack is awesome. I was just looking for a small backpack that could cary food, a shovel, and maybe an extra layer. It fits tons of stuff but feels small and light on my back. The backpack is layed out very nicely and has tons of access. It has a valuables pocket on the back that is super convenient and really safe. wallets, phones, sunglasses. they all fit in there and you don't have to worry about getting them lifted off your backpack because they are on the inside. that is probably my favorite feature. The goggle pocket on the back is super awesome. I can take multiple goggle lenses in it and they stay perfectly safe. Overall a great backpack that can be used for so many things. I took it to Peru and traveled all around with it and I ski with it. Super versatile. I would highly recommend this backpack
Hey Leo Hsiang,



I would not bet on it fitting. I would suggest just using the antidote reservoir and putting it in the hydration sleeve of this pack.
I own a Chute and have a 2-L Dakine replacement reservoir. No worries. I like it more than the Camelback because the top connection allows a man's hand to fit and wash the inside of the reservoir. I believe it is an improvement or better feature than the screw-type head to seal the container.
What water reservoir size and shape would...
What water reservoir size and shape would best fit this bag? I'd like to be able to use up to 2L.
Big enough for a 3L. I have a 3 liter camelbak bladder and it works perfectly fine with this pack. I strongly suggest you get an insulator tube for the hose. The shoulder strap as they say is insulated but I've done a few tests and it's the same temperature inside and out. It may keep your hose insulated while inside the strap, but as soon as you take out the nozzle for a drink, it can freeze up on you.
Got this bag in december 2012 and used it up to my local hill a few times along with a few short backcountry trips to test the ski-carry system. Went to Mt. Paine in Northfield this past weekend and turned the backpack into an airbag...after pushin thru a couple small trees and sliding across a downed tree, it ended up lookin like it does in the pic i put up. I think what did this was the 3 snowshoes i had jammed tight in the exterior buckles put a disproportionate amount of tension on that stitch...either way I'm gonna be getting this same bag once they get my color back in stock. #1 reason being that despite such a hard fall, this pack somehow managed to keep my mini glass bubbler from seeing ANY damage... i swear i left it in there accidentally tho, would you believe i forgot it was in there? haha....



Anyways, the bag does excellent. Easy to throw my skis on it and makes them disappear for the hike. Its got enough room for gloves, extra socks, a hat, yowie, an extra top layer (thin sweatshirt or smaller), along with a couple beers and sandwiches for lunch. Could definitely do the avy setup with probe specific pockets, sweet shovel carry system, and fits my 2L bladder in the pouch pretty well.



Tough bag, easy to put on and adjust the chest, waist, and shoulder straps without dickin around too much. Insulated sleeve is cool, but i havent tested it in extreme cold yet. And the location of the goggle pocket is nice and discrete, practically doesnt exist if ur wearing it. And best of all it looks cool layin in the backseat of the Subi and on my back, anywhere my back finds itself.



Oh, and the pocket made to house the top loop for the diagonal ski carry system makes an EXCELLENT stash pocket for glass <6-7". And im like 85% certain they made this with Scent-Lok technology...just puttin it out there...
What are the interior measurements? I need...
What are the interior measurements?
I need to carry a LARGE laptop inside
There is no laptop carrier inside, the bag is designed more for useage as a snowboard/ski bag.
I love this bag, it is small enough but large enough to hold basic equipment and a day's worth of water. I even use it commuting to work on my motorcycle.