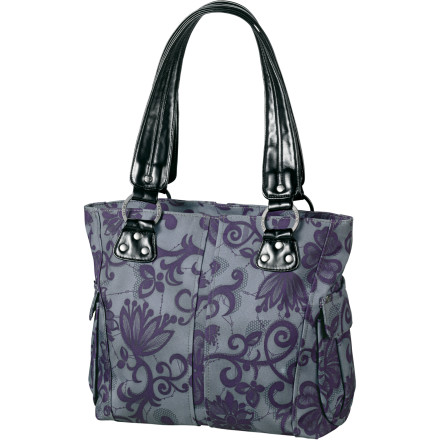 Community Images
There's no need to cram your pant pockets full of stuff. Accessorize in style with the Dakine Ava Purse. Sporting a fun, spotted print and classy look, this purse distracts eyes and provides the the long-lasting utility of 600D polyester. Not only is it tough enough to keep up with you during downtown jaunts, but its multiple pockets help keep you organized on longer trips.
Durable
Gender:

Female

Familiarity:

I've used it several times
Love the purse. Durable, big and roomy! Outside material is easily cleaned too.
I am wondering if the straps are long...
I am wondering if the straps are long enough to comfortably wear it on my shoulder?
Have a purse now that slides off my shoulder all the time and it drives me nuts!
The strap drop length on this bag is 10.5". Hope that helps!
I've had three different patterned Dakine Ava purses. I've used each for almost, or over, two years before basically wanting to move on to a new pattern. All three were then given to someone else to use and at least one of them is now on year four of being used by someone and still in excellent condition (the other two I'm not privy to the new lives of). The Dakine Ava is the best purse ever, in my opinion. It's big enough for me to carry a camera, a book, my wallet, and all the other crap I feel like I need on a daily basis. The end pockets are perfect for sunglasses and keys and the inside pockets keep everything that needs to be easy to find and seperate, easy to find and seperate.
Unanswered Question
Are the side pockets tight or hard to drop...
Are the side pockets tight or hard to drop your keys or cell phone w/ bulky otter box case into?

Does the bottom of the purse have 'structure' to it or will all your stuff end up in one big valley in the middle?
Cute & Functional but not Perfect
I really love the fabric and color of the purse. I think it will hold up nicely and I've already had compliments on it. My only gripes are that I would love to be able to give up the three little open pockets for another big zippered one. I had to buy a seperate little bad to hold my "pharmacy" stuff. It is a little larger than what I was hoping for. The matching wallet sux. Read it's review for details.

The other reviewer complained about the shiny, slippery straps. I see them in the picture, but be aware that they must have redesigned it, cuz the straps on the purse that I received are not shiny and don't slip. So hurray for that! See pics for details.

If you are looking for a good looking, durable, fairly large purse and don't mind having only one interior zippered pocket and an annoying matching wallet, I say go for it!
Practical and Durable... but returned nonetheless
Durable fabric, though on the stiff side. Positive zipper -- not flimsy. The handles are soft vinyl, but they look a little cheap because of the sheen.

Inside there are three open pockets on one side, one of which has an elasticized top, and there's one zippered pocket on the opposite side. The main compartment has a full zippered closure. The exterior has two magnet-closure side pockets.

The Ava Purse is plenty roomy -- more roomy than I need for a purse, but there are plenty of other larger purses one the market. What I like best is that it can be a practical, everyday purse; I won't feel like there isn't enough room and it can be tossed into the car or the gym locker without fear of damaging it or getting it dirty.

I ordered this in the Houndstooth style, but contrary to the photo shown on the site, there really isn't much contrast in the pattern. It oftentimes looks like it is solid black. The bright, high-contract lining (lime green, pink flowers) is fun, but I'm glad it's not more prominent (i.e., featured as an accent on the outside of the purse).

** Updated on 11/14/2011 **
Finally decided to return this. I got tired of the cheap feeling (and slippery) straps slipping off of my shoulders -- and I have broad shoulders for my frame! Also, it turns out there can be too much of a good thing, and I mean roominess. This is just too large of a bag for me to use as a purse.
Is this the only color it has? Is this...
Is this the only color it has?
Is this good enough to fit books from school, basically what I mean is could I use it for school?
PLEASE ANSWER PLEASE! thanks :)
It depends on the size of your books and how many you need to carry at one time. From what I remember of college and high school, I'd say it would not be large enough for school books. An everyday bag, perhaps...
This purse is really cute. I love the Avalon pattern. It is plenty roomy enough for all your stuff- and if you are a busy mom like me- you can also stash your kids stuff in there too without feeling like you are carrying around half your house. I also like the durable fabric.
does it have a zipper closure?
does it have a zipper closure?
Yes, it does have a zippered closure.
Great bag. I had previously ordered Dakine's Ella bag, but I felt like I was carrying a diaper bag and didn't need my laptop with me all the time. So I went down a size to this baby and it's perfect. Same great Dakine quality, so it will last a long time, 3 internal drop-in pockets and one larger zippered pocket. Plenty of room for my wallet, cell, camera, sunglasses, gloves, lotion, gum, massive keychain and 2 stolen pint glasses from a pub in boston. Yea..it's pretty awesome.
compliments come rolling in
great size, durable fabric, and awesome prints! definitely worth the buy.
This purse is the perfect size and very stylish. It's big enough to carry around everywhere...I can fit my wallet, checkbook, a book, and a water bottle all inside. At the same time, it's not so big that I feel like I'm carrying around a "bag." Convenient inside and outside pockets are great for my phone, chapstick, etc. I have gotten many compliments on it!