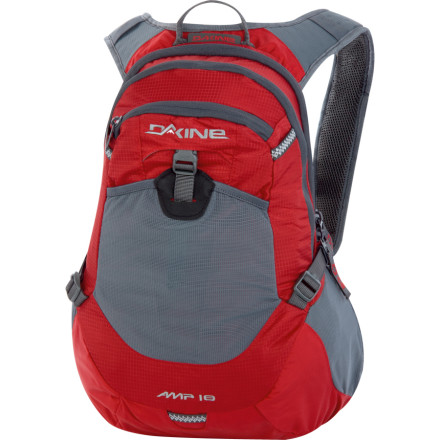 Share your thoughts
What do you think of the
DAKINE
Amp 18L Hydration Pack - 1100cu in
? Share a...
I love this bag, I use it for my everyday commuter bag. I stuff my suit for work in there and it all fits and still sits nicely on my back. I was used to Camelback mouth pieces on the watering system, so getting used to Dakine's took some practice but now it gives me good flow. The backing on this bag gets air down your spine and keeps the sweat dry back there.

Oh and I got this bag for a smoking deal so that added to my stockage factor!!!!
Unanswered Question
I'm thinking about buying this, but I would...
I'm thinking about buying this, but I would want it to double as a mtn. biking/back country snow pack, so the question is, can it hold a snow shovel?
Just got this a few days ago - and it's a fantastic pack.

Good sized with all the pickets you could ever want. It comfortably fits your water, pump, tools and more crap than you should by rights be hauling around on a backpack. In addition to the typical bike accessories, I've been hauling around both a Gerber folding mini-shovel and a DSLR - with no problems.

The pack has a small "electronic gizmo" pocket near the top to hold your cell phone or MP3 player - and I've been stashing my iPhone up there without incident.

The hydration functionality is pretty excellent, though I should disclose that the last hydration pack I owned was a CamelBack some 8 or 9 years ago. Still - I'm impressed. The hydration carrying part of the pack is accessed by unzipping a portion of the pack's backing - and is reassuringly separated from the rest of the pack's contents. That pocket integrates a hangar at the top of the pack which attaches to the top of the water sack - keeping everything spread out and right-side up.

The water sack itself opens at the top with a clever ziploc-style fastener, that folds over itself for security. I haven't fallen on it yet, but it seems quite secure. I haven't noticed any rubbery tastes.

The back of the pack - where it comes into contact with your back - incorporates some kind of crazy mesh/foam airflow vents - which seem nifty, but I'm not entirely convinced of their function.

The pack fits well - and is quite adjustable. My only annoyance so far is that the main straps have quite a bit of excess webbing flapping around with nothing to attache them to. The chest-strap incorporates some elastic to, I suppose, absorb some shock.

All together, it's a great pack. Particularly if you can get a good deal on it.
I ordered the Amp 18 - and when i received...
I ordered the Amp 18 - and when i received it i was stoked. but, when i used it, i realized the waist belt straps point up as opposed to down. It makes it feel like the waist belt is at the top of my stomach. Is this a manufacturing error, or the way it should be?
Can you take a picture? I'm having trouble understanding your problem. Are you saying the waist belt is mounted to high on the pack? Can you adjust the height of the pack using the shoulder strap adjustments?

Thanks

Tim
I am a recreational mountain biker and enjoy 3-4 hours rides. This pack is perfect for med to long rides where 100oz water is needed and plenty of room for bars, jacket, and tools. My only complaint is the valve. I have been using camelbak for 10+ years and it is difficult to transition. I am sure with a little practice even I can get used to it.
Unanswered Question
Hi Dude, do you ship to Brazil? If yes,how...
Hi Dude, do you ship to Brazil? If yes,how much does it cost including insurance. How can I pay? Do you use paypal?
This is on the top of my list for when my Nomad dies. . .