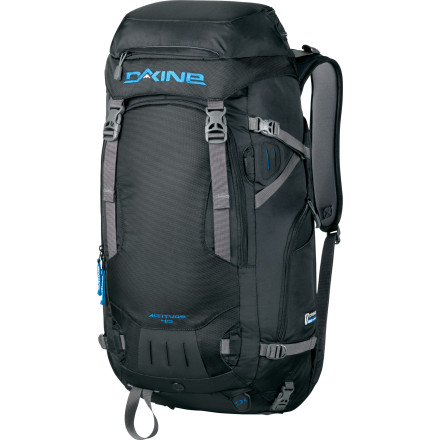 Community Images
The DAKINE Altitude 40L Backpack works great as a standalone backcountry pack, and it also attaches to an ABS Vario Base Unit (sold separately) to conveniently add tons of storage space to your airbag avalanche safety system.

Zip-off design lets you attach the Altitude 40L Backpack and attach it to your ABS Vario Base Unit (ABS Vario Base Unit not included)
Deployable helmet carry lets you remove your lid on those long, sweaty hikes
Insulated hydration sleeve in the DAKINE base unit to stop your water from freezing
Features a pre-curved internal framesheet and compression straps to keep your load balanced and secure
Built-in rescue whistle lets you alert others in case of emergency
Well thought out pack.
Familiarity:

I've used it once or twice and have initial impressions
I recently picked up the 25 liter cover (smaller version) for skiing Teton Pass/Jackson Hole Mountain Resort, & these packs are very well thought out. I wish the Vario covers were as thought out as well as DaKine.



I have a Vario 40 Liter cover for longer touring trips, I would of loved to get this pack, but the price was right. I got a deal I could not pass up for the Vario 40 ($66 shipped brand new on GearTrade), but I still went with the DaKine 25L since that will be my primary cover for my ABS pack. Unless you are getting a crazy deal, go with DaKine.
Water bottle pockets and A-frame carry
Two pockets one on each side big enough for a nalgene. Helmet carry system is a bit bulky but tucks away nicely in a zipper pocket and holds large helmets. A - frame/ compression straps are simple and look to be effective with a tough side material to prevent ski edge cutting. Comes with one Ice axe loop.
Best of both worlds
Gender:

Male

Familiarity:

I've used it once or twice and have initial impressions
Originally I did not think I was going to go with this bag. After going into a shop with basically every airbag pack imaginable, I ended up choosing this pack in conjunction with the ABS Vario base unit. This pack has way more options then the Vario 40L. Another thing that drew me to this pack was the avalanche gear pocket beign on the outside of the pack versus against you back where the shovel creates dead space or could cause injury possibly. This pack also had many more ski carry options including; A-frame ( better then the Vario IMO), vertical ski/ snowboard, and horizontal ski ( with a wire cord that is retractable). The helmet carry looks large enough to carry the biggest helmets. Numerous small pockets to stash gear( included a fleece lined goggle pocket on top) and a large central pocket. This pack does not have a hydration system when attached to the vario base unit, which seems to be its only downfall, but there does seem to be two side pockets that are large enough to fit two Nalgenes and since they are on the inside they wont freeze. Unfortunately the system is heavy and the weight became very apparent as I walked the 10 blocks back from the store across Paris.
Better option than ABS 40 liter
Gender:

Male

Familiarity:

I've used it several times
Highly recommend over ABS 40 liter, more pockets and room. ABS shovel storage not practical if you are using your shovel alot, but will handle a large shovel like the Chugach Pro which will not fit into the Dakine so you have to settle for a smaller shovel. Also the Dakine does not have a dedicated hydration bag holder when you use it with the Vario. The one that comes with the Dakine is attached to the harness system and cannot be transferred....big mistake. All things said, slightly smaller shovel, no hydration system, still a more functional pack than the ABS 40 liter.
Looks like a winner
Gender:

Male

Familiarity:

I've used it once or twice and have initial impressions
I just got this today and Have yet to put it to use, however I am already impressed. I have the ABS Vario 25L and it is a good pack, there are a few specific things I don't like about it but I plan to make some modifications. This Dakine pack makes up for a lot of the Vario downfalls. It has plenty of room for a long trip, I wantd something that could easily pack a rope, crampons, and maybe a Jetboil. I am much happier with the ski carry on this pack, this is something that I feel is seriously lacking on the Vario. The front shovel compartment is a huge plus, the vario I find is hard to get into. Overall this is a great pack, Dakine knows what they are doing. I have to give huge props to ABS though because of the airbag design is fantastic.