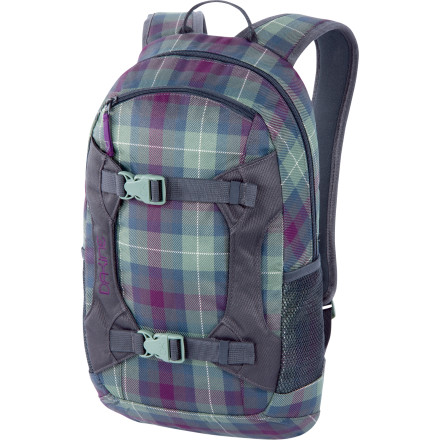 You know that person that everyone is always waiting on? The one trying to find a good place to put his or her keys while stuffing a sandwich in a pocket, balancing a helmet from a binding, and looking for goggles (which, by the way, are getting fogged up around their neck). Yeah, don't be that person. Instead, be the person who has their crap together and is 100-percent ready to hit the snow; pack up the Dakine Women's Alpine Backpack before you head out.
Streamlined design won't mess with your center of gravity, plus you won't look like a gaper who came to the mountain wearing their baggy, high school book bag
Secure your skull-saver into the outside straps while you make your way to the lift
Fleece-lined goggle compartment gives your specs a cush ride
Mesh pocket keeps your drink handy
Does anyone know if this is a waterproof...
Does anyone know if this is a waterproof backpack? I am looking for soemthing that will keep my belongings dry during a white water rafting trip in the Grand Canyon.
Best Answer
It's definitely not waterproof. What you want is a dry bag, a lot of which actually come with backpack straps on them. The SeaLine Boundary is a good example. Those will keep water out even if you chuck them out of the raft and let them take on the river by themselves.



http://www.backcountry.com/sealline-boundary-dry-pack
Not a chance at being water proof. Angus is right, the Sealine Boundary packs are great for what you're talking about. I've used them before on several canoe trips and they got wet, but didn't leak. You just don't want to let them get submerged.
I got this backpack to use for school so I can't speak to its performance as sporting equipment.

Pros:
1. Cherry red color is bright and cute. The buckles and logo are in a contrasting pale blue/green which I think looks really nice.

2. I was looking for a small backpack. This is a small backpack. It has enough room for my 13" macbook air, a water bottle and a notebook and that's about it. There are only two pockets -- the front one which is just big enough for my wallet, and the main one which holds everything else.

3. The mesh side pouches are really useful for holding my bike lights.

4. There is a little elastic ipod/cellphone holder on the chest cross-strap. I use it to hold my cellphone which is about iphone size. It's pretty secure.

5. Straps on the back are great for holding a jacket.

Cons:
1. In the main pocket there are no organizational features. (I guess I should have expected that seeing as this is not a school bag)

2. The material does not seem very waterproof. I still put my computer in a plastic bag when biking in the rain.

3. The zippers don't feel like they're the best quality, in fact, the overall construction is a little flimsy feeling. That said, it's held up just fine for the 1 month I've been using it....
Unanswered Question
Can it carry a computer?
Write your question here...Does anyone...
Write your question here...Does anyone know if it has a waistbelt?
Yes it have and it is snowboard carry too