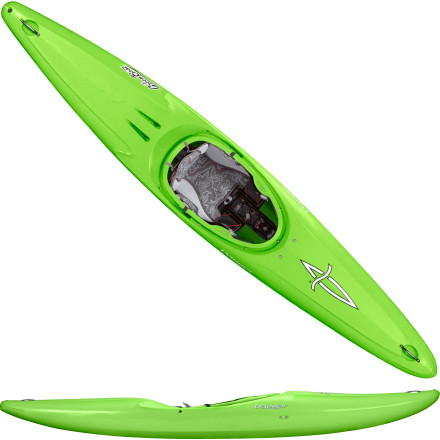 Colors
Description
A speed-demon long boat that punches holes, boofs, and turns on a dime.
Part creeker, part river-runner, and part expedition-paddler, the Dagger Green Boat 11.5 Kayak lets you turn and boof to blast through your local creek, supplies speed to pursue your multi-day whitewater trip, and provides comfort to cruise down the river. With length and ample volume, this solid, long kayak carries speed, resurfaces quickly from drops, and eats up rapids without losing your line.
Roto-molded construction maximizes stiffness without sacrificing impact strength, keeps the kayak weight fairly light, and provides increased protection from harmful ultraviolet rays
Long boat design lets you pursue multi-day whitewater river trips or cruise down rivers
Soft chines and aggressive bow and stern rocker offer a forgiving ride and allow for easy up-and-over during quick moves
Green's hull design enables solid boofing especially when you're looking to angle-boof off of a rock and catch that critical eddy or when you boof straight downstream over a hole
Even hull volume distribution keeps you on the surface, even in the water, and able to rapidly recover from big hits
Subtle ridge on the front deck sheds water and helps the boat resurface under control
Contour Ergo outfitting system features three inches of seat adjustment (fore and aft), an ergonomic leg lifter for additional comfort and security with ratchet adjustment point, adjustable quick-release hip pads, a deck brace that adds additional structure to the kayak, and a reliable reinforced step-out wall for improved safety
Low-profile, vector roto-molded Creeker seat sits on a D-bone welded-in seat track and has adjustable back-band and thigh-braces while comfortable Contour Ergo seat padding with an additional seat booster insert provide ultimate customization
Self-expanding toe-cup system conforms to the shape of the hull during adjustment
System includes customizable foot padding for comfort and impact absorption
Reinforced rails for improved safety, while adjustment knobs are tethered to prevent loss
Adjustable gear storage system with tensioning cord lock and an added storage tray increase storage space while adding additional hull structure to the boat
Multiple gear loops with quick-clip access for convenience
Redesigned step-out wall is stiffer and more durable
Easy-grip handle makes shoulder carrying easier and the step-out motion more efficient if required
Deck Height: 14.5in
Share your thoughts
What do you think of the
Dagger
Green Boat 11.5 Kayak
? Share a...