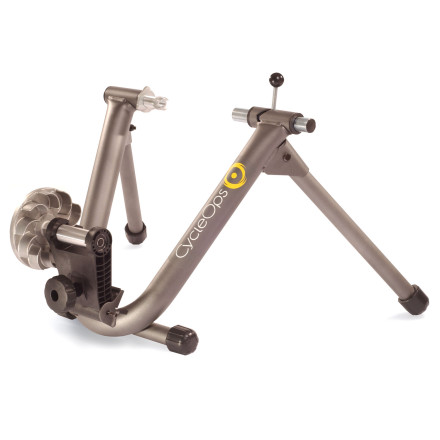 The CycleOps Wind Trainer is ideal if you're looking for the simplest, most straightforward means to maintain your riding fitness in wintertime. The Wind is built using the most long-lived trainer technology out there: A weighted metal fan blade generates wind resistance as you pedal. The resistance is variable and it builds at a progressive rate with increased wheel speed. Just like riding on the road, gear down and you can spin on your rest days. If you want to suffer, grab the big ring and mash the pedals. At 30mph wheel speeds, the CycleOps Wind Trainer will generate in excess of 600+ watts of resistance.
The Wind Trainer is foldable and stows away easily. The rubber coated base pads are adjustable to level out crooked basement floors. The quick release locking mechanism can be adjusted to accommodate both mountain and road bikes. One practical note: Compared to Cycleops' other trainer models, the Wind Trainer generates more noise when you're riding it. If keeping things quiet when you train indoors is a priority, you should consider Cycleops' other models.

will this work with a 29er?
will this work with a 29er?


Ok for base mileage, not for intervals
This is a simple trainer. Its stable on it's base, the contact wheel is fine and doesn't put any bump or wobble into the ride. But know what you are buying. It's okay for base mileage as you can spin away all day and get in zone 2 workouts a-ok. With no adjustability, I find the resistance level on par with that of being on a flat road minus any wind resistance. And thats the problem. The fan / flywheel only provides a degree of resistance up to roughly 20mph, then from there the progression seems to level off. I can spin out 52x11 to over 45mph during hard intervals. You can adapt and do some intervals ok, but even in 52x11 you cannot mimic hill workouts, and power based intervals are not optimal. You can do plenty of other "intervals" by blasting out high cadence to get your heart rate up, and that has actually helped my on-road riding perceptively.

THE SOUND IS LOUD. I read reviews, saw it was loud, and risked it. This thing is unreasonably loud. You won't hear your tv. You may hear music on a stereo at it's top level. Headphones are a must for musical distraction during rides on this trainer. Your family, if any, will hate it. if you live in an apartment your neighbors will become enemies.
alright,
Gender:

Male

Familiarity:

I've put it through the wringer
this was kind of whatever's. It doesn't have enough resistance as described but it will do till I can afford one with more resistance.
solid base, good resistance, not too loud.
This is a great trainer—not just for a less-expensive trainer, but for any trainer. Sure, you could spend upwards of a $1000 on a trainer—but wouldn't you just rather ride outside? If you are in the market for a well-built, reliable, sturdy, not obnoxiously loud trainer then the CycleOps Wind Trainer is the best choice.
Is there a weight limit for the trainer?...
Is there a weight limit for the trainer? Rider is 400lbs.
Jean, There is no limit on the trainer itself- check with the bike manufacturer though. They're solid steel construction with a lifetime warranty.
Very stable and easy to use. Great for taking to the races to warm up for an event. I wouldn't recommend it for inside the house unless you have a kick ass sound system that will be able to play over the noise it's making.
Will this trainer accommodate a 26 in....
Will this trainer accommodate a 26 in. cruiser bike?
Dave, It will. It'd we wise to use a slick tire on the trainer though, not a mtb tire.
Is there enough clearance to fit a 2.5"...
Is there enough clearance to fit a 2.5" mountain bike tire in this trainer?
I have this model, it looks like it will accomodate a 2.5" mtb tire as long as the wheel is true. Much wobble and it would hit the flywheel. Put some thinner slicks on and be good to go.