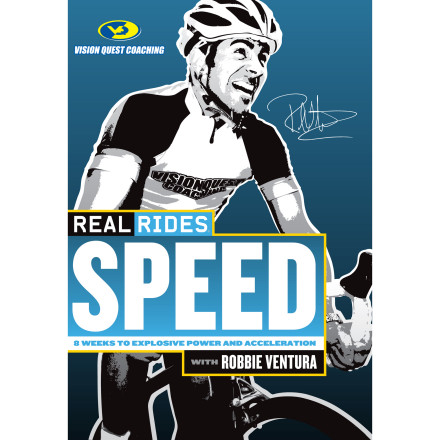 How often have we read about the "speed work" we should be doing as part of our training? Robbie Ventura, ex-US Postal Service pro racer, coaches you through an 8 week course in pursuit of leg speed in this Real Rides "Speed" Trainer DVD.
It's obvious that Robbie does more than coach athletes these days. The proof is displayed in the on-screen dashboard that shows his power output in watts, perceived intensity level, heart rate, cadence, speed, and elapsed time as he rolls through the various workouts. You'll compare your data to his as you do big gear, single-leg, ramp-up, sprint, and race intervals along the way. You'll also be able to track your improvements from the baseline data you posted from the full threshold test that begins the 8 week training cycle.
The Real Rides "Speed" Trainer DVD takes you onto the road with point of view cameras so you'll feel like you're in the thick of the action. It's the perfect tool to help you build a smoother and faster cadence, more cycling-specific strength, and ultimately more speed. That said, to get the most from the information in the Trainer DVD, we recommend that you train with power, whether using a powermeter on your bike or trainers that measure power such as the CycleOps Powerbeam or Pro Indoor Cycle. You can create custom training sessions and ride to the DVD soundtrack or toggle it off and listen to your own music as you train. It includes How To Train bonus videos as well. (69 minutes)
Share your thoughts
What do you think of the
CycleOps
realRides Speed Indoor Trainer DVD
? Share a...