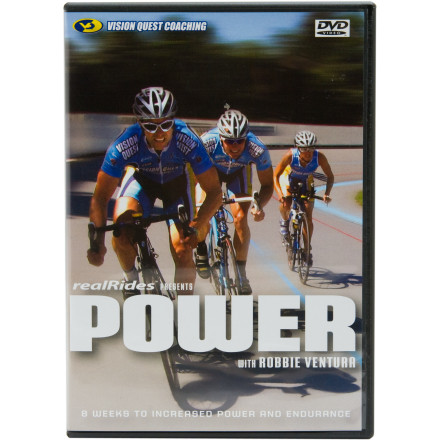 Detail Images
Real Rides Trainer DVDs help you train to meet your performance goals while freeing you from the cost and commitment of training with a personal coach. Yes, we know that there's no substitute for the real thing, but if you're motivated, you can get a long way on your own. This Real Rides "Power" Trainer DVD gives you an 8 week plan to build power and endurance.
The progressive training schedule is designed to increase your wattage from base levels to race levels. Robbie Ventura, ex-US Postal Service professional, narrates, coaches, and rides with you. This DVD includes 75 minutes of on-bike video footage. For these shots, you'll see a dashboard with Robbie's power output in watts, his intensity level, heart rate, cadence, speed, and ride time. These numbers are there as a benchmark for you to ride against and compare your personal figures to.
The Real Rides "Power" Trainer DVD takes you onto the road, to the velodrome, and inside Robbie's Vision Quest training facility while you work through the 8 week program. It's a perfect tool to help you get fitter and faster. That said, to get the most from the information in the Trainer DVD, we recommend that you train with power, whether using a powermeter on your bike or trainers that measure power such as the CycleOps Powerbeam or Pro Indoor Cycle. (75 minutes)
75 Minutes of bike-mounted POV video
Create custom sessions
Share your thoughts
What do you think of the
CycleOps
realRides Power Indoor Trainer DVD
? Share a...