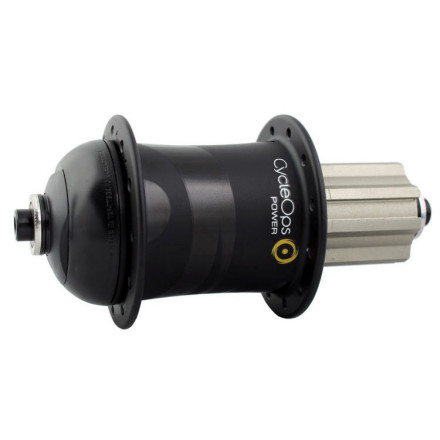 Ceramic Speed bearings are said to be the lightest, smoothest, most durable bearings on the market. When you read about pro teams replacing stock bearings with ceramics, Ceramic Speed is the company they rely on. Their bearings are hybrid ceramic, with steel races and rounder-than-round ceramic balls. They are the ne plus ultra of the bearing world and are the upgrade that transforms the PowerTap G3 Wireless Hub into the G3C Wireless Hub. They run smoother, and they shave 10g off of the total weight of the G3 rear hub.
G3 is short for Generation Three. Much like the G2 hub, this one chops a prodigious amount of weight off the previous version, but it does much more than that. The G3 design looks like a conventional hub, with a matte Black finish and smaller diameter that masks the hub's purpose. This is only the most obvious of the changes. A much bigger deal is the new electronics configuration. They are now attached to the left hub cap rather than to the hub body, and they can be serviced without sending back the hub or rendering it useless.
That the brains of the hub can be serviced without sending back the wheel is huge. Just about every single power meter ever produced, whether it is hub, crank, bottom bracket, or chain stay-based needs to be serviced at some time over its operating life. Until now, you needed to give up your precious meter for days or even weeks to get it worked on and returned. We've witnessed power fiends get despondent and desperate, trying to figure out how they can source a spare power meter for the duration of the absence. Now, you can get a spare cap with all the electronics before you send yours in. And shipping is simpler and cheaper when you don't have to stick a wheel in a box.
Another improvement that comes with this change is a single CR2032 watch battery powers the transmitter; these batteries are more easy to source and replace than the two 357 batteries found in the older hubs. The battery should last for approximately 300 hours of riding.
The hub has eight strain gauges inside the 'torque tube,' which is what measures power inside the hub. This means it still has the impressive +/- 1.5% accuracy of the older hubs. It still transmits an ANT+ signal, so any computer head unit that reads the signal can translate it into power, speed, torque, and virtual cadence. (Note: the older CycleOps Cervo head unit is not compatible with ANT+ power signals.)
The PowerTap G3C Wireless Hub is Black and is available with spoke drillings for 20, 24, 28, and 32 spokes. The spoke hole diameter is 2.5mm, so it is compatible with conventional round, double-butted, and most modern oval-bladed spokes. The flange diameter is 57mm on both sides. The hub center-to-flange measurement is 38mm for the non-drive side and 17.4mm for the drive side. It's available with a Campagnolo or Shimano/SRAM compatible freehub body. Should you purchase a wheel and need the other style, be aware that they can be swapped easily. After switching freehub bodies, the wheel will not need to be re-dished. The hub rolls on a 15mm-diameter aluminum alloy axle. Along with the hub, you'll get user instructions and the special tool for the end cap on the hub.
Please Note: The G3C Hub does not come with a skewer.
What do you think about this product?
Have questions about this product?
Unanswered Question
Running SRAM red with raynolds assault...
Running SRAM red with raynolds assault wheel this fit . Thanks
is it fit for Compag Zonda 700 wheel ( 21...
is it fit for Compag Zonda 700 wheel ( 21 spokes ) on Shinmano Ultegra 10 speed ??
The Campagnolo Zonda wheels with their 21 spokes are unique, and not something that is commonly replicated outside of Fulcrum and Campagnolo wheels. Unfortunately, there are no spoke patterns drilled into Cycleops hubs offered for the 21 spoke Campagnolo hubs. That said, this would be great when paired to something like an ENVE, Reynolds, Zipp, Mavic, or HED Rim.
Is the sram hub body 11 speed compatible...
Is the sram hub body 11 speed compatible?




The SRAM/SHIMANO configuration of this hub is compatible with 11 speed cassettes from both Shimano Di2 and Mechanical groups as well as RED 22 or Force 22.