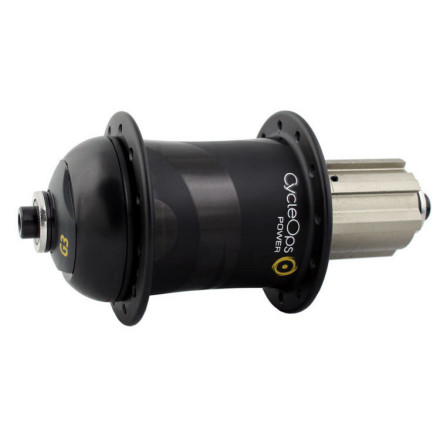 The CycleOps PowerTap G3 Wireless Hub is unique among the other PowerTap offerings. Where the earlier generation hubs stood out with their larger-than-normal diameter, this one has a power meter disguised inside a traditional-looking 57mm flange diameter and subtle matte Black finish. It's also significantly lighter.
In other words, it looks and feels like a regular hub. Chris King hubs have a flange diameter of 53mm, so the G3 is just a teeny bit larger. And for reference, hubs of Ultegra quality are around 350g, so the 325g G3 Hub is lighter than all but the super-premium rear hubs on the market. There was a sort-of dorky virtue in having a bulky hub sporting carbon that shouted 'power meter,' and the unique aesthetic of their older hubs functioned as advertising for CycleOps. However, their power-measuring hubs were so obvious it often acted as an impediment for many potential users. The sleek and stealthy design of the G3 eliminates the distraction.
Knowing the value in weight reduction and stealth measuring, CycleOps looked at how to improve their power meter without any compromise in performance. The G3 design still has a 'torque tube' with eight strain gauges, yielding measurements accurate within +/- 1.5%. But they didn't stop there.
Rather than keep the electronics permanently affixed to the hub shell, they decided to build the electronics into the end cap. This is a big change, and a welcome one. By having a removable electronic element, it means that if there's a wheel-based problem with power readings, you can get a spare cap and install it to keep on training rather than sending your wheel back to CycleOps and waiting for them to figure out the issue. Another improvement that comes with this change is that a single CR2032 watch battery powers the transmitter; these batteries are easier source and replace than the two 357 batteries found in the older hubs. The 2032 should last for approximately 300 hours of riding.
The G3 is equipped with an ANT+ transmitter. This means that the hub sends out a signal that can be understood and translated into power, speed, torque, and virtual cadence numbers by any computer head unit that reads ANT+ signals. Note this does not include the CycleOps Cervo head unit.
The CycleOps PowerTap G3 Wireless Hub is Black and is available with spoke drillings for 20, 24, 28, and 32 spokes. The spoke hole diameter is 2.5mm, so it is compatible with conventional round, double-butted, and most modern oval-bladed spokes. The flange diameter is 57mm on both sides. The hub center-to-flange measurement is 38mm for the non-drive side and 17.4mm for the drive side. It's available with a Campagnolo or Shimano/SRAM compatible freehub body. Should you purchase a wheel and need the other style, be aware that they can be swapped easily. After switching freehub bodies, the wheel will not need to be re-dished. The hub rolls on a 15mm-diameter aluminum alloy axle. Along with the hub, you'll get user instructions and the special tool for the end cap on the hub.
Please Note: The G3C Hub does not come with a skewer.
Unanswered Question
does this item include the head unit and hr strap ?


Is this model compatible with 11-speed?
Best Answer
This Powertap G3 hub is an older version that uses a 10 speed freehub body. You would not be able to put an 11 speed cassette on that.
I have two different Powertap G3 hubs and they both have 11-speed cassettes installed right now...
The freehub for CycleOps Powertap G3 Wireless Hub, Item # COP0047 is a 11 speed.
Great product, subpar customer service
Familiarity:

I've used it several times
I got my powertap G3 brand new, laced onto the 32 spoke alloy training wheel. The product performs like a charm. I had no issues with the powermeter, it looks great and performs in all sort of conditions. If I had to nitpick, I'm annoyed the battery was low from use after 6 rides. But changing it was very easy.

My main issue is with CycleOps customer service. Since I got the G3 laced with the alloy wheel, it was the 32 spoke version. I have recently upgraded my wheels and needed to use a 20 spoke hub. I called CycleOps and asked them if they have an exchange or trade-in program ( the way quarq and srm do) and they told me it would cost me $550 dollars to switch to a 20 spoke version. Don't get me wrong, I expect there to be some surcharge, but $550.. ARE YOU KIDDING ME? This product is virtually brand new with 6 rides on it and you value your own product at $300 after 6 rides? This is laughable and sad at the same time. If you want a PowerTap, make sure you know what your wheels will be in the foreseeable future, or you'll be left high and dry like me.
Is this the model with DT Swiss Internal...
Is this the model with DT Swiss Internals?
Yes they are the 2014 models with DT Swiss Internals.

If you have any other questions please contact us at 888-276-7130

Thanks
any difference between the 2012 and 2013...
any difference between the 2012 and 2013 models?
Nothing but a new paint scheme and a price drop down to $789, from $1,299



Read more at http://velonews.competitor.com/2013/08/bikes-and-tech/powertap-drops-power-meter-hub-price-by-510_297666#kqUBqEDMxLT3PVZC.99