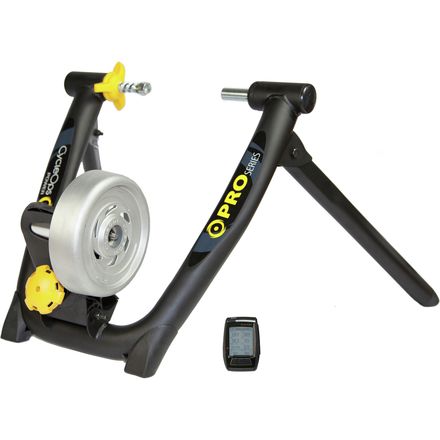 Colors
Description
Roll away from boredom.
If your love of training sinks faster than the thermometer on a blustery winter day, riding the CycleOps PowerBeam Pro ANT+ with CycleOps Joule GPS will give you the "pick up" you need to keep the training going all year long.
The CycleOps PowerBeam is a trainer with benefits. Rather than just providing a roller to spin your wheels against, it provides real-time data and a road-like feel. First, your bike is easily affixed with a quick-cam locking mechanism that tightens to provide a stable platform. The legs feature leveling adjustments in case your floors aren't quite level. CycleOps uses its PowerTunes flywheel, which mimics the feel of rolling on the road using inertial effect. Rather than feeling dead spots when you spin, the flywheel has been tuned to eliminate that. It is constructed from a smooth, machined alloy to minimize tire wear, and it's also one of the quietest trainers in the industry, which is guaranteed to keep your neighbors happy.
To keep your mind occupied during your long sessions, the PowerBeam Pro Trainer comes with a built-in PowerTap meter, and it's ANT+ compatible with the CycleOps Joule CPU. It gives you real-time data such as watts, power zones and heartrate. It even is able to provide ride profile data such as ascent, gradient percentage, time, distance and more. It will transmit to any ANT+ compatible device. With the PowerBeam, you also have access to CycleOps' Virtual Training software, which provides a database of rides and profiles that may all be downloaded to ride and then uploaded when you are finished.
Compatible with road and mountain bikes (no track bikes)
Machined alloy flywheel
Includes CycleOps' Joule CPU, Virtual Training Software, as well as an ANT+ USB
Unanswered Question
With the Joule CPU, do you have the ability to set a wattage for the resistance unit, say 200 watts, and, regardless of gear and cadence, you must input (through the pedals, of course) 200 watts in order to turn the crank? In other words, it's like an ergotrainer. Similarly, through the Joule CPU, can you set a slope gradient, say 5%, and simulate a climbing situation? So, does the Joule provide the mechanism to input power and/or slope settings to the resistance unit or does it just read the output from the powertap, cadence, speed and heartrate sensors?
Does it have the same functionality with...
Does it have the same functionality with a Garmin Edge 510 computer instead of the Joule GPS?


Hey Mark-



Awesome question. While the Power Beam Pro does come with the Joule appropriate for the best power readings, you can use a Garmin product, but there tends to be more lag time between power readings and there may be chances it is not as accurate as the Joule reading. So definitely something to keep in mind. You can always use the Joule while riding this inside, and carry-on with your Garmin Edge 510 when off it.



Feel free to contact me at slukas@backcountry.com should you have any more questions on this!



-Sarah
Unanswered Question
Is is compatible with a MAC or only...
Is is compatible with a MAC or only PC?


Best Answer
We are not able to ship to India at present, but please feel free to contact our gearhead team to explore other potential shipping options.
Do you sell the AC/DC adapter for the...
Do you sell the AC/DC adapter for the powerbeam?


I may have an extra one. Do you have the numbers off of yours?
Can you please confirm : 1) CycleOps model...
Can you please confirm :

1) CycleOps model no : _____________

2) can you ship this item to Canada ?
it's a 2014 model and will ship to Canada