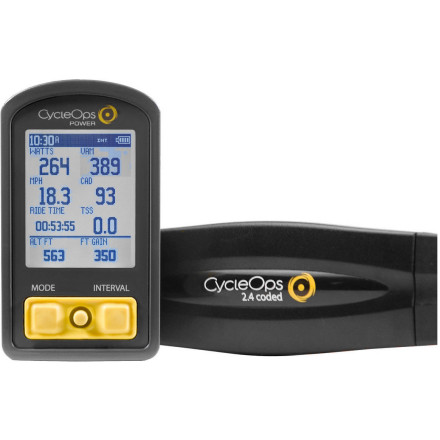 Socrates, if he had been a cyclist, might have opined, "The unexamined ride is not worth doing." He would have loved the Cycleops Joule 2.0 computer. Just as a tree falling in a forest that nobody hears doesn't make a noise, a ride not recorded doesn't impact your historic ride tracking data. And not having access to real-time ride info makes it impossible to know how you're doing.
We joke. Mostly. Your "rate of perceived exertion" is most important, but having your preferred metrics at a glance can help you adjust your efforts. Is it hard or merely "hard?" How do you know this interval was easier than the last? Is this race working me over or am I overtrained? Having your most valuable metrics in sight to help confirm or deny what your feeling is incalculably valuable. Ok, it could be the difference between suffering through or pulling the plug and going home. That can be minor or save your season.
CycleOps has gone a completely new direction with their Joule line. It's a computer made for the power age and is made possible thanks to ANT+. The first big thing is the Joule is not married to a PowerTap hub.
The Joule 2.0 can display six categories of the 12 it has available to display. Each category has three metrics within the category. They are as follows. Power in watts and w/kg and can tell you current, average, and max. Power zone, average power zone, and max power zone. Peak power for 5sec, 5m, and 20m. WKO+ metrics: training stress score, normalized power, and intensity factor. Work measured in kilojoules, kilojoules per hour and calories. Cadence measures of current, average, and max. Heart rate measures of current, average, and max. Speed: current, average, and max. Climbing: current grade, current altitude, and total ascent. VAM: vertical ascent, current altitude, total ascent. Ride: time, distance, time of day. There are four modes or windows that can be accessed on the Joule 2.0: Menu, Dashboard mode (current ride data), reports mode, and activities mode. Activities mode can show intervals and scripted workouts.
The dashboard can be changed at any time. You can set the categories you want to see before or during the ride with use of the joystick. Reports mode, aka ride history, is an amazing feature. You can use the Joule to recall all manner of completed ride data. It takes historic averages for two, four, eight week, six months, and one year. It counts and saves surges, intensity factor, normalized power, peak power, zones, and much more.
Keep in mind that the Joule is a computer alone, and for Power data you mate it to any ANT+ enabled powermeter; it can sync up with the wireless Quarq and SRM crank-mounted powermeter as well as the PowerTap ANT+ powermeter. It also works with any ANT+ heart rate monitor transmitter, cadence transmitter, and speed transmitter. It doesn't, however, work with Garmin's GSC10 speed/cadence transmitter.
The Joule can download to and upload from PowerTap's PowerAgent program. It is also compatible with WKO+ and the Training Peaks website, with an auto-upload button on the PowerAgent program.
If you're the rider who has more than one powermeter and many sensors, the Joule can accommodate you rather nicely. It can save data on 10 power meters, 15 cadence sensors, five chest straps, and multiple speed sensors. Once you've done the initial pairing, it can find them again and again as you switch bikes and devices.
The Joule 2.0 is also compatible with the CycleOps 400 Pro indoor cycle and PowerBeam trainer, not only for the readout, but for duplicating a favorite outdoor course or ride indoors.
An ANT+ heart rate monitor strap is included. The 2.0 comes with a mount that can be zip-tied to either the stem or the handlebar; it comes pre-assembled for mounting on the stem. This Joule measures 49.5mm wide by 89.5mm long by 25.5mm deep. The screen measures 59mm on the diagonal (measured like your computer screen). The screen resolution is 128x160 pixels. The battery is a rechargeable lithium-polymer that will last about 20 hours on a charge. It comes charged; you can recharge it through your computer's USB port (standard) or buy an accessory AC charger. The Joule 2.0 has 4MB of memory built in and can be expanded with a microSD card; it will store 999 intervals/laps, can hold up to 20 hours of recorded riding time at the one-second sample rate. 20 hours of riding takes up .5MB of memory. The 2.0 can also store about one year of daily ride history, totaling 2.5MB, as each ride's history (totals, averages, maxes, etc) takes up about 1KB of space. Claimed weight of the CycleOps Joule 2.0 is 74g (not including mount).