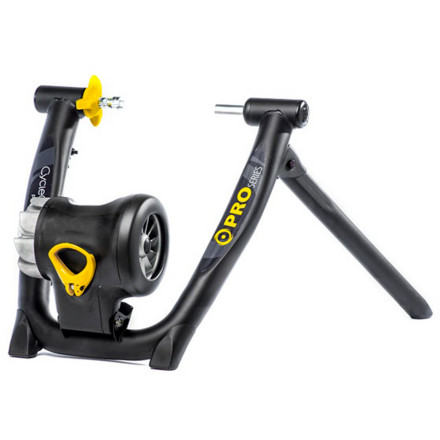 Description
Resistance isn't futile.
If you like to keep your indoor training simple, but you still want to feel as though you're getting a workout, the CycloOps JetFluid Pro Trainer is the ideal winter training partner. Setting it apart from other CycleOps trainers is the wider platform to keep you even more stable. It also includes leveling feet to adjust it so that you don't feel like you're riding on a slope. The most important feature of the trainer, the flywheel, is balanced to provide a realistic ride feel, void of the "dead spot" so often found on lesser quality trainers. This balancing also reduces noise and gives you a more consistent feel when riding. The JetFluid's resistance curve is one of its most impressive traits. This means that while you increase in speed you feel the real-world resistance increase the same way wind resistance increases when riding outdoors. With four settings—easy, flat road, interval, and hill—you'll be sure to get your workout's worth. The JetFluid fits any bike with 650c to 29-inch wheels.
Four resistance curves: easy, flat road, interval, and hill
Quick-Lock cam lever
Accommodates 650c to 29-inch wheels
Share your thoughts
What do you think of the
CycleOps
JetFluid Pro Trainer
? Share a...