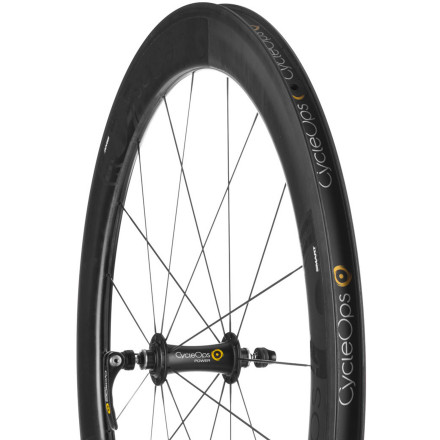 Detail Images
Pair the engineering of a former F1 aerodynamicist with some of the most advanced power training technology available, and you receive a package that's nearly impossible to beat. Yes, we're talking about CycleOps' new G3 SES 6.7 Clincher/Joule GPS Wheelset that incorporates wind tunnel-developed front/rear specific wheels, accurate power data-collecting rear hub technology, and a GPS computer head unit, all wrapped into one seamless system.
The rims of this wheelset are identical to those found on the Enve Smart System 6.7 carbon clinchers, developed as a collaboration between Simon Smart and Enve Composites. Enve used its most sophisticated technology and engineering techniques to create this fast, stiff, and aerodynamic wheelset. The 6.7's aerodynamic design starts with the size differential of the wheels. Enve accounted for the different behaviors of front and rear wheels and designed the 6.7s with a front wheel that's 60mm deep and 26mm wide, while the rear wheel is 70mm deep and 24mm wide. Accordingly, the front wheel's shallow profile and wide stance decrease drag and improve stability in windy conditions. On the other hand, the rear wheel's depth decreases drag because stability is less affected at the aft position of the bike. But, the SES 6.7 clincher is not only aerodynamic, but it's also lightweight, stiff, and strong. The Enve SES series boasts the highest strength-to-weight ratio on the market, and this is due in part to Enve's patented process of molding in spoke holes, nipple seats, and valve stem holes. This means that when you combine the hand-built Enve carbon clincher hoops with the CycleOps PowerTap G3 Wireless Hub and a sub-100 gram CycleOps Front Hub, it adds up to one of the lightest and stiffest carbon PowerTap clincher wheelsets ever produced.
On CycleOps' end, it completely overhauled the design of previous PowerTap models, while also improving upon multiple aspects ranging from rigidity to functionality. The new PowerTap G3 Rear Hub is a power meter on a diet. An 80-gram weight reduction from the popular SL+ makes the G3 rear hub the lightest power meter in the world. CycleOps improved on the rigidity of previous models for the G3 by shrinking the hub profile and widening the flanges, ending the days of heavy, paint bucket-sized rear hubs. With the distractions of weight and stealth design out of the way, CycleOps improved the functionality and accuracy of data gathering. For one, CycleOps moved the orientation of the electronics that transmit user data to the end cap of the freehub body. With the new positioning, it's now possible to remove the electronics for service without swapping out the entire wheel, equating to more time in the saddle and fewer headaches. The new G3 is also equipped with an ANT+ wireless transmitter that sends power, torque, speed, and virtual cadence data to your CycleOps Joule GPS. The G3 is capable of storing up to 15 hours of data in one-second gathering intervals, and up to 30 hours of data in two-second gathering intervals. The G3 design still has a 'torque tube' with eight strain gauges, yielding measurements accurate within +/- 1.5% between 40 and 130 rpm.
In addition to the PowerTap G3 Hub and Enve's SES 6.7 Clincher hoops, you also receive CycleOps' latest innovation in power training -- the Joule GPS. This new GPS Computer provides a seamless relationship with PowerTap, and it incorporates GPS capabilities for a full route view in order to ensure that you don't get lost ever again.
The Joule GPS Computer displays 18 metrics at a time, like watt/kg, peak power, power zones, heart rate zones, temperature, surge count, altitude gained/lost, grade percentage, and much more. You still have access to Report Mode, which holds your historical averages stored in increments of one week, two weeks, four weeks, eight weeks, six months, and 12 months. This mode is not only useful for post-ride analysis of how your training is progressing, but it also allows reports to be accessed on-the-fly during a ride. The Joule GPS also allows analysis of historical data to be compared with your current ride data, as well. Altogether, there are 58 metrics available for history reports that include power detail, work, peak power, and climbing. The Joule Computer is able to be mounted on the front of the handlebars or on the stem, and comes with the mounts for each of these options. Its battery life is around 20 hours, and uses a rechargeable battery. And when your training is done for the day, you're able to upload your data from the CPU to your home computer.
Each G3 SES 6.7 Clincher Wheelset is hand-built in the USA with DT Swiss Aerolite Spokes, and it features the 99-gram CycleOps front hub. The new front hub design features a beefed up 10mm axle, an aluminum hub shell, and 6901 aluminum sealed bearing cartridges. CycleOps also claims that the complete wheelset only tips the scales at 1660 grams, and given that the Enve SES 6.7 wheelset weighs 1573 grams, we're inclined to believe them.
The CycleOps G3 SES 6.7 Clincher/Joule GPS Wheelset is available with either a Shimano or Campagnolo compatible freehub body. Please note that the Shimano body is compatible with 11-speed Dura-Ace cassettes. Additionally, each wheelset includes brake pads and quick-release skewers.