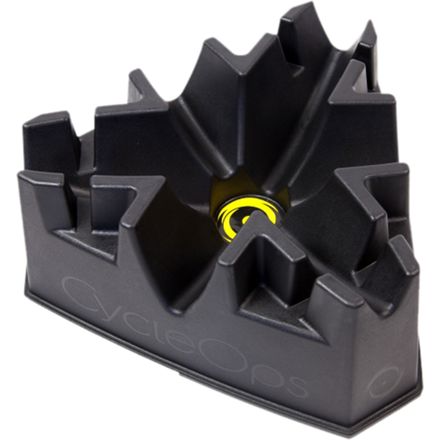 Community Images
Description
Bring the climbing adventures to your living room.
The CycleOps Climbing Riser Block gives your old textbooks a break from propping up your front wheel and provides a stable platform for your winter trainer adventures. While one of the height options sets the front wheel relatively even with the rear, this trainer block gets its name from its two additional options to set the front wheel higher to simulate climbing angles. Climb the Pyrenees, tackle Empire Pass, and grind out your favorite grade all in the comfort of your living room.
For even more options, two Climbing Riser Blocks can be stacked together for a total of nine different height settings to meet any of your indoor training needs. Made with injection molded construction, the Climbing Riser Block is super durable and will survive years of riding through your favorite movies or alongside some rockin' tunes.
Injection molded construction
Three height options
Option to stack two blocks
cyclops tire stand
Familiarity:

I've put it through the wringer
this item works great and keeps your wheel so it will not slip whenyou are training in your basement
worth it
Familiarity:

I've put it through the wringer
This is a great accessory to your trainer. It keeps the wheel locked into place and also allows you to adjust the height to simulate more hill type work. Very stable too.
Bigger than you might think. Stable. 4 heights. Good one. No indication where it's made.
Great riser, lots of options
This is the most versatile riser block I've used with my Kurt Kinetic Road Machine trainer. The lowest channel in the CycleOps riser block leaves the bike sitting level. The other two channels give slight inclines. There are 3 different ways to use 2 blocks together if you want a plethora of steeper inclines to choose from. You can nest/spoon them together, stack them "offset" as in the photo, or stack them with the bases interlocked together (bottom one upside-down, top one right-side-up) to simulate the really steep climbs. Pretty smart design, I think.

I like the way this riser block cradles the front tire. You know riding the trainer is going to wear your rear tire, but why should the front tire take any abuse? This is one of the reasons I chose the CycleOps over the Kurt "riser ring", which looked like it might abrade the front tire after a winter of spinning.

I'd give it a 5th star if it were a little cheaper.
Good riser. 3 different settings for riding on a trainer. Very stable and the wheel won't slip off when doing a hard effort unlike other models
This simple riser block offers great stability and several wheel heights. Perfect match for the CycleOps trainers.
I use this riser at the same time while using my CycleOps Trainer it levels my bike while using the trainer.
I'll admit that I haven't done too much training with my front tire raised, this a climbing riser block is a nice piece of equipment to have just to get your bike level with the trainer since you're rear wheel is up in the air. I use a CycleOps Fluid 2, and in the lowest groove my bike is about level. These blocks seem level and stable, even when two are stacked together.
Works great and is very stable. (Drop the phone books) One riser provides multiple height options and is definitely necessary to get a level ride with a CycleOps trainer. Get a second (or even a third) to increase the options for those TrainRight Climbing workouts.
Write your question here. How does it...
Write your question here. How does it raise the bike, I cant figure that from the pictures..
There are several grooves in the block all have a different height hat you sit your front tire on. Generally without a block your front tire sits below your rear tire and it feels like your are riding down hill.

For a more natural feel user the block and find the groove that sits you level front and rear tire.

For a climbing feel us a taller groove and ride on the bar tops.
I had heel surgery which included my...
I had heel surgery which included my achilles tendon. I need to excersize without any resistance. It was suggested that a bike trainer
would be good. Can anyone tell me if they have used this for that purpose or any thoughts as to doing so? Thanks C..
After I tore my ACL my physical therapist prescribed the following routine. I used a bike trainer to begin getting a little flexibility in my knee back. Initially I had the seat uncomfortable high to avoid bending the ligament too much and the resistance unit off the tire. Over the next few weeks I lowered the seat to a bit below normal to get a full knee bend and extension. In the mean time I added the resistance unit with very high gearing. Over time the gearing came down to increase strength.

Same may work for your Achilles but it is always best to check with your Dr. or therapist for the specifics first.
I torn my Achilles tendon & it has messed up all of my leg & back muscles. Riding helps because it is low impact on my ankle but because of the heat I haven't been able to ride. I got a trainer w/riser block and I have been able to get in short rides that feel really good.
If you want to ride indoors while another winter snow storm arrives from the Rockies, look no further than the riser block. Sure, you might not get altitude sick with this piece of plastic, but you will enjoy not using the usual stack of telephone books that seem to move every direction that you don't want them to move. It is stable and sturdy (and cheap).