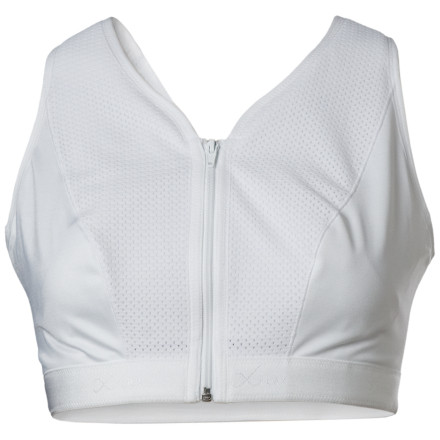 Detail Images
CW-X designed the Xtra Support Zip Bra to give women with larger cup sizes the support they need and the comfort they want. Technical fabrics keep the skin dry and cool while giving strategic support for running and working out.
Full-zippered front lets you put this bra on and off without having to stretch it out over your head
Mesh panels keep your skin cool and help reduce sweat
CW-X's five-point targeted support is built into each cup, giving you doubled layers of support
I returned the first one for a bigger size. The second one I think is the right size, but it feels like a straight jacket. I don't bounce when I run, but I don't know if it's worth it. I also zipped my boob once with the zipper..ouch!
Great support. A bit tight around the rib cage.
This is the only sports bra I have ever found that provides enough support that I can run comfortably... and I've tried them all. Really. Moving Comfort, Natori, Enell, you name it, I've tried it. I own 3 of these and just ordered 2 more. The down side: it's a double layer on the front, so it's pretty warm. And yes, I have had the bottom of the zipper cause chafing once or twice, so I use Body Glide in that spot. But really, it's worth it for all the reasons cited in all these reviews-- amazing support, easy on-off, and good enough coverage that you can wear it alone if you want to. Runs reasonably true to size, maybe just a tiny bit small. I vary between 36C and small 36D, and I wear a 36D in this bra.
Love this bra. I was a 40D when I started running in April 2010 and needed serious support. This bra kept everything in place. No excessive bouncing or movement. I bought my true size and have not been disappointed. I wear it so much I bought another one as back up. My glee is that I lost 18 pounds and the bras still works. I do want and need a snugger fit and will buy two more at a smaller size. The zip front is an asset for quick put on or take off. It is one less wet item that has to go over my head after a good run. Worth every penny for comfort and security.
Best sportsbra I have ever used!!!
This is definitely the best sportsbra I have ever used. I am a 36D and have had a hard time finding sportsbras that are supportive enough, not impossible to get into, and comfortable. This bra meets all of those needs. I still use Body Glide to prevent any chaffing. I love the front zip, it makes putting the bra on and off very easy. I did experience chaffing from the zipper when I ran without my heartrate monitor, but when I run with my HR monitor I have no problems at all.

I highly recommend this sportsbra. It's so good I bought several and threw my others out.
This is a great sports bra that keeps "the girls" in place while running. I was very concerned about running because I am heavy on the top but no need to be worried there was no issue. I bought my correct bra size and it fit great. I love the ease of the zipper in the front instead of struggling to pull it over my head. This is the second CW-X Xtra Support Zip bra I purchased (white now black). I highly recommend this bra.
As a runner and a first-time mom, I was in search of a supportive bra that would also be easy to take on/off for a quick feed if needed. I love the CWX brand and gave this bra a try. It is great! Just what I was looking for. Would recommend it for other nursing, running mothers.
I would like to know which model of cw-x...
I would like to know which model of cw-x bra shapes like regular bra, in other word, that does not make you look like you have a uni-boob?
CW-X Xtra Support- Perfect 10
This is the perfect sports bra for those of us with a larger top. I especially love it for runs on the tred mill. I am no longer self conscience as it does the job of perfectly holding everything where it should be.
With swimsuit season under way I went through the usual torture of attempting to find a bikini top that I didn't bounce out of immediately upon diving into the water. I'm a 32 DD and while one might assume that this would be the ideal figure for those itty bitty bikinis, it is NOT. When you try to swim, dive, or actually interact with the water rather than bask prone on the beach, things simply don't stay where they should.

Matched with some simple black boy shorts this sports bra made it possible for me to enjoy water sports again. No one even guessed that it wasn't made to be a swimsuit. And best of all, rather than throw down $$ for a swimsuit and a sports bra, I was able to get both with just one purchase.

For those of you who are smaller than 36 but still need the extra support, try a smaller cup size and bigger rigger rib cage measurement. The 36 B/C works great for me.

Awesome bra!
The best constructed bra I ever had. I love this thing!
I am a 38 DDD and the 38 DD is perfect on me. I am 5'10" so it was a suprise to find anything that fit. I bought my this bra 1 year ago when I started running. I love it! I can jump on a trampoline, run or flip and nothing moves! I am buying two more today to train for my 1st half marathon! (the first one has not worn out yet with repeated use)
I also found that the bra sizing ran small. I exchanged it for a larger size and it's been great! Very supportive and the zipper is a great feature. No more wrestling with sports bras after sweaty runs! Also, the customer service for backcountry was very helpful and courteous (a rarity these days)....an added bonus!!
Unlike other reviewers, this great bra was running a size smaller than most front hooked bras. I had to return, but am anticipating how great the next band size up will be.
So I am a 38DDD, though I can usually wear...
So I am a 38DDD, though I can usually wear a 38DD fine. I have problems with regular bras - I fill the cups of the DDD out, but because I'm only 5' the wires cut into my armpit (does it with the DD, but not as bad.) Am I going to have any problems with this bra riding up too high on my armpit because of my short body?
if it is riding up in the arm pits... u are not wearing the right size... quick and easy measuring instructions:Measure under bust... add 4 if even number... add 5 if odd: that is your band sizemeasure fullest part of bust... subtract band size... for every inch difference is a larger cup size... and make sure you look at their size charts... many places use different lettering
This is a great bra for full figure ladies!! I was able to run on the treadmill with ease!!
Has lots of potential to be a great bra!
I am a 36DD and ordered the Xtra Support Zip bra in the same size and now wish I had gotten it in a smaller size, maybe even two sizes smaller. I need it to strap me down tight to eliminate bounce and make it comfortable to run, jump, whatever. So I was a bit disappointed to see that the bra was not true to size. I have to wear this one over another sports bra for the effect I wanted.

Also, I wish the straps were adjustable, as I found the bra fit lower on my chest than I'd like. Maybe if the bra had adjustment options to fit each and every individual, it would be so much better.

I did like the front zip. It makes it super easy to put on/take off, even when you're sweaty. There's no wrestling match involved to pry it off your body after a long run.

I would suggest trying this bra on before purchasing.
I never thought they'd make a supportive bra in my size, but they did! This bra changed my life. I no longer have to be self conscious of all the bouncing b/c this bra holds the girls in perfectly. However, it does not mash them together. This bra is so comfortable that it can be worn for hours at a time without feeling like I'm dying to rip it off. The best part is, when I do want it off all I have to do is unzip it! Not fussing with pulling it over the head. Definitely worth it and way better than any other bra I've tried (and I've tried them all!)