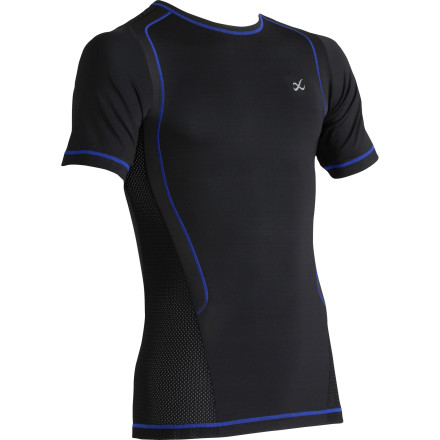 Detail Images
The supremely performance-minded folks at CW-X designed the Men's Ventilator Web Top with a built-in Kinesio Support Web to hold your trapezius muscles and scapular bones precisely in place as you run or hike. And we all know that better posture means more efficient movement and long-term structural health for your body. It's just a matter of getting in the habit. Which is hard. Except now, a shirt does it for you.
Kineso-taping technology creates an exoskeletal support system, which translates to improved posture and control
Stretch mesh ventilation panels allow hot air and perspiration to escape, while letting cool air in
better than undrearmour
Gender:

Male

Familiarity:

I've put it through the wringer

Fit:

True to size
I've tried the underarmour compression shirts before and never liked any of them. I'm 5'10 175lbs and their medium is too tight and the large doesn't feel like it's doing anything. So then I saw this on sale for $44 which although expensive is considerably better than the original $80-90 price. Oh my goodness !! This feels great. It doesn't simply give a tight feel. I feel my torso is supported. It feels good for tennis and multi mile runs. My only caveat is that I wouldn't recommend it at the msrp. Not because of the quality. Again the quality is superb. I mean I don't think any compression clothes is worth that much. I don't understand why some people will be decked head to toe in compression clothes and they're only jogging 2 or 3 laps on the track field. But I digress. I don't do that much weightlifting. I presume it would be a great fit since as someone else says it doesn't restrict your arm momovement.
Unanswered Question
what's the measurement from armpit to armpit (CW-X Ventilator Web Top S/S)...size small, medium & large? thanks
Best compression shirt ever
Familiarity:

I've put it through the wringer

Fit:

True to size
I've found compression gear to be fairly meaningless when buying other brands (Nike/Under Armor)...it always feels more like 'fashion wear' than true running gear. The CW-X products are always better than the competition, and this shirt is no exception. If you understand how to take these pieces off you'll be well served by the quality of the build...but if you try to pull it off from the neck, and over your head, you'll tear it to shreds. This is a serious piece of gear, and it needs to be very tight to have the desired effect. I'm 6'4" / 190, and find a Large to be a perfect fit for good compression. My runs are so much better when I use this as my base layer, and do an Under Armor sleeveless day-glo shirt over it for better visibility running on roads. Just a great shirt that will last for years if treated well.
The jury is still out.
Familiarity:

I've used it once or twice and have initial impressions

Fit:

True to size
Initially I really liked the shirt, but after only two wearings the green stitching on the support web on the back of the shirt popped in four places. I called customer service, and while helpful, I was told they didn't have another XL in stock, and wouldn't for at least a month. It was recommended I contact CW-X directly, which I did. The shirt has been sent back to them, and I'm awaiting word. For now I'm giving this shirt 2 stars, with the hopes of increasing it once I get a replacement shirt. Which hopefully lasts more than 2 wearings.
Decent...
Familiarity:

I've used it several times

Fit:

True to size
I'm right at the bottom of the medium range on the chart (5'9, 150 lbs, athletic build) The medium is a nice snug fit but i don't think it's quite tight enough to really give the compression and support that it's supposed to. I'm not sure if i could squeeze myself into a small though, there isn't a ton of stretch to it. This is my first compression top but i have a feeling you could do better for the money.

I would say it runs true to size though maybe a tiny bit on the small side. This is a compression piece so it's supposed to be a very tight fit.
Small
Familiarity:

I've used it several times

Fit:

Runs small
Was expecting a looser fit for a Medium though.
Interesting, maybe, not sure
I have mix feelings about this piece. I think it works and helps with my posture. The effect is not pronounce. I use this piece to hold my belly in during my run. The garment is well made and dries quickly.




I'm 5'10" 185, and the large fits well, even for a weightlifter build. It's comfortable to run in, and the ventilation is excellent. It holds up well in warm weather, so you won't be dying of heat if you like the sun. I am absolutely uncomfortable wearing anything that has a sleeve when I exercise, but I don't feel like they're limiting on this shirt. It's the first of its kind that I have owned, and it won't be the last. A great buy if you're looking to keep cool in the heat.
Very happy with the shirt. Provides support during a run while keeping you cool and dry. Quality of construction seems good and for me just enough compression.
I have this shirt paired with the Ventilator Short from CW-X, and I could not be happier. The shirt provides excellent compression and shoulder support, while not overheating the crap out of you. Playing soccer games in this outfit makes you feel like you could score the winning goal in the Champions League Final and not break a sweat over it. Bottom line is that this top is a fantastic piece for anyone who needs to perform while running.
This is my first CW'X running shirt as well and after being a "run in whatever t-shirt" type of guy I'll likely never run in anything else, if only because I spent so much money on this shirt. I'm 6'2" 185lbs and the XL is a perfect fit. Not only does this shirt help keep your posture and form, it also encourages you to make sure your abs are in good shape. You don't really want to have a belly hanging out of this.
Good Warm Weather Compression Shirt
This is my first CW-X running shirt and I like it a lot. It is expensive though. I have liked the CW-X running tights enough that I was willing to give the targeted compression shirt a try. I am glad that I did, because it does a great job of wicking away sweat and keeping me cool while I run. I sweat very heavily when running in warm weather and this top kept me almost dry after 8 - 10 mile runs in humid weather. The shirt has targeted compression bands that are meant to keep posture correct - in effect pulling the shoulders back. I found this to be a nice feature on long runs - especially towards the end when my running form tends to degrade a bit.

They also have silver threads woven into the material to prevent stink build up over time... I haven't had this shirt long enough to really tell if that works as well as the other shirt benefits so that feature is still a wait-and-see for me.

Again, they are expensive. Even so, I highly recommend them.