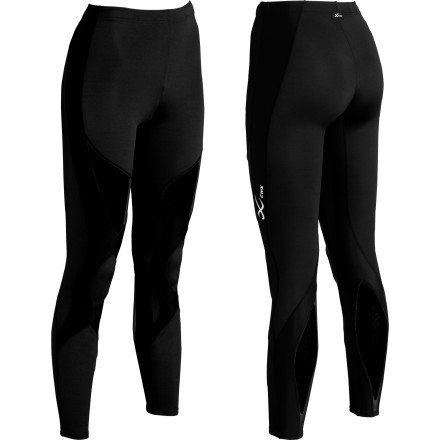 Detail Images

Community Images
Your quads, calves, and crotch get pretty hot and sweaty when you run. Thanks to mesh panels in the quads and calves, plus a coolmax gusseted crotch liner, the CW-X Women's Ventilator Tights help reduce heat fatigue on your spring and fall runs. The Ventilator Tights' Conditioning Web design supports the muscles and ligaments around the knee joint, and offers gentle support to both the medial and lateral head of the gastrocnemius in your calf. This means less injury and more circulation while you train. A UPF40-rated fabric in the Ventilator Tights protects against UVA and B rays.
Unanswered Question
I am 5'10" with a 32 inch inseam and large...
I am 5'10" with a 32 inch inseam and large guads. Will these tights fit?
CW-X Brand Video - Ventilator Tight
CW-X Women's Ventilator Tight - Women's
Worth every penny; definitely help with distance runs and recovery. Two things--one, the mesh ripped slightly after a while so it looks funny, and two, they look a bit "slutty" and I get "hey wonderwoman" comments walking down the street to Central Park in them... but honestly, I cannot run as far or as fast without them. I want another pair!
I was about to purchase another 2 pairs...
I was about to purchase another 2 pairs of the CW-X tights. I read in someone's review that their doctor prescribed them - does anyone know if / how you would fill a doctor's prescription for these - is this possible. I am lacking ACL's in both knees and had surgery for a torn meniscus - still run - and would love to know how to get my insurance company to help pay for them.
unless a medical supply store sells them, i seriously doubt any insurance company would pay for them. maybe the other person's review meant that their doctor recommended them. and how do you stand much less run with no ACLs?
first try compression tight
i really like it. fits me well. (my legs are more lean than my waist), felt warm, but not overheated. The support mostly helps me not feel tired and sore at the beginning of a run, but i never stretch and this cold probably be accomplished by being better about stretching, warm-up, cool down.....
CW-X tights - great for running, but too short of life Span
I am an avid runner (30 miles a week) and own 4 pair of CW-X and two Opedix. I love the support and the comfort of CW-X tights, and my only complaint is the short life span. I wear one pair each week, wash them in cold water and air-dry them on hanger. The seams along upper lag breaks in about 6 months. I already have 3 pairs replaced. I wish the manufacturer can use triple-stitching, like the old-fashioned Nike tights or the similar technical support tights by Opedix.
I agree the sizing is a bit weird, but since I'm tall (5'9.5) and was on the border, I got the M. They are snug but like putting heavy duty tights or leggings on. The point is that they are snug to act as a "bra" for the legs, and they do just that, and I can run further in them than without them--they give added support!
The ventilator tights do their job as far as compression goes. I have a few quibbles, however. I got the small (as recommended at 5'4", approx 130 lbs). The fit is good except that the ankles (which are actually above the ankle -- and I don't have super long legs) are VERY tight! I wear the 3/4 Stabilyx (small) and they fit great! Both pairs help support the small hernia I have preventing what feels like hip flexor pain.

Also, as another reviewer wrote, the thin liner over the crotch seam is not sufficient to prevent you from feeling the seam. I understand CW-X used to use a true gusseted crotch. PLEASE go back to that design, or adopt it if my information is wrong and it hasn't yet been used.
I have these tights and a pair of the CW-X Pro tights. I don't care for these that much. They fit true to the size chart for me (small=120 lbs 5'5" with a big butt).
I notice my legs getting really sweaty in these. It would probably be easier for me to wear shorts if it's not cold enough for my Pro tights.
These tights don't have a lot of compression to them, and they tend to sag if I run in them long enough. Ironically though they bind in the crotch too, which is pretty uncomfortable. I find myself always grabbing and adjusting these tights.
The only reason I like these tights better than the pro is the contrasting fabric isn't as loud.
CW-X Ventilator Tight- Womens
Company needs to do something about the crotch area .Not flat stitched Seam crosses like a lump in center of crotch area, They do cover it with a small thin liner , but as you run you feel the seam , impossible to run in. As I bought them for running I am sending them back. As for the rest of the fit and compression they feel great. The company needs to find a better way to make that area comfortable , then they would have a great seller!
I will be running in hot weather. What do...
I will be running in hot weather. What do you think will keep me cooler- the ventilator tights that go down to the ankle or capri cwx tights (not ventilator)? Thanks!
Best Answer
Hi Emma-

The CW-X Ventilator tights were specifically designed for warmer weather. CW-X used Thermal imaging studies to see what parts of the leg get hottest during running in warmer weather. The hottest spots are around the quad because it is exerting a lot of energy during the run, and the calf muscle because it is behind the leg and does not get any airflow. So CW-X put vented mesh in those two areas of the leg in the Ventilator tight. I can tell you that by just cooling those two areas and allowing more airflow in the quad and calf, the entire leg feel more comfortable somehow. Since you get the most support out of the full length tights, I would recommend the Ventilator tight for warm weather. Good luck!
These are so worth the money. it still has to be pretty cold for me to run in them which worked out well when i went running at 3am. I also use them as a recovery aid after bike races.
not a review! hoping cw-x sees this!
This isn't a review.. more a hope that the powers that be see this. Please make these in all black. also, 3/4 length and perhaps over the knee 6 or 7 inches! I have been looking for high quality warm weather compression shorts and tights for ages. but can't find anything, anywhere. I have 4 pairs of other cw-x tights and they rock but are way too hot for summer and warm weather.
Nothing but the best, try them,
I bought recently 3 pairs of CW-X ventilatior tight because of a serious problems with legs and hips.
I was involved in a car accident and I informed my doctor conerning the CW-X compression tights.
He prescribed me 3 pairs which I wear evry day and take 85% of my pain aways. They are more then great for knees allignement, excellent compression for hip and lower back and give a really good feeling when you wear them.
I would recommand those tights for all persons having health problem specially hips, knees and muscules wise. Don't hesitate, inform your Doctor, because they don't know about this product.
these fit perfect.. yes they are tight but they are compression tights and if you line them up with the knees the way they are suppose to be they are GREAT!!! I absolutely love the venting it makes them perfect. I bought some of the ones without the venting and could not wear them b/c my legs get sweaty. The ventilator tights allow enough air so that my legs don't sweat. I had alot of complements on how they look... they are really cool looking. I had to buy me another pair, so I could switch back and forth. Thanks for a GREAT IDEA (the venting) lets get some more colors..OK?
Unanswered Question
The tights claim UPF 40+. Are the mesh...
The tights claim UPF 40+. Are the mesh ventilator panels of thetights also UPF 40+.
Unanswered Question
Would you use these in the summer or would...
Would you use these in the summer or would they be too hot?
I bought these tights for my marathon training and I love them. They fit well, but tightly, however, that is the very point of these, they are COMPRESSION tights, and they do indeed compress. Wearing these for a 20 mile run, my recovery is shorter and my legs feel better while running. I think they are worth every penny.

The mesh is cooling, I don't think I could stand the regular tights because of the warmth.

On sizing, I was clearly a medium and that is what I ordered and it fits perfectly.