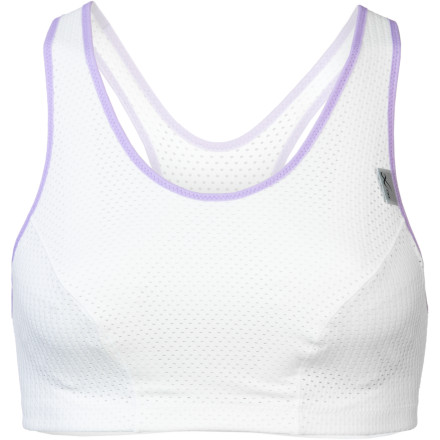 Detail Images
The CW-X Women's Mesh Support Sports Bra features two layers of performance fabric to a enhance support, provide added motion control, and increase moisture movement away from the skin. The inner Coolmax layer of the Mesh Support Sports Bra offers some of the best moisture-wicking technology. The CW-X Mesh Support Sports Bra's inner fabric-layer also secures support by encapsulating each cup for motion control. The Mesh Support Sport Bra's outer-layer mesh fabric gives maximum ventilation for minimal perspiration, and the mesh webbing reduces upward bounce. The Mesh Support Sports Bra does everything a regular sports bra does but uses superior fabrics for added sports-friendly function.
Share your thoughts
What do you think of the
CW-X
Ventilator Mesh Sports Bra - Women's
? Share a...
Unanswered Question
Is this an Over-the-Head number or does...
Is this an Over-the-Head number or does it have hooks at the back. i have a dodgy shoulder and struggle to get bras on and off over my head.
These are super fresh and soft, and still do a great support job for medium impact activities like hiking or yoga/pilates. Breathable, comfy, supportive and cool.
Is this bra see-through, or could you run...
Is this bra see-through, or could you run with just this alone on?
This sports bra is see through mesh in the back, but the front is double layered material and is not see through..
I loved the initial feel and fit, but soon I had the uni-boob look. Dang it! Unfortunately this one will be heading back. I did appreciate learning CW-X bras are made by Wacoal...an awesome bra manufacturer. If there was better separation I would have been a very happy camper --I mean happy runner!
After reading the reviews for this sports bra, I couldn't wait for it to arrive. I wear a 34B and ordered the medium. When I took the bra out of the package, I was pretty doubtful that it would give enough support, but figured I'd still try it out anyway. I just got back from my 4 mile run and am extremely disappointed in this sports bra. Halfway through my run, my chest started hurting from all the bouncing and I had already chafed. On the upside, the mesh was extremely breathable and was great for such a hot day so if you're looking for something with minimal support for hot days, this is the one for you. If you're looking for something with a lot of support, do not buy this bra.
I have tried all sorts of sports bras. I love the CW-X line but the mesh support bra is by far the most comfortable and quick drying of them all. Great support as well. No problems whatsoever on a marathon. Highly recommended!!!
I bought 3 different bras and I love them all- snug, cooling, good fit, comfortable, good support. Worth the money, but hard to find. Using the "Locate Retailer" on CW-x website I found a few in Phoenix. Bought one, then ordered the other 2 online. They are snug so don't buy too small, buy according to the online measurement guide
The CWX Sports Bras are the most supportive and comfortable bras I have ever worn. The Mesh Support Bra is even more comfortable since it breaths so well and dries quickly. I run a lot of miles including a 50 mile ultra-marathon and will not run without wearing a CWX sports bra. The soft support web provides the most support and comfort instead of just compression.
I like a lot of support. Even though I am a only a 34B, my guys need help! I usually use the Champion 2000, but was looking for something thinner for the summer. The mesh bra is breathable, thin, and cool. The support is slightly less than the 2000, but adequate. For the weight of the fabric, it has good support.