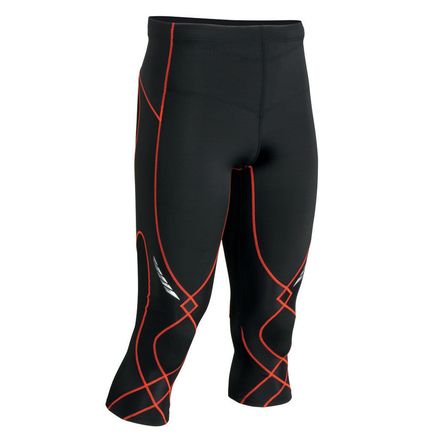 Detail Images

Community Images
Description
Useful tights whether you're a pro or just train like one.
When the worst of winter is over and spring has sprung, pull on the CW-X Men's Stabilyx ¾ Length Tights and take your training back outside. CW-X's Conditioning Web stabilizes the knee joint to help prevent injuries as you work toward your next marathon. These CW-X tights also lend support via compression to your hips, lower core, and lower back so you can power through those last six miles with gusto.
Only tights I'll wear running
Familiarity:

I've used it several times

Fit:

True to size
Lets just say, these are awesome!
The web that CWX uses is hands down the best I've came across yet for supportive base layers.
The 3\4 length are perfect for me as I have very long legs, bad knees and my calves run hot..
The web around the knee is very comfortable, keeping the joint warmer and supported. Not quite a knee brace but keeps my wondering patella in line.
The fabric is also quite breathable but keeps enough body heat in that I can see myself wearing these into the fall for sure!
Can't wait to pick up another pair already.
Sizing! I went with medium even though I fell into the large category of the sizing chart. I do have skinny legs and didn't need them to be long.
Got me through my first 26.2
First marathon and I don't think I would have made it without the extra support. I started getting a little knee pain when I was training for my first marathon about the time I started doing 3+ 13.1's a week. I picked these up to help me continue running and for race day.



Running in these helped keep me on training schedule without runners knee and made it so that I could still mow my lawn the day after the race without the need for a cane.
Gotta run
Familiarity:

I've used it several times

Fit:

True to size
I was pretty sceptical about the value of these tights. I am 52 years old and have seen a lot of gimmicks come and go. I started having hip and knee pain earlier this year so decided I had little to lose by trying these out. I run 5k,10k, and half-marathons. I train 30+ miles a week. I regret nothing about this purchase. I ache less, not only from my joints but muscle fatigue has decreased as well. I now own the shorts and full tights as well. Great product. They say clothes make the man, but I will say that these clothes make the man a better runner.
Work Great!
Familiarity:

I've put it through the wringer

Fit:

True to size
These are fantastic! Great compression and stabilization of your knee. I use these for skiing and my legs last longer and are not near as sore and tired the next day. Excellent comfortable fit and breathe great! This is my second pair. I don't ski without them anymore!
I live in a warm climate and was wondering if these would be to warm to wear if I was playing tennis or bike riding? thanks
These breath amazingly when you're moving! The black does get warm in the sun, but the breathability is good!
I'm a 5' 11.5" 170-75 pound guy who wears a 33 waist, what size would you recommend? I'm looking at these primarily because I've had two lingering hamstring injuries and I'm looking for support. I'm also wondering how far down my calves these would go, and if they tend to ride up
Based off of your provided measurements and weight, I think you would comfortable with a size Medium in these tights. As to the length, from the picture, it would appear they go around three or four inches past the bottom of your kneecap.

I would try the Mediums on, and if they seem a bit loose, you could always send them back and order a size Small; however, I don't think that will be necessary, unless you find yourself displeased with the calve length.

BC has a great returns department and are always courteous and helpful when it comes to product exchanges, so should it come down to a return, you are in good hands.

Hope this helps.
Love them...joined the CW-X bandwagon
Familiarity:

I've put it through the wringer

Fit:

True to size
I bought the 3/4s uninsulated to use both for running and as my compression first layer for snowboarding. I think they are great. I do think they give me less muscle soreness in both sports. If they were less expensive I would definitely invest in another full length cold weather pair. I wash them inside out, cold water and haven't noticed that the yellow tape has come off yet. We had a really cold winter in NYC this year and I wore them running with another long john layer on top and they were perfect.

Also, I am a 6 ft female 195lb and because they didn't have a women's XL after talking with a gearhead I ordered a men's M. I thought I would be a men's L but the M fit perfect. That being said my sister who is 2 in shorter than me thought they were weird in the crotch. So, for any other tall ladies I would recommend asking the backcountry's gearheads too.
Love them.
Familiarity:

I've put it through the wringer

Fit:

True to size
These fit great and the fact they have an added draw string makes it even better. I took them out of the package tried them on and then used them for a 5 mile obstacle course mud run. They held up great and felt great!
Great compression tights
Familiarity:

I've used it several times

Fit:

True to size
First pair of compression tights. Used them under shell pants for skiing. Very snug and seemed supportive although I'm not sure if I noticed a performance benefit. Fabric breathes well and they are well made. Stayed in place over the knees. Like the 3/4 length since they don't interfere with the tongue on ski boots. I'm 6'1" 175 lbs (33 waist) and size Medium fit well. Bigger legs might want to go up a size.
Is overall length consistent across sizing?...
Is overall length consistent across sizing? That is, would a small be slightly shorter than a medium? I'm considering size small - I'm 5' 11" with a slim build. I don't want to loose out on length if a small is shorter, but am afraid of a medium fitting too loose. Any thoughts?
There are very minor differences in length between sizes (about and unstretched inch). The majority of the difference is in volume and waist size.
Hello all, I am thinking of using these...
Hello all,

I am thinking of using these baseball as I have bad knees. The question that have is do these come in rainbow for men?



Cheers,
Hi Dave,

We do not carry these in the rainbow color, nor do we have any orders placed for them. From searching online it looks like that colorway is not available anywhere in the rainbow for men, sorry about that.
How do these work for outdoor running in...
How do these work for outdoor running in Winter? Has anyone given it a try before?
Thanks for the info Wayne. I ended up going for the pair you suggested, and they made for great running all winter long!
I love wearing these tights
Familiarity:

I've used it several times

Fit:

True to size
I'm a Desert Storm veteran (1990-91) of the US Infantry (Huaahh!), so I have the typical desert knees. At my age, I still want to keep in shape, so I need some support in the knees and thighs. These tights are far and away the most supportive tights I've ever worked out in. As soon as I put them on I think to myself, "man, these things feel awesome." I got the 3/4 variety to wear instead of shorts to do my exercises. They're great.
I caught a thorn bush on my last run in...
I caught a thorn bush on my last run in these lovelies and as a result have some small tears in the knee. Does anyone have any recommendations for how to repair this area without compromising flexibility or making things worse?
Best Answer
Hey George,



That sucks. Unfortunately, trying to stitch these up is going to probably make things worse. The material just isn't friendly to effective patch jobs, and any real hope of the best outcome is going to be to have it done professionally. You have some options. First, if you bought them from Backcountry prior to them changing the terms of the unconditional lifetime warranty, you're still covered under the old terms...make a phone call to customer service to see if you qualify. Second option is to call and maybe send them back to CW-X to see what they can do for you. They won't be able to fix it under warranty because it's not a manufacturer's defect, but they'll give you a cost for the repair (if they can do it). Third would be to have a professional seamstress/tailor take a look at them and see what they can do. With the last two options here, if there's a repair expense involved, it's going to add up fast, so you're going to have to decide if it's better to go ahead with the repairs or just replace the tights.



Good luck. Hope this helps.
Hey George,



I agree with Phil, your best option is to give one of our Gearheads a call at 800.409.4502, even under our updated return policy you probably still qualify for an exchange at the very least. Otherwise if you are looking to find solutions for repair you can hit up CW-X at info@cw-x.com.
For whatever it's worth, since they're on sale, I would probably just get new ones or wear them torn until they fall apart. Both Wayne and I would probably try to turn them inside out at some point though.
That happened to me once on another pair of tights (not from BackCountry). I took them to my local shoe repair shop. The Korean guy that owns it did a great job; not sure what he ended up using to stitch it, but it still holds to this day. I'll ask next time I'm there and post back here for you.
You can add a dab of seam-seal (or similar waterproof, flexible glue) to pinholes or small tears to stop the edges from fraying and the hole from expanding.
Very dry and confortable!
I used first time in a 16 miles treeking! Very comfortable and dry! I think in buy more of them!!
Sold on compression.
Familiarity:

I've put it through the wringer
I have 3/4 CW-X tights and have skied in them several times. I am 56 and started racing in high school. Last season I road biked 2000 miles pre-ski season. This year, work kept me fat and desk bound.

I think the compression is even more important for untrained muscles and turned the clock back a few years regarding recovery time. It also does seem to hold off fatigue. I find that leaving the pants on is helpful as to recovery and sometimes I sleep in them when I have gone on a day trip.

The 3/4 sizing is great also because it avoids the seem pinch where the long pants are compressed in the boot or the discomfort from pulling them over the boot top. TNF has insultated 3/4 pants which I wear over the compression pants on very cold days. I am looking at the insulated CW-X also.

I have huge legs and have been prone to cramping all the way back to when I started racing. This is a great product.
Can't Decide?
Gender:

Male

Familiarity:

I've used it several times
I'm not convinced. If you need tights, wear tights... if you need shorts, wear shorts. These make me either too warm or too cold. Giving them 3-goats b/c construction is bomber! I'm 195# size 34 and wear mediums just a little tight.
Unanswered Question
Im 6'4" 180# and 32" waist. Medium or...
Im 6'4" 180# and 32" waist. Medium or large?
Oustanding knee support
Gender:

Male

Familiarity:

I've used it several times
I bought these for endurance running in the heat of the Saudi desert. The knee support is unbeatable and truly stabilizing. However, this 'benefit' comes courtesy of the supportive coolmax material, which is simply too thick to stay cool. For extreme hot weather running, the SKINS 3/4 compression tights are much cooler and still supportive.