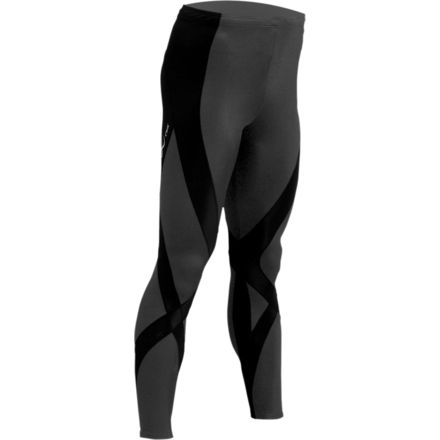 Detail Images

Community Images
Description
Trade your old, saggy tights in for a sleek and more supportive model.
Your old tights are a '73 Pinto. The CW-X Men's Pro Tights are a smoking-fast fuel-injected Porsche. CW-X's Tuned Conditioning Web supports your muscles and dampens vibration to reduce fatigue and increase efficiency on your runs. Sounds unbelievable, but it works. The Pro Tights add improved support throughout your joints and major muscle groups, and also support your lower back and hips to help keep your posture honest. While all this tech is pretty intense, the first thing you'll notice about the Pro Tight is how comfortable it is, thanks to wicking fabric and dialed anatomic design.
Get Stoked - These Will Help Your Flow
Gender:

Male

Familiarity:

I've used it several times

Fit:

True to size
BIG shout-out to Backcountry.com and CW-X for hand-selecting me to review this piece of gear for the benefit of the backcountry.com community.



This is my third pair of running tights, but the first pair I've had that I look forward to wearing. I always thought of running tights as providing enough warmth to pacify the icy daggers of winter, but these guys not only stave off icy daggers, they also provide compression that is so good, you'll do a double-take after pulling them on.



Right out of the mail, I was immediately impressed by the quality of these tights. In your hands they feel like a top-shelf soft shell providing the best in durability and strength; the 80/20 CoolMax Poly to Lycra ratio guarantees breathability and custom fit. I love wearing these on runs in the surrounding desert trails because even after I get my furnace going, I don't sweat in these thanks to the CoolMax fabric, which delivers brisk breathability (For gear junkies: The fabric has capillary-like structure that wicks moisture like a sweat-seeking vampire).



The compression feels like it's reinforcing my legs with titanium, and I instantly want to run faster and longer--this is particular helpful on my morning trail runs because the sand used to sap my speed. But because the compression increases blood flow, my performance isn't hampered. And because the seams on these guys are expertly woven, I haven't gotten any pressure points or aches.



Small points: The comfortable waistband, thick drawstring, inner stash pocket, and back loop (for hanging to dry) are all well executed, and it's sometimes the perfection of little things that make the overall product all the more enjoyable to use.



If I had to ding them, it would be that I don't quite fill in the booty. Butt that's something I can plan to work on. ;)
feel like superman
Familiarity:

I've put it through the wringer

Fit:

True to size
Not only do I feel like I'm dressed like a superhero, I can run like one now! I purchased these for my recent trail ragnar. I have pretty bad knees, and these helped a ton! The support/compression around my shins and knees allowed me to run much further than I would have usually been able to. The trail race ended up being pretty wet and rainy and these bad boys kept me pretty warm (as long as I kept moving). I would recommend these to anyone and everyone who needs that extra support.
Comfort and Quality
Familiarity:

I've used it once or twice and have initial impressions

Fit:

True to size
First and foremost, I'd like to say thank you to Backcountry.com and CW-X for hand-selecting me to review this piece of gear for the benefit of the backcountry.com community.

This is a first-impressions review as I have only had these for a week or so.

Right away, I noticed the quality was very high and the tights felt like they will last for a very very long time. As someone who runs year round on trails, this is a huge factor for me. Aside from the quality, the fit and feel impressed me very much. Some of my other tights that I own, the fit never seemed like it worked for me and I would have to roll the bottoms up a bit. The Pro Tights fall right above the ankle perfect.

I have always been a skeptic when it comes to compression clothing, so I was curious to see if these would help with any leg fatigue on my back-to-back long run days. I can't say that I felt any measurable difference. However, because of the comfort and fit of these tights, I didn't really care that much. These are simply a joy to wear and I think they look pretty rad -- always a bonus.

After just a few runs in these, I'm already reaching for these over my other running tights. I'm excited to continue to put these through the paces.
Great Tights
Familiarity:

I've used it several times

Fit:

True to size
I don't like running at all to be honest, and I REALLY don't like running when it's cold out. However, I would rather run that not get any exercise during the week so I try my best to get out there after work. I finally decided it might help my motivation in the fall/winter if I actually had a nice pair of running tights... and it has definitely been working. These tights are super comfortable and provide a nice comfortable amount of support, and the perfect amount of warmth. They are just warm enough that I don't turn right around and run back inside, yet once things get going and I get warmed up I don't overheat.



Whether you're like me and need a tight to take your off-season training motivation up a notch, or you love running and want something that will enhance your running experience, I'm confident you will benefit from these tights. If not the Pro, I'm sure there is something in the CW-X lineup that will give you what you need! They seem to have something for pretty much every runner/condition possible.



Fit is pretty true to their size chart... I'm 6', 190 lbs, 32" inseam and the larges are perfect.
Great fit and overall product!
Familiarity:

I've used it several times

Fit:

True to size
Great compression and fit! Run in Florida so was fearful would be too warm. Not the case! Actually feels cooler! Not sure how but who cares!
Long Lasting
Familiarity:

I've put it through the wringer

Fit:

True to size
I purchased a pair of men's large CW-X Pro tights in November of 2009. Since then I have logged over 1200 miles in them. In the middle of 2013, I finally got a hole in the crotch. Ok, time the throw them away right... WRONG! I still run in them. The legs, hips and back are still good. I like running. I have run over 20 marathons, a gang or half marathons and a few 5Ks. I don't want to run if I'm not wearing these things. Over the past 4 years I have washed them in every thing from hot to cold. I have taken showers in them, gone swimming in chlorine pools and the ocean in them. I developed a blood clot in 2009 which was my reason for getting the tights in the first place. I was attempting to run the entire Rock n Roll Marathon Series in 2009. Mid way through the series, I was feeling terrible. My legs were fatigued and my breathing was off. Felt like I couldn't get enough air. My left calf was swollen. Sure enough, it was a DVT. My doctor advised me not to run. But I only had 2 races left. So I was like..."F, it" If I'm going out, I'm going out the way I want to go: Running. So I bought these tights for $200. It was the best $200 I have ever spent. I finished the last 2 races. The last race in the series was the Las Vegas Rock n Roll Marathon in December. My leg was so swollen and it was 30 plus degrees but thanks to my CW-X Pro tights, I'm a Rock Legend. I don't advise going against doctors orders, but I do advise buying these tights. I just purchased a pair of the new Revolutions today. Can't wait for them to get here. If the CW-X Pro tights lasted this long, then the Revolutions must be even better. Now if CW-X only made shoes???????????????
Is the ankle seam noticeable inside a ski...
Is the ankle seam noticeable inside a ski boot?



That would drive me crazy. I'd rather go with the 3/4 length and forego the calf support in order to avoid ankle chaffing, or even just the annoyance of a palpable seam at the bottom of the leg.
Hey Erik,

I have some leggings that are just like this. I don't notice it in a ski boot; however, I do also have 3/4 length for when I'm wearing thicker socks. Hope this helps!
Thanks for your reply, Adam. Much appreciated.



I just bought the 3/4 lengths. But given your experience I may order these long ones, too.



Since you have both full lengths and 3/4s, how much do you feel calf support in the full lengths, i.e. have you ever been out wearing the 3/4s and thought, "Dang, I really wish I was wearing my full lengths; my calves are killing me?" Thanks.
I use them for skiing and don't feel the seams in ski boots at all.
Cool. I opted for the 3/4 lengths. More versatility through changing seasons and eliminate the ankle issue altogether. These things truly help speed recovery. I can't say i notice them while skiing, but the day after pushing to the point of exhaustion, my arms and back muscles are more sore than my letgs. Def recommend to anyone who tends to overdo it.


The good: Theses tights give great support. They are great for cold weather running. They wick well and can be used in a range of temperatures from the 40's to single digits. Overall very pleased, except...

The bad: They have a funky fit. To get them to fit and stay in place I have to pull them very high - since I'm 6'3" that brings them above my ankles. Not a big deal since I don't care what I look like and socks can cover that. But I have to pull them way high on my torso and tie them up tight - or they start sagging down. I pretty much have the system down, but it was a real pain at first. The good far outweighs the bad, though.
I have really enjoyed running in these on cooler days and do feel that they offer a worthwhile amount of support. I would size down as they do stretch just a little bit.
I'm 6' 175lbs and 34" waist, I had to return the M for the L cause the crotch kept falling down on me.



They offer awesome support, I also have the "insulator" version of these which I use below temps of 50F, I'll use these for anything above 50 degrees as they do not block the wind as good.
Male 5'7" 185 average build
Gender:

Male

Familiarity:

I've put it through the wringer
I have had these tights for approx a month and a half and have wore these tights many times to date for my 1am run in northern Florida and have worked out good for me provided the temp is around 60 and below; to hot otherwise.



The biggest issue was trying to get the right size as I fell between small and medium. I took the recommendations of the website and sized up and I am glad I did and they fit perfectly for my body shape and size.



As far as road racing performance, these work very very well for me. I've used and still use at times UA tights, I prefer the pro tights over UA for racing 5k,10k, 13.1 ect... they tend to stay in place and latic acid build up has been minimized in the calf and quads. With that said, if you have to use the restroom... plan ahead, you see where I'm going with this, but this is to expected.



Personally, I really like these tights for the road and look forward to getting a vented pair for summer.
Yes, i understand compression tights are supposed to be tight. But getting into these is like putting on a sausage casing. For folks above 150lbs, getting dressed may end up being the hardest part of the workout.
Being sporty and very stylish at the same time
I love these tights for the looks and the ingenious anatomic design and fit. They make you feel like you care for your body and when being outside for a run it seems people would pick up on that.
I'm actually in early stages of running on a regular base and these tights are a life-savers. I'm still adjusting my body to the strenuous activity of running so finding the optimal balance between pushing my body to a maximum and avoiding excessive strains which would require longer recovery time is crucial.
The CW-X Pro tights are doing an excellent job, while running I feel this kind of smoothness and support in my movements and at the same time feeling almost like 'spring-loaded'. After running I like to keep them on for an extended time, I do notice how the compression helps to reduce muscle soreness. I also happen to actually sleep in them after my activities, it may be just me however I'm always amazed how my legs feel pretty well recovered the next day.

I've got one or two gripes about them since the fit on my body could be optimized:
I'm 6'0", 165lbs and took size M, where I also find myself in their sizing chart. As mentioned, the compression is great and feels just awesome on my legs. However: I've got some longer built legs and when having the conditioning web properly aligned with my knees, the distance between knees and crotch feels too short and the tights 'sag down' while running, leaving some kind of weird-feeling gap between my crotch and the tights. This propagates up to the waist where they eventually slide down to my pelvis bones and are pulling on them. I find myself pulling the hem up regularly which is annoying, and which is defeating the purpose of supporting the lower back. As it has been already mentioned, I too find the distance between crotch and waist too short. When resting or sleeping this is of course no issue :-) however I primarily would want the most perfect fit when being out and active.
Thus, perfect fit for me would be:
- 1 inch longer from the knee down to the ankle
- 1 inch longer from the knee up to the crotch
- 1 inch longer from crotch up to waist.
Having said that, if CW-X had an additional 'tall'-sizing for each of their size, it would be an absolute winner. As a direct comparison, the compression tights by 'SKINS' offer this versatile sizing option, for tall AND for short people. For the anatomic professionalism CW-X offers, it would be just appropriate if they'd offer this kind of wide range of sizing options too.

One tip: I found out that after washing and wearing them a few times they get softer and even more comfy; they felt kinda stiff in their brand-new condition.

Last but not least, a feature which I find incomprehensible and consider very unprogressive compared to the otherwise anatomic amaze they offer, is the seam around the crotch is still conventionally seamed instead featuring a flat-lock seam. I trust they will change to a flat-lock seam in future versions of CW-X tights.

To sum it up, the CW-X Pro tights are amazing ingenious piece of garment, and when introducing a flat-lock seam and additional sizing choices, it would be a class-leading winner in every aspects.
I would have given them a 5-star rating since I love them, however due to the optimization potential I found it's fair to offer 4 stars, while the one remaining star is for giving CW-X the motivational message that there's still room for reaching the goal "Class-Leading" and "Outstanding".
I like these tights as I feel like they give me some special support and compression when exercising.

Trail Running: They are great unless there is a chance of ever having a tiny bit of bushwhacking or overgrown trail. Then, as you can see in my photo - they will be torn to shreds.

Backcountry Skiing: Again I love the support. However for backcountry skiing I need to be able to pee without having to untie them every time. If I don't tie them tight, they fall down and you end up fighting the crotch every step. Although they give great support, they are not good for backcountry skiing because they MUST be tied.
Hi, My name is Caio, I'm from Brazil and...
Hi,

My name is Caio, I'm from Brazil and I'm really interested in your Stabilyx Tight products!

Well, as I far away from a retailer, I can't try the product to know my exact size, so, I really need your help.

I'm a 1.77m high and 79/80kg guy. In a normal jeans my normal measures are W31" - L31/32"!

Would the small size fit me?

Regards,

Caio
Caio, most of the CW-X products fit about the same. Go for the Smalls for heavy compression or the Mediums for a normal fit.
What do you think it's better? A tight compression or a normal fit?
Hey if you look down one or two questions you will see I asked the same thing. So I found a store that carries them today and found that at 5'10" 170 , the small were a good "solid " fit I have a pair of medeums and they feel a little loose for a compression pant. If you can though try and find somewhere to try them on. With my height and weight I should have gone with a med but I guess running has resuted in a more compact of my body. hope this helps