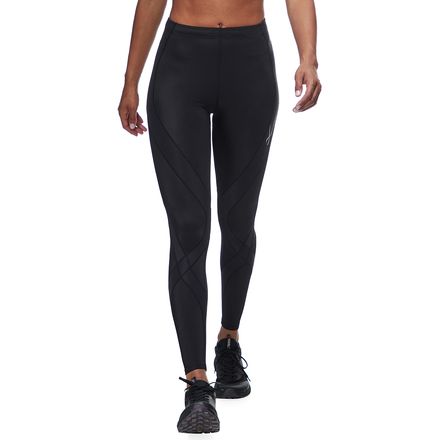 Detail Images

Videos
Description
Sleek and comfy with technology that'll blow your mind.
Enhance your workout with the CW-X Pro Tight Bottoms. The ultimate in technical training wear, the Pro Tight supports key muscle groups to dampen vibration, increase blood flow and decrease fatigue so you can go longer and train better. CW-X's parent company manufactures (ahem) Intimate Apparel, so they know how to dial in a killer women's fit. Support for the lower back, knee and hip joints helps to bring them into proper alignment to cut down on the risk of injury. The really amazing thing about the pro tights though is how comfy they are, thanks to CoolMax fabric. You'll love the incredibly moisture management and temperature control they give you, so you can keep going even if the weather changes on you.
CW-X Pro-tight is TIGHT
Gender:

Female

Familiarity:

I gave it as a gift but have feedback to share

Fit:

Runs small
I gave these as a gift to my mom and had to convince her that she did not need a larger size. I knew that with a little wear that the tights would give and be perfect for cold outdoor activities. Below is a picture of her rocking them in 9 degree weather while snoeshowing and they were the only layer she needed.



She is 5'9" and 130 lbs - I got her a size M.
Gave a WHOLE new meaning to compression
Familiarity:

I've used it once or twice and have initial impressions

Fit:

True to size
I got these as a Christmas present, and the first time I put them on, I was convinced I'd have to return them for a larger size. Then I noticed there were special instructions for putting them on - which was a first for me. Needless to say, I figured it out, and once they're on, they look badass and are particularly flattering. I've only used them once for yoga, but I definitely felt that they improved my practice. They're comfy and cool - I'm excited to sport them out in public. They're not as stretchy as would be ideal in some positions, but they're not designed for yoga, so I took a risk in requesting these for such a purpose. Overall, though, I'm happy with these, and I'd recommend them, as well as look into other CW-X pieces!
Stink factor? I've been eyeing a pair of...
Stink factor? I've been eyeing a pair of these for a while, but I'm a huge fan of merino wool products, mostly for their ability to not stink after one use. Will I be throwing these in wash after every run??
Best Answer
Hi there Kspp.

I have 2 different pairs of these. (Highly recommend the insulated variety if you tend to get cold or live in a frigid climate). I typically wear mine 3-4 times skiing between washes. (Maybe don't tell my mom about that). They really don't get too stinky! I also use them for working out and running, I do notice a little more funk when sweating harder, but for skiing these tights are A-OK to use for several days on the slopes in between scrubbings.
Very tight fit, but great!
Familiarity:

I've used it once or twice and have initial impressions

Fit:

Runs small
Bought these for my girlfriend. She loves to run and participate on marathons, so these were perfect for her. They fit a little tight compared to other brands, but once used to it they are great for long runs!
TIGHT FIT!
Gender:

Female

Familiarity:

I've put it through the wringer
I love these! they are VERY tight, but they are meant to be that way. They keep me warm on those cold days and have really helped prevent muscle fatigue when Im get after all that POWDA!
Great tights, even better costumer service.
I bought this tights as a gift for my girl. First i ordered a small since that was what the size chart recommended but she was much better in a medium. This are great tights, a little tighter that other brands so i recomend to size up. She loves it and i am really happy with Backcountry.com, they made the exchage, shipping very easy and extremely fast. I recommend Backcountry.com to anyone, im a happy costumer and i will keep coming back for more gear.
I am 5ft 5in and 130 lbs. I needed to purchase the medium since I was in the gray area of the sizing chart. The small were too tight to put on. The tights are great for compression pants. They provide the support your legs need especially on long runs. I definitely recommend them to my running mates. Be careful when pulling up the tights so not to put a hole in the material.
I've been looking at the "Skins" brand...
I've been looking at the "Skins" brand compression tights, would like to know how these compare. And would these be good for hiking in the summer months?
CW-X makes the best tights and base layers you can buy, but even though these are lightweight they may be a little warm for summer hiking.
I'm 5'3"; 135 lbs; 30" in-seam; with a straight up and down "boyish" figure (no hips). I bought the small and they fit perfectly! When I took them out of the package I didn't think I'd be able to get them over my knees. I was wrong. They were relatively easy to get on and were extremely comfortable. Tie the waiste string to keep them from sliding down. I actually wear them under my ski pants to derive all the same benefits a runner is looking for in these tights... muscle support and fatigue minimization. The only reason I gave these tights 4 stars is because in my opinion they do not minimize fatigue; however, they are a super comfortable tight providing great muscle support. I'm glad I bought them and I'm definately keeping them.
I purchased the CW-X Pro Tight and love it! I'm 5' 8", weigh 130 and I got the size M. The first time I put it on it seemed a little tight but I'm confident now it is the perfect size. I've worn it for 2 weeks and have had no soreness, muscle aches, twinges, etc. at all. ( knock on wood ) I used to get soreness in my hip joint areas.
I highly recommend this.
Awesome fit! Warm & really durable
Got these tights in Blk size XS. I'm 5'0" and it's hard to find tights that accommodate short muscle legs but these tights have such an amazing fit! I can tell they have stretch to fit someone who slightly is taller as well (refer to specs). Ran in 15 degrees the other morning and these tights kept me nice and warm. They also have a nice tight hold on your muscles which feels like they help to keep your stride in line. Very happy w/ this purchase.
Unanswered Question
I am looking to buy the cw-x pro full...
I am looking to buy the cw-x pro full length tight. I am 6' tall and 170 lbs. I have a 32" inseam. It looks like I am right between a medium and a large. Any advice on sizing these things?
I tried this pant in a local running store. After reading the reviews and check the prices. Returned the store bought pant and order 2 pairs from Backcountry.com. I used one of them in a day hike after a tendon injury. It allow me to finish the hike and recovered quickly from the hike. I will wear it again and again. The warmer pair I will definitely use it for cross country skiing, snow shoeing this winter. I couldn't be happier.
CW-X Pro Tights = AWESOME!
After owning a pair of 3/4 length CW-X expert tights, I decided to give the full length tights a go....and I couldn't be happier. They really do feel good to run in. I don't have any dire injury problems, but I do like the idea these tights could be helping to prevent possible issues arising.
Be careful with sizing....at 5 and ~140lbs I was in between small and medium. I went with the small, and they're snug (which is how they are supposed to be) but I can still get them on without much of a problem.
They're expensive, but a worthwhile investment!
I'm 5'5" @ 142lbs and wondering should I...
I'm 5'5" @ 142lbs and wondering should I go with the Pro tight Med or get a small. I want it to fit and work. This would be my first pair of pro tights. I wear regular tight everyday to the gym. I have back and Knee problems when I run and looking for something to not feel the pain. Thanks
Best Answer
I you like a firm, snug fit, go with the small....I'm 5 7 and ~140lbs and went with size small.
i'm 5 7 and 130 lbs, i have a small and they work great! it does take some time to get them on and off (not so great in the morning), but once they're on they don't feel too small
Knees feel better after run.
I got these tights about six weeks ago. I had planned on wearing them for a half-marathon, but ended up only wearing them for one training run instead. Yesterday I wore these for a 12K and they were perfect! My knee had been bothering me all week, but my knee actually felt better after my run than it had for ages. Great support.
Most awesome invention ever
These tights make me want to run faster. The compression makes your muscles feel like they are being massaged while you run. I am 6 feet tall, 165 lbs and I have a size large. It fits great, but hits a little above the ankles ( can be covered with taller socks). Also the top of the pants are very high, righ at the small of you waist. I have large calves, hips and thighs, but the compression feels just right. You put the tights on like panty hose because they are so tight, but when you run it feels like you are wearing nothing. They keep you warm down to about 20 F and are still comfortable in the 40s. There is a drawstring at the waist (that I don't use) and a little key pocket. Make sure you adjust the tights so that the "X" pattern is just below your knee for support. Love these, I know they will get me running in the cold weather for years to come.
I caught my CW-X tights on a thorn today...
I caught my CW-X tights on a thorn today and tore a small hole in the tight - but not in the support webbing. Any ideas on how to repair the hole ?
Thanks
A friend of mine who had the same issue headed down to the local sewing/fabric store and bought two items. 1: Some black spandex material - stretchy and very cheap. 2. A bottle of what was called "fabric glue" - unsure of brand name. Then she cut a piece of the spandex to fit the hole, folded the edges of the patch over over, put a bead of the fabric glue around the edge of the patch and stuck it down. She says you have to be careful not to use too much of the fabirc glue because what it does is basically "melt" the old and new spandex together. From her perspective, better to use to little than too much. A couple of days later one seam started to give way in one spot so she just put a drop of fabric glue in that spot and no further problems. Slightly less "stretchy" there because of the glue is the only downside.
Great-but dubious of style change
This is my second pair of CWX tights. I have an older model of the stabilyx. I am nursing a piriformis/hamstring situation and was running a 1/2 marathon 1/30/2010, so wanted as much support as possible. I opted for the "pro" tights, which I love, *HOWEVER*, they have changed the fully gusseted crotch to a "gusseted crotch liner" which translated means there is a significant seam that is, yes, right in the middle of the crotch. I ended up sewing the seam down sideways to create more of a flatlock seam which helped. I ran my 1/2; shaved 8 minutes (!!) off my last PR and am no worse the wear for it, but the design seems poor to me, cause I would think this would be uncomfy for guys as well. The CWX folks have been very responsive to my inquiry and said the power of the stretch and webbing dictated that they not use a full gusset, but they promised to pass my thoguhts on back to the designers. I even posted it to their facebook page. Oh, they did suggest an "undergarment"....I think of running tights like cycling shorts, ummmm, *no* undergarments thankyouverymuch. So anyway, the tights DO help support you, they DO help with fatigue, I LOVE them, but I do wish they'd find a way to go back to the full gusset. Thanks for listening!