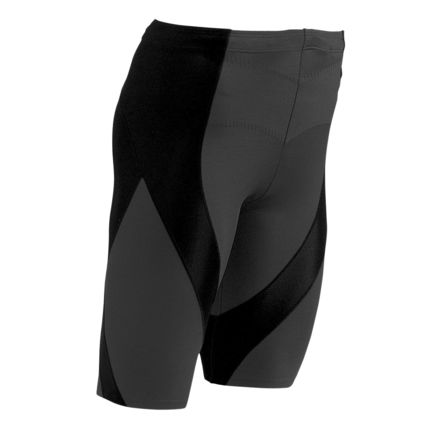 Detail Images

Community Images
Description
Get more from your workouts and races with CW-X's Pro Shorts.
Wear the CW-X Men's Pro Shorts for trail running, adventure racing, or any endurance sport that requires maximum performance. Normal running shorts do little more than give you coverage. These shorts support your muscles and reduce stress on your joins with their various anatomically aligned fabrics. This increases muscle speed and decreases fatigue.
Pro Shorts Make BRO Feel PRO
Familiarity:

I've used it several times

Fit:

True to size
BIG shout-out to Backcountry.com and CW-X for hand-selecting me to review this piece of gear for the benefit of the backcountry.com community!

As my first pair of running shorts, I wasn't sure what I was getting into. I always paired running tights with winter temps, but these shorts have proven that Spring, Fall, and early summer mornings also offer running tight loving thanks to these shorts. The quality of the fabric feels impressive and inspires confidence; the 80/20 CoolMax Poly to Lycra ratio pretty much guaran-dam-tees you'll have breathability and a glove-like fit. (For gear junkies: The fabric has a capillary-like structure that wicks moisture more effectively to boost evaporation).

The compression of these has me convinced. My stride feels reinforced, which is important because a lot of my runs happen in the sandy trails that wind through the foothills bordering my neighborhood. Without a sure foot, you'll tweak your knees and end up crawling home, so I've been pleased as punch that these tights give me laser leg placement. So far I've had no issues with irritation or pressure spots.

For yoga these guys kill. I wore them for a 90 minute power flow class and there was NO slippage or bunching, these guys stayed put and left me feeling secure. Even in 110-degree yoga, I appreciated the breathability of the CoolMax. When trying to really connect with the floor I like the compression feeling in my thighs because it helps me visualize that I'm grounding into my mat. I will certainly be reaching for these for yoga more often.

Small points: The comfortable waistband, thick drawstring, inner stash pocket, and back loop (for hanging to dry) are all well executed, and add to the enjoyment of these awesome shorts.
Comfortable First Impressions
Gender:

Male

Familiarity:

I've put it through the wringer

Fit:

True to size
First and foremost, I'd like to say thank you to Backcountry.com and CW-X for hand-selecting me to review this piece of gear for the benefit of the backcountry.com community.

Upon first receiving the Pro Short from CW-X, I was pretty excited to try them out. I had never had compression ANYTHING and and never worn short tights. This was a completely new experience for me - I was eager to see what the hype was all about with compression wear.

After about 80-100 miles of running in the CW-X Pro Short in temps ranging from 35-60, I can't say that I'll be leaving behind my 3" split shorts.

Pros:
- Build quality is very good and feels like these will last plenty of seasons
- The fit is great.
- Reflective elements are a nice touch for those late night or early morning runs.

Cons:
- The materials are very thick as well as the seams.
- Due to the thick materials, I found them to be pretty warm. Even for shorts, I found that I could only run in these in temps around 35-45 degrees. Maybe the addition of mesh panels would help with this.
- No significant storage. There is one small pocket on the waste band, but it is not enough for gels for anything. A zippered pocket on the back would be a great addition.

To test to compression properties of the shorts to see if it would reduce muscle soreness, I did back-to-back 20 mile runs. I didn't notice any measurable difference from when I did the same in non-compression shorts. I do think that these would help if you have a history of muscle strains as it does support the muscle and that can be felt.

Overall, a great pair of shorts with excellent build and a great fit. I really feel that these come down to personal preference and for me, I like a lot of breeze on the legs during my runs. I you're looking to try out some compression gear to see if you like it or if it will help with muscle fatigue after long runs, I really think these shorts are a great option because the quality is very good and you can be sure that you'll get your moneys worth.
They do the trick
Familiarity:

I've put it through the wringer

Fit:

True to size
I like compression shorts, but have had trouble with others where I couldn't get them over my thighs (I'm muscular, but far from a gym rat). These shorts are easy to put on, support very well, and make me feel like they're springing me into every step. And I need all the help I can get.

The pocket is worthless, as these small pockets often are, but I always wear an overshort so I don't care.

I'm 5'7" 145 lbs and the M fit me very well. They are a little long for me but I think that actually gets me a smidge more support.
Comfortable and flexible
Familiarity:

I've used it several times

Fit:

True to size
Bought these for running because my hamstrings have been giving me problems. They are extremely comfortable and stay right where they should. I wore them to a Tough Mudder event this weekend and it made going through water easier than having heavy floppy shorts. After over a dozen uses they still look and feel brand new. Definitely recommended.
Solid Performance in moderate climate
As an owner of the tights, mesh shorts and now the Pro Shorts, I am sold on CW-X's performance and reliability in any situation. As the fall settled in Upstate New York, I found the mesh front shorts to lack the warmth required to stay out when the thermometer dropped below 50. The Pro Shorts stepped up to the task in the 50-30 degree department.



Temperature constraints aside, I enjoyed the compression, true to size fit, and moisture wicking capability of these shorts. While I'm not 100% sold on the kinetic support, I enjoy the additional compression the bands provide. The shorts perform in wet, dry, windy, and apocalyptic conditions. Never had an issue with temperature or moisture while cruising the trails.



The seams in the crotch are a little bulky and can lead to the ever hated chaffing when moisture is introduced into the running equation. However, if you're familiar with ultra-running in general, then you'll know that chaffing is part of the game. At least my raw spots are predictable and I can prepare accordingly.



Overall, I'd recommend the CW-X Pro Short to anyone seeking a sleek short that wicks sweat, keeps you supported and leaves the competition in the dust. Happy Trails!
Like my other CW-X stuff, this is great. It holds my quads so it does not get tired. I was concern about my knees not having support but it was fine. I believed since my quads were supported and held in alignment my knees were in alignment as well. Very comfortable.
I wear these guys under my regular shorts when I go running or biking, and they're very comfortable. I do feel like I'm able to go longer distances with less fatigue in my legs when I wear em. I usually go out in warm weather, and I've never had heat be too much of a problem for me.

I'm 5'10" 185 (32 waist) and the Medium is a comfortable fit.
Good, but too hot for warm weather
I've had my pair of these for two years and fortunately haven't had any of the quality problems several of the reviews below have reported.I really like the support they give and I am convinced I feel better after a long run with these. However, I really can only wear them in cool weather as I just get to warm with them. Good short, good support, but best for cool weather, IMO.
I'm 5'7" 150 pounds. I would say average...
I'm 5'7" 150 pounds. I would say average athletic build with 32" waist. Size S or M?
I am the same size as you, just a couple lbs less and the M are great.
I'm 5'7", 185# and my thighs are 23 inches,...
I'm 5'7", 185# and my thighs are 23 inches, should I go M or L?
From my experience, size up.
5'6" 150lbs, Tree trunk legs, Small or...
5'6" 150lbs, Tree trunk legs, Small or Medium? (I normally wear a Medium running short)
EC, I would go with the Medium.
I cannot prove that these shorts provide all the touted benefits--but it seems that after runs or restarting to run after a few months off, I have much fewer recovery problems. Perhaps it is all in my head but that is over half the battle.

These could be great and well worth the cost except for the materials of construction--the thread for stitching. Over the years (numerous pairs) the inside seam at the thighs starts to fail and the seam opens up. This is probably after 6 - 9 months of use. You would think that for the cost CW-X could spring for better quality thread or is it planned. So when the failed spot gets big enough (yeah it would be easier if I would do it when the gap first starts) I break out the needle and thread and sew it up. Not pretty but it does the job and cheap thread seems to last just as long or longer than CW-X's.

While I like the shorts and all other CW-X products, I think I might try Zoots next.

They are great for what they are intended for but quality plays a big part--the only reason for the downgrade from Five Stars.
Seams like I have a problem - 2
Love the shorts. Been wearing them for several years. The crotch seams do not hold up, and interior seams do not hold up. The first couple of times I replaced them. Now I sew them up, which kills me as at $74 you'd think they would hold up a lot better. I am a marathoner, and they sometimes don't make it all the way through training to the marathon. How about it CW-X?
Seams like I have a problem
I really like this shorts. They offer excellent support and compression. The biggest problem I have is with the seams in the crotch. I am on my second pair because the seam keeps coming apart. Think I may have to try another brand. Thanks Backcountry for exchanging them for me both times. They are a pricy buy to break down so fast.
Inseam - CW-X Pro Short - Men's
The inseam on my shorts always ends up ripping. It takes about 6 months for this to happen and I run a lot of miles (train for a marathon). Does this happen to anyone else wearing these shorts?
Bought these shorts about a month ago and have been wearing them for inline skating. I love how they fit and make my legs feel after a long skate. The conform to around my hamstrings and quads helping my muscle react more quickly. I also bought the pants (tights) for when the weather turns cool. I am including a pic of me wearing my CW-X Pro shorts and giving my skates a final spin after a rainy Chicagoland Inline Marathon. FYI...I did place first in my age group...could it be because of the shorts????
im just under 6ft and about 170lbs as with...
im just under 6ft and about 170lbs as with everyone else im on the border of sizes reccomendations?
Dave, I would go with the Large.