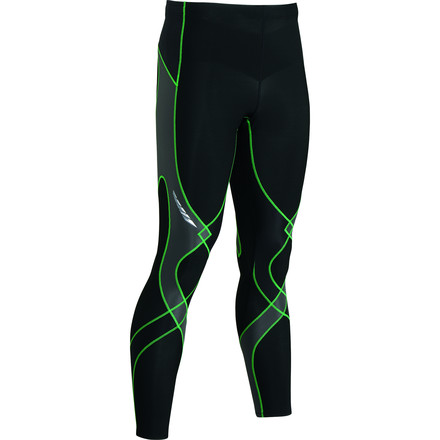 Videos
Description
You won't dread cold-weather runs when you wear CW-X's Insulator Stabiliyx Tights.
Thanks to insulated support and a windproof panel, the CW-X Men's Insulator Stabiliyx Tights keep your legs comfortable and your muscles warm. Having warm muscles helps your performance on long cold-weather runs and cross-country ski treks.
As you heat up, the Auto-Sensor fabric sucks moisture away from your skin so you don't get cold, clammy legs
Windproof thigh panel blocks chilly winter and spring gusts
Support Web technology specifically supports your lower back, hips, butt, quads, hamstrings, and calves, so you can run longer and faster
CW-X Insulator Stabilyx Tight - Men's
Gender:

Male

Familiarity:

I've used it several times

Fit:

True to size
I am a person that has a hard time staying warm in the cold weather. I bought these tights, in the hopes that they would keep my legs warm when I run in 20 degree weather. I just ran with the wind chill was at 29 degrees, and the front of my leg were very warm. My but was a little cold, but it gets cold no matter what I wear. CW-X makes a well made product that leaves your legs feeling great after a long run. I own several pair of CW-X tights and have never had any problems with them. I have washed them several times and hung up to dry and they look like new. These tights are compression tights, so they fit very tight, but that is what helps your legs feel so good after your run. I am 6" 1" tall and weigh 180 lbs, I bought the large tights, and they fit perfect. I ran again this weekend, 22 degrees with 4 mile an hour wind. I wore a pair of shorts over the tights, and my back side was ok, and the rest of my legs were very comfortable. I will update when I run in the teens.
Hey Ben,



The only pocket these tights feature is a key pocket.
I'm a Believer
Familiarity:

I've used it several times

Fit:

True to size
After being recommended to these by a coworker and trying them out for 2 days, I'm a believer. Didn't notice anything special while snowboarding, but I was quite impressed at how good my legs were feeling after each day, especially since they're guaranteed to feel quite sore after the first day of the season. Only complaint is that the waist band is a bit thick, but wasn't really an issue when riding.



Will definitely be wearing these for every time I go out to ride. Didn't layer anything else over these except my shell pant in mid 30s - low 40s weather, and was perfectly fine. I plan on throwing a loose, lightweight baselayer pants for colder days.



5' 11" 185 lbs. and 36 in. waist, and Large fit me perfectly fine.
Cycling? Are these recommended for...
Cycling? Are these recommended for cycling?
Best Answer
You could wear them for cycling but most noteable is there is NO pad or shammy in the seat area. I typically find while riding in cold its a must have or your going to feel that extra hard seat when the temp drops below 45 to 50 degrees. Espcially on the family jewels.
hi~ am 6'2" 200lbs 36" waist what size...
hi~ am 6'2" 200lbs 36" waist

what size do u recommend?

and cw-x is long enough? it reaches ankle?
Best Answer
They should have no problem reaching your ankles. As for size, you're nearly on the margin between a Large and and XL according to their sizing guide and the instruction they provide on how the tights should fit (which is tight, but comfortably tight, not constricting to the point of being abusive). That being said, I would go with the Large for sure.
Really?

R u really sure it would reach around my ankle?

I've heard that it might be short if u r above 6" from many reviews. So am reluctant to buy this tight.

Besides I don't live in USA so I should be more careful to choose size.

Anyway thanks for your reply James.
Good support for the legs.
Familiarity:

I've used it several times

Fit:

True to size
I ran two full marathons in two days during the first of December wearing these and my legs felt great. They did the job.
Theoretically, you could. HOWEVER, given that they are a winter activity-based tight, I suspect that they would cause you to overheat in your sleep, so I don't know if it would be recommended. *See and4762493's answer to someone's similar question below*
Best Answer
Seeing as these tights are compression tights I am going to suggest against sleeping in these as they do not cover the feet as well. What may result is blood pooling in your feet and causing some major medical issues when you take them off. The reason why its not an issue when you are active if because your heart is really pumping and cycling that blood out of your feet.
+1 here. Compression stuff is only for when you are active.
It works
Familiarity:

I've put it through the wringer

Fit:

True to size
It does block the wind. Very comfortable and supportive. Wear it beloe 50 degrees all the way down to the teens before additing another layer for my tun.
All around cold gear
Gender:

Male

Familiarity:

I've put it through the wringer
I'm 6' 175 and 34 waist, I have the Larges and they fit perfect. I tried on a set of M and they fit tight, but the crotch would fall down.



I use these every day for commuting on my bike in the cold weather, I'll wear just these in temps down to 35 degrees then I'll need to put on a softshell pant over it. I also used these multiple times skiing which works great as an underlayer, they are just as warm as my HH warm unders but offer much better support and recovery.



I also have the CW-X "Pro Tight" and these actually block the wind and are way better for cold weather. I'l l wear these between 50F and below, and the pro tight above 50.



They are made pretty burly, like the guy below said, they are built to last, and at $125 they are worth every penny.


These are my second pair and they are excellent for skiing and hiking. The first pair I bought 2 years ago and are still holding up after many uses. My legs are noticeably less fatigued when skiing and hiking. They are fairly warm, but when the temperature drops below the teens with bibs on my legs still got cold. Would give 5 stars if a bit warmer, but will buy again.
Good so far
Gender:

Male

Familiarity:

I've used it several times
This is my first pair of any type of "stability" clothing and I'm not sure of the exact benifit, but they fit really well, are windproof in the front as advertised, and are warm. I've used them in 28-30 degree temps for running and I am pleased so far.

***UPDATE***

Did a 6.25 mile run in them today and I think there truely is a benefit to these. My legs feel a lot better than usual when I do this run and I think it is because of the stability provided by the tights. We'll see how I feel in the morning!
I fractured my tibia skiing a month ago,...
I fractured my tibia skiing a month ago, and was recommended to these tights to help reduce swelling, and help with the PT once I can start that up. I'm having trouble comparing all the different types of CW-X tights - I'm looking for the best compression, good support, but something that isn't too warm. These sound great for compression, but I'm worried they'll be too warm to sleep in or wear during the summer months. Does anyone have any opinions around this? Thanks!
Jeff, another option is these. Don't think they would be as warm but should offer you the support you need.

http://www.backcountry.com/cw-x-pro-tights-mens
Jeff, these have a windproof front panel which works as advertised. I have worn them under powerstretch tights hiking on windy days and ice climbing. I have found that they offer great support and they really enhance the winter capabilities of powerstretch. These are winter tights. I'm not sure that I would want to either 1) sleep in them or 2) use them during the summer. I haven't used them during warm weather, and I don't imagine that they would work very well in any kind of heat.
Is there a degree rating for these?
Is there a degree rating for these?
Joe, I have never seen an "official" degree rating for these on Backcountry. Their website might have more info.

They really make a huge difference as they block most of the wind.
Down hill skier here..which tights would...
Down hill skier here..which tights would you recommend? I see a lot of mention of use for running and bicycling but not much on skiing.
Suggestions?
If you are looking for tights to use as a base layer for skiing, I would recommend going with something in 3/4 length. That way you don't have the extra bulk of the tights inside your boot or bunched up around the calf. Might want to look at the CW-X 3/4, Mountain Hardwear Mighty Power 3/4 or a few brands make 3/4 merino.
Best Answer
I don't agree with the 3/4 comment. I have the full length CW-X tights and have been using them to ski for the past 4 seasons without any problems or irritation. I do not have the Insulator tights and wear the regular ones with only my ski pants on top and have never been cold even on the worst days. You cannot go wrong with these tights.