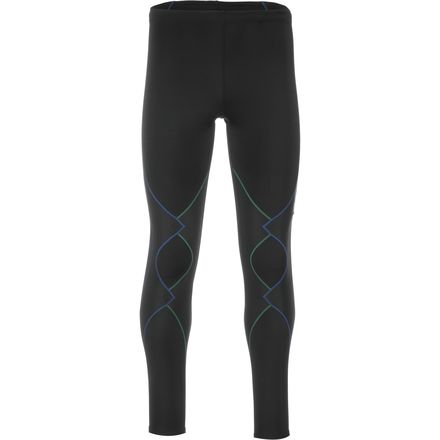 Detail Images
Description
The adventure equipment of choice for improving your body's performance across a wide range of activities.
CW-X Men's Full-Length Conditioning Tights belong to a new class of high-performance equipment known as conditioning wear. This clothing is engineered to provide a host of benefits to your body, including key muscle group support, increased endurance, shorter recovery times after exercise, lactic acid buildup prevention, and precise knee joint alignment. Established in Japan in 1991, CW-X based its designs on the human body's unique motion during exercise. Perfect for running, cycling, climbing, and snowsports, Conditioning Tights work by combining two unique zones of stretch material. The body is constructed from a Coolmax and 4-way stretch Lycra blend, providing targeted muscle support and impressive moisture-wicking properties. The key to the Conditioning Tights, however, lies in the 2-way stretch Conditioning Web that encircles the knee joint and key muscle groups. While stretching longitudinally, this web holds muscles securely in place laterally, reducing vibration and increasing comfort. Flat seam stitching throughout ensures chafing is never a problem.
Share your thoughts
What do you think of the
CW-X
Expert Tight - Men's
? Share a...
Unanswered Question
I'm a long distance runner but am unfamiliar with compression tights. I am of a somewhat odd proportion- I am 6'1 with a waist of 28" and an inseam of 32-33". What size should I order?
Unanswered Question
I'm 5,7 and weigh 210 lbs. Waist is about 34-36 inches. What size should I order?
awesome baselayer
Familiarity:

I've put it through the wringer

Fit:

True to size
i know it's "made" for running but i use it for skiing. soon as i put it on it, it gave me the tightness around my muscles. it gives me more confidence than anything since i know there's more stability provided with the pants on. i also use them sometimes to play basketball.

i have worn them many times over the last 5 years and they have held together nicely without tearing or stretching out. i usually wash them after each use and just air dry it.

i haven't tried other compression pants so i can't compare but these feel great when i play sports and it keeps me warm enough during skiing.

i'm 5'9" and 163lbs and use a Medium. i don't have gladiator legs but they're thicker than the average guy and they fit perfectly. just gotta get down and squeeze into them. if you don't have to squeeze into them, they're too big.
Great under Don Joy knee brace.
Familiarity:

I've used it once or twice and have initial impressions

Fit:

True to size
These are super sweet underneath my Don Joy knee brace, i always have issues with my brace sliding down during a ski day, but with these honestly they helped so much. I am 5'9" and 145 pounds, and a small fit me very good, they are warm, and keep the warm in while skiing. HIGHLY RECOMMENDED for Knee support.
Fit and Function
Familiarity:

I've used it several times

Fit:

True to size
I am 5'10, 190lbs. right at the top end of Med. and they fit really well. They have preformend good in cold temps so far as well (above 20 dagree's)
Is this tight all black? Or is it actually...
Is this tight all black? Or is it actually grey with black design as in the picture? Thanks!
Best Answer
The tights will be two toned, whether we call it black or grey. The darker tone that you see is the support web that bands the knee and quadriceps for stabilization. The rest of the material you see will appear lighter than the reset, and if you want we can call it a dark grey if you would like but it was CW-X that chose to call the full package black.
I'm 6'5" 1/2" and 220, but I don't have...
I'm 6'5" 1/2" and 220, but I don't have thick thighs, nor do I care that they are long enough. Chart says I should be an XL, but I am afraid it would be too loose, not enough compression. My waist is 32" and last time I measured, thigh is about 24" at thickest. Help! What size should I get? Everyone seems to say size DOWN if you're unsure, whereas the CW-X size chart states the opposite.
I am 6'1" and 175 with a 30" waist. I ordered the large and they are too long. I should have ordered the medium. You should be good with the large. For me they are great but a little too long. They are still the best thing I have every worn for long runs.
Hi,

My name is Caio, I'm from Brazil and...
Hi,

My name is Caio, I'm from Brazil and I'm really interested in your Stabilyx Tight products!

Well, as I far away from a retailer, I can't try the product to know my exact size, so, I really need your help.

I'm a 1.77m high and 79/80kg guy. In a normal jeans my normal measures are W31" - L31/32"!

Would the small size fit me?

Regards,

Caio
I would recommend a Small for really tight compression and a Medium if you want a normal fit.
What do you think it's better? A tight compression or a normal fit?
I have been practicing hot yoga for two...
I have been practicing hot yoga for two years and have been looking for the perfect short. Needless to say with the vigor of Bikram yoga, coupled with the heat (105 degrees) and humidity (68 percent) no short seems to hold up. I have tried swimmer's jammers and other various types of shorts with no success. Do you think these would be an option? Do you think they handled the movement, heat, and humidity? Thanks for your input.
Best Answer
Michael,
Thanks for your question. I too have practiced Bikram Yoga and understand the stress the "hot room" can put on your clothing. You could give the Expert or Stabilyx tight a try for this application. If you are looking specifically for a short, opposed to a full length tight, look at the CW-X Pro Short or the Stabilyx Ventilator Short. I would probably suggest the Stabilyx Ventilator short for your purposes. I hope this is helpful for you.
Getting ready for a Tough Mudder was...
Getting ready for a Tough Mudder was thinking about getting a pair, any idea on how they hold up to water???
I use these for skiing and they work great in keeping me dry and warm but is not water resistant and will get wet in the water...
Best Answer
I've run multiple mud/obstacle races, including Mudder & Spartan Beast w/ the Ventilator - they performed great, no issues with chafing & dried off quickly. Ran Beast a few weeks ago in them & they were a great addition - 47 degrees & rain to end & my legs were never cold once outside of the water
I'm 5'5" and weigh 180lbs. What size...
I'm 5'5" and weigh 180lbs. What size should I buy? I'm recovering from an acl replacement and would like to resume my tele turns
Dan, for a snug compression fit I would buy size Small and for a little less compression I think you could wear the Mediums.
Awesome to help prevent fatigue / soreness
I have used these tights for alpine skiing and really can say they have made my legs fatigue a lot less. After a long run, top to bottom, my legs sometimes feel a little tired but never sore like they were before wearing the tights. I just don't get that burn from working the quads, calves, and hamstring after a long hard run.

I have heard of people wearing them after events to help recover and prevent lactic acid build up but I've never tried them after, only during...

They are also great if you get sore from standing on cold concrete for a lengthy time. I have worn them to watch many a winter little league game when it's cold on the bench but standing makes you sore, these tights really help.

They are not thermals so if you're in extreme cold, wear an extra layer. if you're warm like me, they do just fine! Be sure to use the tie at the top to keep them from sliding down as nobody likes that "plumber action" :-)

I have had 2 different sizes of tights and like the smaller size more. If you're in between sizes go smaller as they seem to provide even more support and relief when they're a little tighter.
these tights really provide great support where you need it and eliminate most of muscle soreness after a hard day on the snow - worth the extra buck
I am 5'10'' and 220lbs. That makes me a...
I am 5'10'' and 220lbs. That makes me a med by height and a XL by weight. what size do you guys recommend. I am considering getting a pair to wear when I snowboard.
I am the same build and I bought the L and the fit fine and I use them for skiing
Hey
I'm a crossfitter if you will. If your...
Hey
I'm a crossfitter if you will. If your not sure what that is. Its a cross between powerlifting, gymnastics,strongman and some endurance running or rowing most times. Well these REALLY aid in my recovery process???
I own these. i don't feel they aid in recovery, they just aid in muscle support during workouts which may help a bit with fatigue. Does less muscle fatigue mean quicker recover? i guess so, but you will have to try for yourself. they are also very warm, so it needs to be about 48 or less to wear them outdoors during running. your best bet for faster recovery is to ingest a protein/carb blend sports during your workouts such as accelerade. i run trail races and triathlons, and protein sports drinks make massive difference in revovery for me.
I need to purchase these for my son who...
I need to purchase these for my son who is interstate - he needs them for gymnastics and is 65-69 kilo's. Which ones would you recommend for him and what size would you say?
Many thanks for your help
Old question but a Small.
I hike the Grand Canyon each year during...
I hike the Grand Canyon each year during Memorial weekend. I am interested in using these tights for the support they provide but am concerned about using these in 100 degree weather. Can you use these tights in hot weather and not over heat due to these tights?
Tights will be very warm, Consider using 3/4 version.
On the 5th time wearing these tights as I was pulling them on, they tore through the material (not along the seem, but the material itself). I double checked that I had the right size for my height and weight (which I did) and I double checked that I was putting them on the way the instructions stated (which I was). I called Backcountry and they immediately sent out a replacement pair of tights. In the 4 times I had worn these tights before they ripped, I had done speed work and an 8-miler in 30-40 degree temps without any chaffing. They felt great. I look forward to testing this replacement set and am hoping that it was just an anomoly. In any case, I was extremely impressed with Backcountry.com.
I had arthroscopic operations on both knees and have been wearing ace supports on each knee. So far these tights have been fine for runs up to 7 miles in place of the supports. Will try longer distances when I get more confidence in them
I have a pulled hamstring and want something...
I have a pulled hamstring and want something to wear under ski pants to minimize risk of re-injury. Also, is this appropriate to use with a compression bandage. Thanks
Richard, i own these pants as well as the 3/4 length and I sized mine so they fit very tight -the 3/4 are much better for ski boots. I don't think the tights themselves will aid in preventing injury, but if you wrap in addition, you might get the additional support you're looking for, and depending on how you wrap, you can probably wrap either under or over the tights. One warning, I find the tights very warm, so it would have to be pretty cold to comfortably wear these under ski pants in any temperature over about 25 degrees. Cheers, and good luck.