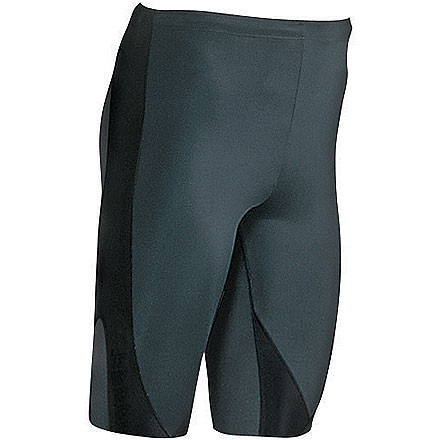 Detail Images
Description
The adventure equipment of choice for improving your body's performance across a wide range of activities.
CW-X Men's Conditioning Shorts belong to a new class of high-performance equipment known as conditioning wear—clothing engineered to provide a host of benefits to your body, including key muscle group support, increased endurance, shorter recovery times after exercise, and lactic acid buildup prevention. Don't confuse them with technically simple compression shorts. Established in Japan in 1991, CW-X based its designs on the human body's unique motion during exercise. Perfect for running, cycling, and climbing, Conditioning Shorts work by combining two unique zones of stretch material. The body is constructed from a Coolmax and 4-way stretch Lycra blend, providing targeted muscle support and impressive moisture-wicking properties. The key to the Conditioning Shorts, however, lies in the 2-way stretch Conditioning Web that encircles your leg's key muscle groups. While stretching longitudinally, this web holds muscles securely in place laterally, reducing vibration and increasing comfort. Flat seam stitching throughout ensures chafing is never a problem.
Good Product
Gender:

Male

Familiarity:

I've used it several times

Fit:

True to size
CWX has always had a product I enjoy,
These trunks are no different.
I've used the trunks in distances from 5K to Marathon.
I'm 6'1" and 185 lbs and a large fits me well.
The trunks cool well, are comfortable, and supportive,
I have yet to see any flaws that will keep them from lasting for quite some time.

Like this brand.
Familiarity:

I've used it several times

Fit:

True to size
These is my first pair of shorts from CW-X. Had some tights before and wanted to try shorts. They hold the quads pretty good. I like they way they fit just above the knee. Used them for trail running and ran a marathon just a few weeks ago in them. Now I'm going for the CW-X Pro Shorts hoping they will feel better than these. I'm a 32 waist and the M fits just right.
Only compression brand that I look for. Feels comfortable and snug. I like the draw string. Keeps it from falling.
Contact the Customer Service Rep. to ensure the proper size. They were very helpful too.
I had been wearing Nike and Under Armour compression shorts but the compression that those offer is not much more than what tight underwear would provide.

I contacted CW-x directly for advice on a short to help support my IT band while running. They recommended these shorts. I gave them a try and have been very happy. I have had no instances of soreness or pain in my IT band since I have been wearing these. Size was right on, I followed the online size chart. I am going to order a second pair just to help reduce my laundering frequency.

If you got IT Band issues you may want to try these out and see if they help. They certainly helped me.
As I have had recent problems with groin...
As I have had recent problems with groin and hamstring strains, do these help prevent strains and pulls?
Ron,

these shorts will provide a certain level of support, but they will never replace stretching as the top way to guard against muscle pulls.
What is the inseam length on the Expert...
What is the inseam length on the Expert Short ?
The Large is 10" med is 9.5" small is 9"
Would these fir well for a female...like...
Would these fir well for a female...like the kegnth better than the woman's version.
i would say the more you are built like a guy (straight hips), the better they will fit. if you are a shapely female, they won't fit you well at all. you could always buy them and give it a shot. if they don't work, you can return them.
These Shorts grip your legs and don't bind.
They gently support without binding.
Ran a Marathon one weekend and ran a twenty miler
2 wks later in the same shorts. No binding or chaffing!
Anyone ever use these for Squatting at the...
Anyone ever use these for Squatting at the gym? Wondering if they work like a Bench Shirt at all..:)
Nope. These are made for running, although they support they are flexible, unlike lifting clothing unlike lifting clothing which is very rigid. If you want lifting clothing go with something made for that like Zinzer. Also for squatting you don't want shorts you want a singlet.
My military husband scores a 300 or better on his PT tests during drill weekends. He recommends this compression shorts to anyone wanting quality, design, and comfort.
While you don't get as much support as with the CW-X tights, these are very good for just shorts. Excellent wicking. Older pairs showed excellent durability, although crotch seams show be better reinforced.
They are tight and lovely!
Excellent shorts: but overpriced
While I do believe that these shorts are better than other lycra/compression type shorts, they do not seem to give me the extra muscle support that the full- or 3/4-length CW-X's do, making them an overpriced item IMHO. I like them, they feel great, but I don't think they are necessarily worth the $$.
The Conditioning Tight Shorts are the best workout short I've ever worn. I've been a Personal Trainer for over ten years. The fabric dries quickly and they're comfortable to wear. I've been recommending these shorts to my clients. I plan on buying more.
These shorts were not as supportive as some others that I have but they were comfortable. I just don't think the level of performance is on par with the price.
The support feels great and I'll continue to use these shorts in long adventure races.
I wasn't that impressed with the shorts. They weren't long enough and came to just slightly below mid-thigh on me. After 5 minutes of running, they had bunched up above the thigh, forcing me to stop to re-adjust them. I'm an avid cyclist so my leg muscles tend to be more developed than my pedal-deficient friends. I suspect the CWX 3/4 length tights will be a better fit for my legs. I stopped using and returned them so couldn't comment on any long term results.
This short does not provide noticeable support above other less expensive stretch shorts. I believe the full-length CW-X may provide the value marketed.
For $59, I would have expected a whole lot more.
As always, great service and delivery from BackCountry.com.
I have tried other compression shorts before and they compress the entire thigh and hamstring area. These compress certain muscle groups. They are awesome in that they have increased my endurance and lessened my recovery time. I use them for running, hiking, tennis, and working out. They feel great and work. I love them.