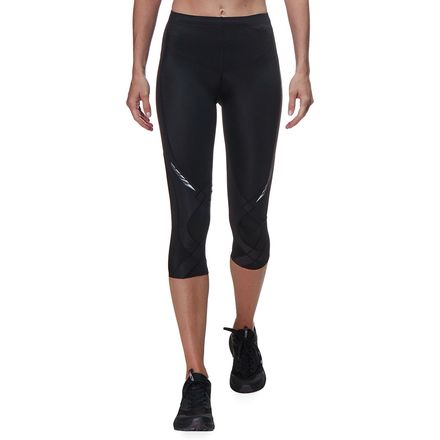 Detail Images

Videos

Community Images
Description
Stability is integral to performance, so put on the Stabilyx.
CWX designed the Women's ¾ Length Stabilyx Tight with the support commonly reserved for folks with muscle and joint injuries. Their logic is, quite sensibly, that an ounce of prevention avoids a ton of physical therapy. (And really, who enjoys those appointments?) CW-X's patented Conditioning Web supports each muscle group in your leg and holds your knee steadily in place. Extra support at the waistband lends a little extra power to your lower back and core muscles. And fortunately, even when the temps start testing your sweat glands, the CWX Stabilyx Tight's Coolmax fabric speedily wicks away excess moisture. Rather than feeling damp and overheated, you're free to focus on your run.
CW-X tights rock for skiing!
Familiarity:

I've put it through the wringer

Fit:

True to size
WOW a friend (GUY) told me about these and I got a pair just in time for a ski trip to Taos. I had new ACL and both meniscus done 8 months earlier. The trip was a test - skiing 6 days straight. Wore the 3/4 length every day and I think that's what saved me! Not much swelling of the knee because of the compression. I followed the sizing chart and got a M even tho I thought L would be better. They are tough to get on but super comfy! Definitely helped not only my knees, but thighs and calves as well. Love them, think I'll get another pair!
Great for running and skiing
I bought these for running, because I have had some minor accidents with my knees, and I want to protect them. I also wear them as a base layer when I ski. Very tight fitting, as it should be.
running tights
Familiarity:

I've used it once or twice and have initial impressions

Fit:

True to size
I wanted to like these more than I did. I didn't particularly feel like they did much from a muscle relief stand point to warrant the extra cost. They make a decent running tight but not sure I buy into the hype. They are tight so if you are sometimes in between two sizes go with the larger one, but otherwise I think they run true to size.
All I can ski in now!
Familiarity:

I've put it through the wringer

Fit:

True to size
I had ACL reconstructive surgery in March of 2013 due to a skiing accident and was pumped to get back on the hill this '13/'14 season. I made the decision to get a knee brace to protect my new ACL and had the hardest time finding tights that would fit with the brace. I love merino, but due to the wool fibers and overall texture the brace fit horribly and also irritated my skin. I had heard good things about CWX so decided to try out these tights. THEY ARE A GAME CHANGER. Not only does my brace stay on 100%, these things are as supportive as everyone says. They increase circulation, are breathable, are damn comfortable and do not irritate my skin. If you are in unsure of sizing, I recommend going by height. The way the supportive webbing is structured means that you will get the most benefit by going by your leg length. I am 5'2" and went with the small. Be warned, these will be tight like a tiger, but thats what you want in compression tights!
Love It.
Familiarity:

I've used it several times

Fit:

True to size
I am 5'0" 101 lbs. I purchased XS. The capris fit great except I think they are slightly too long in length so it is slightly off around the knees, but I haven't noticed any issues. I am breastfeeding so my body feels very "relaxed" due to the relaxin hormone. My hips feel very secure, no knee aches and I feel that I recover well after my workouts vs. how I feel post run when wearing my lululemon running capris. I think I should have just ordered the pants to support my calves as the capris cut off in the middle of my calf. I am starting to get use to it.



I took out the string around the waist because it's useless. I am able to fit my phone in the "itty bitty" inside front pocket and I haven't noticed it during my runs.



Today I ran in the pouring rain and surprisingly my legs were the only thing that felt dry. I love these capris! Took a dozen times to wear them to realize how good they feel.
I am 5'2 and weighs 145 lbs. What size...
I am 5'2 and weighs 145 lbs. What size should I use. I'm in the white zone of the chart.
Best Answer
Hey Ing-Marie,



I would go with a size M. I am your height though a little smaller and I barely fit in the size Small, so I think Medium would be best for you.
Love these!
Gender:

Female

Familiarity:

I've put it through the wringer

Fit:

True to size
This is my second pair of 3/4 length cw-x, I don't run in anything else. These are ideal for spring weather. As others pointed out I don' t care much for the draw string but it's easy enough to remove.

I love the fit, they definitely provide nice support. I had two knee injuries, and surgery and these make all the difference.
So far, so good.
Gender:

Female

Familiarity:

I've used it once or twice and have initial impressions

Fit:

True to size
I originally saw these tights in a local store, but once I saw the hefty price tag, decided against buying them. After continuing the search for the perfect tights, I Googled these and saw that BC had a huge sale. I read the reviews and immediately ordered a pair. I'm 5'4" and 118-120# and got the Small. It fits great! I have worn them around the house to break them in and to Hot Yoga classes. I love the feel and most importantly - you cannot see through them! They are not a cheap/flimsy material. These specific tights are NOT the lined version of CW-X 3/4 pants. That's ok with me though. I look forward to the Spring running season where I will test them outdoors. So far, so good. Very happy with the purchase.



The only con- as someone else mentioned. There is an awkward drawstring. I haven't done anything with it yet, but will most likely remove it altogether. It's not like these pants are going anywhere! They're like a second skin.
What a difference!
Familiarity:

I've used it once or twice and have initial impressions
I run half marathons and do Sprint triathlons. I struggle with some IT band pain and some runner's knee issues. I am training for a half marathon right now and ran my personal best training run this weekend in these tights. The tights definitely supported my body well. The fatigue was MUCH less than in other clothing! I highly recommend these tights!
I'm a sprint triathlete and compete in...
I'm a sprint triathlete and compete in 10K's regularly. Does anyone know whether or not the 3/4 length "Pro" or "Stabilyx" offers more support? I also have a hip injury and I'm a Nordic skier...thinking this would be a great base layer as well. Both models are the same price but I'm having difficulty depicting the difference. Thank you :)


The stabilyx will offer better hip and core support. The pros focus more on muscle support.
Worn for every workout.....
Familiarity:

I've put it through the wringer

Fit:

Runs large
My wife has had these tights and has worn them for over two years. She wears them to trail run and as a baselayer for nordic skiing and racing...... and sometimes around the house all day if she doesnt have time to change :) She actually wore them under a skin suit in the Cours du Bois 90 K skate race where conditions went from spring-like to blizzard -like at the top of the Divide. She says they literally saved her ars. The compression memory has held up over time. They are breathable in the crotch and do not retain odor. The decals (silver and raspberry) partially came off after several months of washing. It is important to size DOWN with these. (If you are a large, order a medium). You want to have to wiggle into them.
stabilyx women's 3/4 length tights
Gender:

Male

Familiarity:

I've put it through the wringer

Fit:

True to size
I am a male, 6 foot, 175 pounds, and fit the women's large better than the men's large as recommended by a retailer. I thought she was crazy thinking I would fit the women's medium best. So i stayed with the women's large over the men's large which was too loose in the knees. They do a good job of supporting my knees. I have used them in mountain biking, rock climbing, hiking, photography-back country photo shoots, and soon snowboarding as winter arrives. You definitely can feel the support in the knees, and hips/core areas. Great technical garment. I get some second looks in a 3/4 length capri in green stitch piping, but full length will not work in a ski/snowboard boot. I care about my knees and function far more than worrying about what other people think of the look on me. Highly recommend this item for anyone wanting or needing the support these tights provide. Well worth the price. I do wish they were another inch or so longer.
Awesome running pants!
Familiarity:

I've put it through the wringer

Fit:

True to size
My runs go a lot better when I'm wearing these pants. Not only are they supportive and make my knees feel great but they look good so I feel better! They are tight so I don't like to wear them for long after my runs because I start to get itchy where they bunch behind the knees. While running I have no discomfort though. I like the 3/4 length vs the full length pants.



I love how the stitching is colorful and crosses all over the pants. It gives them a unique, fun look.



Even though these are not the CW-X insulated pants, they are still warm. I can't wear them above 70 degrees outside. It's so hard to run in shorts instead of these amazing pants though.



The only thing that I do not like: the drawstring waist band. It's weird tying it in a bow tie and trying to tuck it into the pants or letting it hang out. Also, mine was fraying so I put fray check on it which made the edge a little rough. Ultimately I pulled the string out.
I am pleased with this purchase ... the rainbow stitch pants are fun to wear. I definitely have less fatigue during workouts and feel like it gives a little extra stability for my knees.

I have two other pairs of CW-X that are size small but I had to go up to a medium in these ... I think it is the added panel for the abs/back that makes them run a little smaller. I am right on the cusp between small and medium on their size chart anyway. If you fall in between sizes, I would go with the larger size for this version.
Just what I needed!
Gender:

Female

Familiarity:

I've used it several times
I was in desperate need of new capris & heard great things about the stabilyx tight. To be honest, first run I didn't love them as I felt they bunched up around the backs of my knees. Gave them another shot & found the perfect fit. I love how they hold everything in & make me feel supported.



They were warmer than I thought they would be, so take that into consideration when heading out for a run. In honestly I almost like them more for post-runs than running in them.



My mom (who just ran the Boston Marathon on Monday) swears by them. Also saw a lot of other marathoners in them, so that has to mean something!



Btw, 5'7", 135lbs and I have a size Medium. They look tiny, but fit perfect!
love these to run in.
Gender:

Female

Familiarity:

I've used it several times
I am not a runner. but these are great tights to run in. it seems like i'm not as achy after (maybe because i don't jiggle as much). i'm (almost) 5'4"and my only complaint would be that these are meant for slightly taller people, so i really have to pull them up high around the knee to keep them from falling below my knees as I run. even so, they're great and I'm thinking about getting a second pair. i'm also about 140lbs and a medium worked great.
I have looked evrywhere for these CW-X 3/4...
I have looked evrywhere for these CW-X 3/4 stabilyx tight in XL - no one has XL ?

I have problems w/ knee pain n have been looking for an alternative to knee brace (kickboxing/lunges/running) all difficult w/out strong support.

I am so excited to get a pair after reading the great reviews.

Anyone know where I can find these in XL?
Hey Sharon,

Unfortunately CW-X does not currently make an XL in any of their tights. Backcountry does have a pretty exceptional return policy if you want to give the large a try!
Great tights for multiple uses
Gender:

Female

Familiarity:

I've put it through the wringer
I love these tights. I've been wearing them for a long time for running, gym work, and as a base layer for skiing. They rock!
LOVE these!
Gender:

Female

Familiarity:

I've used it several times
These are AWESOME! I run nearly every day and tried these out a few months ago. I can definitely feel the support with these and would recommend them to runners who are looking for some high quality gear.