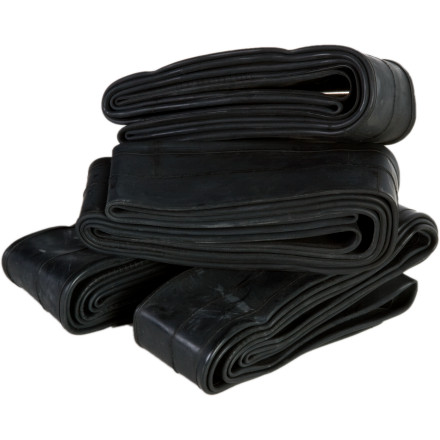 Stuff Cutter X-Wide Heavy Duty MTB Tubes in your pack and be the hero when the sun's quickly setting and the group lagger flats with no gear. Extra thick for downhill reliability, the Cutter HD rubber will get you back to the truck before the sun drops and you're stuck hiking out by brail.

Presta valve, 26 X 2.4 - 2.7
4 Pack of tubes
Heavy but solid
Familiarity:

I've put it through the wringer
Just pulling these out of the elastic they seemed like a solid clump of rubber. I have a great way of flatting my tires on rocks and these did not stop me from that, but I do think they lasted a bit longer than the regular tubes I was using before! The price also helped me to feel less of a dolt for going through tubes so quickly. These have extra long stems and no way of screwing the stem to the tube, which I thought would be a bother. However after installing them I forgot about it and never had a problem. Thick, strong and cheap, if that's what you're looking for then look no further.
No flats so far!
Familiarity:

I've used it several times
These tubes seem worth the price - I like the long stem and they have held up fantastically so far. More review to come once they've seen a little more abuse.
Use them for what they were intended
Take this review for what it is for, reviewing the tube for my intended use. So YOU don't have to do it too! I am sure they are good for what they were intended and not for why I bought them.

I bought these tube hoping they would be as good as other large dia tubes have been for fat bike use (UL). These tubes only blow up to what they were intended. since they are heavy duty. they don't stretch like other more supple tubes. Blew out 2 tubes instantly and going to sell the other two for someone who can use them as DH or DJ tubes.



So NOT for FAT bike UL use.
Rubbers
Familiarity:

I've put it through the wringer
I have been using these in my dirt jumper all season and so far I have not had any issues with them. I have had several goat head thorns in my tires and not one flat from them, however I do run a heavy duty tire on my bike which is likely the reason the thorns have not penetrated the tubes. These weigh in at 229.5 Grams which is the same as the standard wide tuber from cutter and these somehow manage to have a longer valve stem at 6cm long. These are thicker than the standard tube and offer slightly more pinch flat protection than the standard tubes. If you are looking for a light weight cross country tube look elsewhere. If you are not worried about weight but are looking for a good value then you can stop looking and get yourself a 4 pack for a killer deal. Now get out there and enjoy the trails!
Rockin' Tubes
Familiarity:

I've put it through the wringer
Bought a whack of these this spring - all of my friends are riding them now. I've run them super-hard in 2.5" Maxis DH tires -- no flats all summer :-)



We often ride in a super-rocky terrain - our best trails are rock-fests - and as long as I run Mfg. recommended tire pressures I can ride as hard as I like without flats. I'm on the larger size of the scale; 215 lbs, an experienced / aggressive rider on a six inch travel 'all-mountain' bike (Blur LT with Fox 36's). The valve stems are on the longish side, but its made absolutely no different to product reliability / durability.



Andrew

www.sweetsingletrack.ca


Not heavy duty...
Familiarity:

I've put it through the wringer
i do not recommend these tubes for freeriding or DH.... More like a heavy duty XC tuber...
Giving it four stars mainly because of the price (sale price).

Not the best tubes I've ever used though. Downhill biking and jumping, my roommates and I went through a couple packs pretty quick.

That being said, I'd still buy them again.
These tubes are a really good value. Especially considering that thick tubes can be almost 20 bucks a piece at a lot of places. The only problem I have had is that over time it appears as if some of the seams on the tube start to separate.
Unanswered Question
what is the valve stem length?
what is the valve stem length?
how long is the valve stem length of cutter...
how long is the valve stem length of cutter x wide heavy duty mtb tube
I hate the stems on these. I don't mind Presta valves, but the valve stems are really stall and don't have the little nuts on them that keep them locked to the rim, that makes them difficult to inflate. I also feel that the presta valve inside bends easier than other tubes, so they break easily internally.
Great if you ride downhill and havent switched to tubless yet. pretty heavy, probably the beefiest tubes ive ever seen, and definetly the widest. major difference in cornering from standard sized, bike shop tubes. Probably not for you if you arent running over 2.50's. or if you ride XC. Helped my cornering out big time, and gunna ride them till i go tubless!